About this event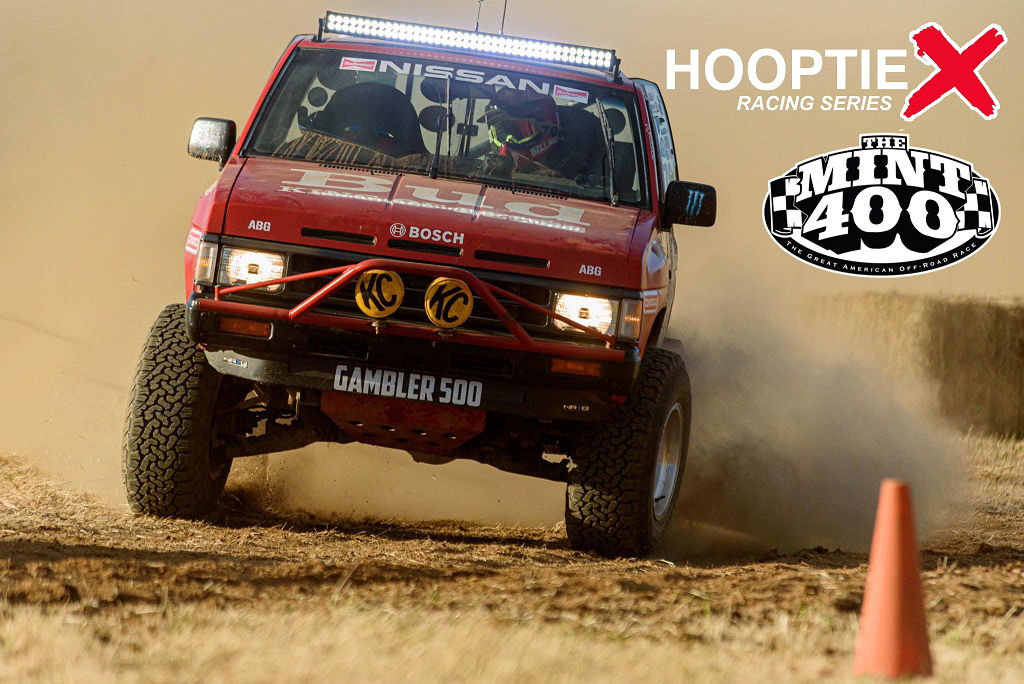 Time Trial Rallycross for crappy cars... or whatever you got!
HooptieX at THE MINT 400!! - Friday and Saturday 12/3 - 12/4 - 9am to 6:00pm both days
It's finally here! We are joining up with the Mint 400 race in Primm, NV December 3rd & 4th.
The Mint 400 is the oldest and most prestigious off-road race in America, and is held in the treacherous foothills of Sin City. The multi-day event features a massive vehicle parade down the world famous Las Vegas Strip, a two day festival on historic Fremont Street, and two days of grueling off-road racing on a desolate and punishing 400-mile racecourse. Thousands of recreational enthusiasts come to watch 500 race teams in 50+ classes from 25 different states and 15 different countries go door to door, while the Livestream coverage is beamed to over 800,000 viewers worldwide. No other off road race allows fans the thrilling experience of watching the top off-road race teams from around the world battle for fame and glory.
So how do we fit in?
We will be racing on our own designated short course just north (walking distance) of the Mint 400 start line. Our course will be a combination of pavement and a 3/4 mile long closed dirt track. Will you be racing in front of the fans? YES. Are they going to be in awe of our professional skillz? YES. Will we be the crowd favorite over those funded fancy trophy truck drivers? 100%. We will be running our standard time-trial style format along with dual start battles on the dirt track!
FOR THOSE WHO ARE RACING read on...
RACE LOCATION: PRIMM VALLEY MOTORSPORTS COMPLEX located HERE
$85 ALL DAY RACE PASS (per day). Run as many laps as you can. Show up anytime and race, no set grid. Limited entry (60 racers/day)
>>>>EACH DRIVER MUST REGISTER IF MULTIPLE DRIVERS USING ONE CAR
REMEMBER: THIS EVENT IS MEANT TO BE FUN AND STUPID. We do keep time and give points, but really, don't take it too seriously.
Camping IS FREE in our designated camping area north and west of thew dirt track (map will be sent out via email soon). Camping area can accommodate primitive and RV camping. Camping area will also serve as our support vehicle parking area. Facilities nearby and fires are permitted. Camping allowed from 11/29 (Monday) through weekend.
There are limited hotel accommodations in Primm (literally 3 major hotels). Current availability and/or trailer parking at said hotels is UNKNOWN. You are encouraged to call down yourself to check for availability.
**THERE ARE NO OTHER FEES OR PASSES NEEDED FOR THIS EVENT THROUGH THE MINT 400**
IF YOU WOULD LIKE TO VOLUNTEER, YOU MUST SIGN UP AT https://volunteersignup.org/QYQQ7 VOLUNTEERS RACE FOR HALF PRICE ($40) on their shift day. If you sign up as an OFFICIAL REGISTERED VOLUNTEER AND YOU ARE PLANNING TO RACE during your shift day, you must also register here to race. Make sure to choose "Friday Volunteer Racer" or "Saturday Volunteer Racer" on next page for your half price discount. YOU MUST SIGN UP AS A VOLUNTEER FIRST BEFORE CHOOSING THIS OPTION
KNOW THE RULES!! - They have been updated. Posted on the following page, HooptieX.com and our Facebook event page.
WAIVERS: IMPORTANT!! Our waivers ARE NOW ONLINE WAIVERS. There will be a link on the following page. It will ALSO be emailed to you in the confirmation email. YOU WILL NOT BE ABLE TO RACE WITHOUT SIGNED WAIVERS. ALSO: THE MINT 400 REQUIRES A SIGNED WAIVER, this will be emailed to all registered racers and volunteers at a later date (also available on-site at our entry point)
Please drive safely to and from the event
ABR
Event requirements
Vehicle and Driver RULES & REGULATIONS below. Know them, save them, follow them. We WILL have TECH INSPECTION of your vehicle prior to racing.