High Performance Driving Clinic - Summer/Fall
PCA - Potomac, The Founders' Region - DE
Saturday, August 15, 2020
Summit Point Raceway - Jefferson
,
Summit Point

,

WV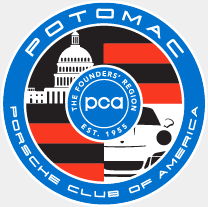 Sorry drivers, our event has been cancelled.  Please see below for a message from our chapter president:
Dear Drivers
On behalf of our Exec Team and the Drivers' Education Committee, please know that we are working feverishly behind the scenes to ensure our events remain the premiere driving experiences you are accustomed to having with our club during this pandemic.
The High Performance Driving Clinic is a 100% training event, in which program activities include a significant amount of indoor classroom training, along with multiple instructors in the right-seat for driving exercises and open circuit experiences.
Both the required indoor classes (with maximum density per available square footage at the track) and multiple instructors in cars with students (with less than a six-foot social distance) currently go against the best practices recommended by the CDC, the WHO and West Virginia directives.   Moreover, this event includes a plenitude of social interaction with other drivers and instructors in the paddock, and Summit Point Motorsports Park published new guidelines last week which quash the fun to be had with one another.
It is my personal responsibility and the social responsibility of PCA Potomac to ensure that the health and safety of our membership is the top priority when making decisions during this unprecedented time.  Unfortunately, it is with these caveats that our Executive and Drivers' Education Committees have decided to cancel this event for the health and safety of our students and our instructors. 
If you have any questions or comments regarding this decision or any of our COVID-19 plans, please direct them to me at president@pcapotomac.org.
With my sincere gratitude for your understanding,
Mia Walsh, President
Porsche Club of America
Potomac, The Founders' Region
2009 Cayman S #271 GTB1