Gripfest 17 at NCCAR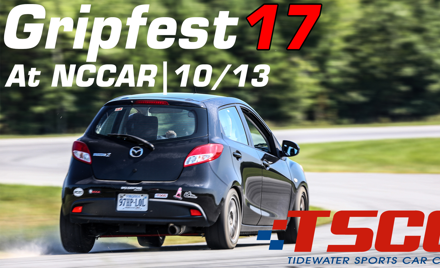 Tidewater Sports Car Club
Sunday, October 13, 2019
Registration closed October 13, 2019 11:59 PM on October 13, 2019 11:59 PM EDT Registration ends October 13, 2019 11:59 PM on October 13, 2019 11:59 PM EDT Registration opens August 3, 2019 12:00 AM on August 3, 2019 12:00 AM EDT Registration runs from August 3, 2019 12:00 AM to October 13, 2019 11:59 PM
Gripfest 17
Run in a single lap format against the clock! Cars are sent one at a time with a safe amount of distance between participants. This is not a passing event.  Open vehicle classing, so a helmet and a safe car are all you need. All skill levels are welcome from beginner to track veteran!
This is an excellent event if you want to dip your toes into track driving, without the worries of passing/point-bys/stress of 20min sessions on your brakes and tires.
Pricing is $195 For Participants
If you instruct with us at the HPDE the day before, we are inviting our instructors to run for only $75!! and as long as you are flagged as an instructor in our system, there will be a check box for a discount.
This event will be run in the same format as previous Gripfest events.
This event is not part of the TSCC Annual points championship and is NOT a normal Autocross style event.
The format will be a blending of road racing and autocross. Competitors will perform a standing start, single lap of the course and cross a finish line before exiting the course, driving all the way out and around the main security building, then coming back and pulling onto the grid. This will be a "rolling grid". The day will be broken into two heats and divided into 2 sessions, a morning session and an afternoon session. All competitors will be given runs in both sessions. Sessions will be based on time allotted. There will be no guarantee on the number of laps provided.  A maximum of 2 drivers may co-drive the same car for this event (running different heats).
NEW FOR 2019: We have a new classing structure for our Time Trial Events!  We no longer have just Street Tire and Open/Race Tire classes... we are implementing this TSCC Classing Calculator to place cars in classes "A" (fastest) through "F" (slowest), with an additional "U" open/unlimited class which is where all tube chassis dedicated race cars will go by default.  Ridiculous fast cars can also get bumped to "U" with enough points/modifications.  If you have any issues, feel free to email trackevents@tidewatersportscarclub.com with as many details as possible about your car and we will get you sorted out.  There have been changes to the calculator from the Fall 2018 event where this was first implemented... be sure to reclass your vehicle!
*****CLICK HERE FOR THE CLASSING CALCULATOR TO DETERMINE YOUR CLASS*****
Competition is open to any street or race legal car provided it meets the same basic safety requirements as an autocross plus our Supplemental Time Trial Rules(below). As the speeds are generally expected to be higher than our normal events extra attention will be paid to the safety and maintenance of vehicles entered for competition.
All open top vehicles will be required to have proper roll over safety gear in place this includes all convertible car, all open top vehicles must pass the broom stick test. *Note a hard top for a Miata or S2000 does not meet the minimum requirement for roll over protection.
All TSCC Time Trial Supplemental Rules will apply.  Read these rules in their entirety. Information on proper harness mounting and broom stick test procedures are contained within.
Go-karts, motorcycles, and trikes are not allowed to run in this event. We are allowing open wheel cars and formula cars to run. Cars that are not production based, please contact us before you register to verify if your vehicle will be allowed.
You must have a SNELL SA Rated Helmet (SA2010 or 2015) Some loaner helmets will be available on a first come first serve basis.
METHANOL INJECTION IS NOT PERMITTED AND SHALL NOT BE BROUGHT ON-SITE.  YOU MUST REMOVE THE TANK FROM THE VEHICLE TO RUN ON TRACK.
Schedule of Events:
6:00 am           NCCAR Gates Open
6:00 am           Tech & Registration Open - Tech is on the Access Road(drive through Paddock, unload your stuff, then go through Tech Inspection), Registration is in the Classroom.                                                                        Park around the main Classroom building
7:45 am           Tech Closes (main access road parallel to Paddock)
7:50 am           Registration Closes (in Classroom building)
7:45 am           Mandatory Novice Drivers Meeting in the Classroom
8:00 am           Mandatory Drivers Meeting for ALL DRIVERS in the Classroom *All attendees are required to attend
8:15 am            First car off
Around noon    45min break for Lunch
4:30-4:50 pm   End track time
5:00 pm           Awards presented in Classroom
Registration will be initially capped at 60 Participants!
If you are Waitlisted, then you will not be charged for the event until confirmed.  By remaining on the waitlist, you are acknowledging you may be admitted/charged at any time.  You must cancel your registration if you wish to be taken off the waitlist.
Driving Directions
From Interstate 95, take Exit 176 turning east onto NC-46. Continue eastbound 0.4 miles to SR-1604 (Lowes Boulevard). Turn left onto Lowes Boulevard, drive for about one mile and take the first road on your left - Technology Drive. The entrance to NCCAR is half a mile ahead. Proceed through the gate and to the entry kiosk building.
Driving Distances
Roanoke Rapids (NC) 5 miles; Emporia (VA) 18 miles; Rocky Mount, (NC) 45 miles; Petersburg (VA) 61 miles; Norfolk (VA) 82 miles; Richmond (VA) 85 miles; Raleigh (NC) 90 miles.
Don't live nearby the track?
You can stay on the NCCAR property either in your camper/car/trailer/etc if you like at no charge!  Gates DO close in the evening after approx 8pm... so if you're staying overnight get there early!