Mon, Aug 21 - Wed, Jan 31, 2024
The GPX PORSCHE CLUB CHARITY COLORING BOOK SALE
Long Beach, CA
About this event
Grand Prix Region is rolling out our newest a fundraiser that we hope you will all get involved in for the CHILDREN'S DENTAL HEALTH CLINIC of LONG BEACH which is part of the MILLER HOSPTIAL. This program started in the late '30s and has continuted since then, and currently the clinic care for 5500 patients a year.
Their mission is to deliver oral health education and comprehensive treatment for economically disadvantaged children, including those with extremely complex medical diagnoses, while also providing premier training in pediatric and multi-specialty dentistry.
They remain steadfast in their belief that every child deserves access to quality and excellence in oral health care irrespective of demographics, household financial status, or geography.
Their Multi-Specialty Treatment Program provides dental services that include pediatric dentistry, general dentistry, specialty care (treatments under oral sedation, intravenous (IV) sedation, and general anesthesia), endodontics, periodontics, and oral surgery.
They serve children with special needs and complex medical conditions such as autism, asthma, cancer, cerebral palsy, cleft lip/palate, Down syndrome, and sickle cell anemia.
THESE KIDS NEED OUR CONTINUED HELP!!!
HAVE A LOOK AT A COUPLE OF THE SAMPLE PAGES BELOW MADE SMALLER BY OUR ARTIST - WE HOPE YOU LIKE OUR NEWEST FUNDRAISING IDEA!!!
THERE ARE 32 FULL FUN PORSCHE PAGES TO COLOR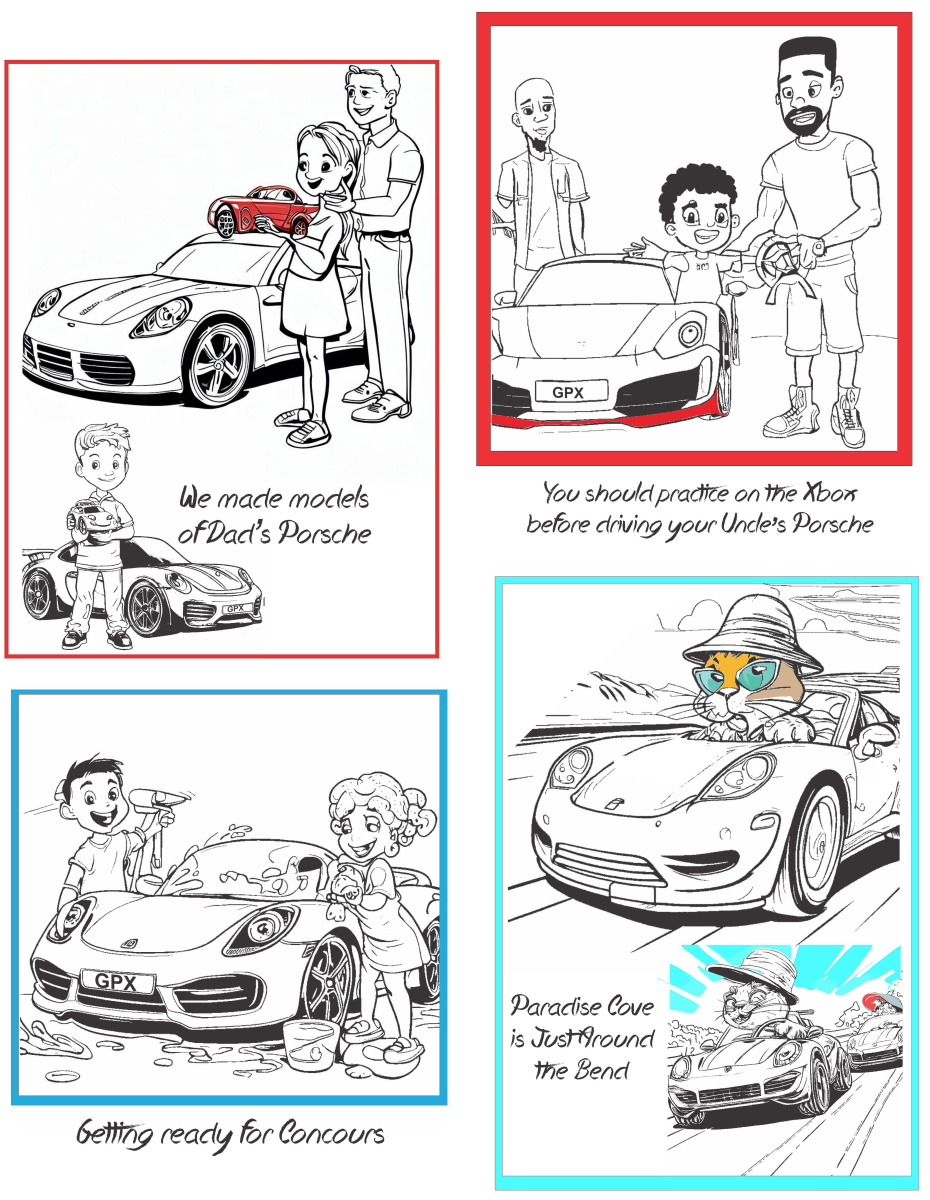 colouring booking created by GPX member Chris Way
Event requirements
PLEASE DECIDE IF YOU WOULD LIKE TO PURCHASE ONE COLORING BOOK FOR $20 OR FIVE BOOKS FOR $15 EACH - MEET ALL OF YOUR HOLIDAY SHOPPING NEEDS FOR THE KIDS IN YOUR FAMILY NOW! HOW COULD IT BE EASIER - TAKE CARE OF YOUR KIDS AND THE THOSE KIDS AND THAT NEED OUR HELP!!!
IT COULDN'T BE EASIER AND YOU COULD ALWAYS CONSIDER UPCOMING BIRTHDAY GIFTS AS WELL
IF YOU WOULD LIKE WE WILL MAIL THE BOOKS FOR AN EXTRA FEE - OR YOU CAN PICK THEM UP AT OUR MONTHLY BREAKFAST IN SEAL BEACH!!
Long Beach, CA
Long Beach, CA
More events from this organizer