The Great American Mountain Rally Revival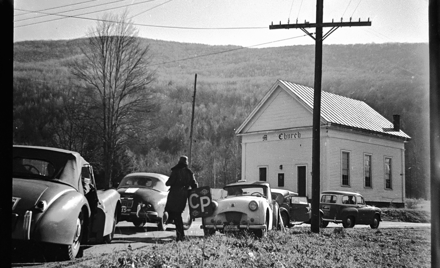 SCCA - New England Region - RoadRally
Thursday, Oct 24 — Sunday, Oct 27, 2019
Saratoga Auto Museum
,
Saratoga Springs

,

NY
Registration closed August 15, 2019 11:59 PM on August 15, 2019 11:59 PM EDT Registration ends August 15, 2019 11:59 PM on August 15, 2019 11:59 PM EDT Registration opens June 19, 2019 8:00 AM on June 19, 2019 8:00 AM EDT Registration runs from June 19, 2019 8:00 AM to August 15, 2019 11:59 PM
History of the Great American Mountain Rallye
The flag dropped on the very first GAMR on Thanksgiving Day of 1953 and the rally continued every November through 1957. Described in the April 1956 issue of Auto Age as "America's longest, toughest, and coldest rallye," the races attracted driving teams from across America, Europe and Scandinavia. Conducted the weekend of American Thanksgiving, the rally typically featured challenging snowy weather through New York's Adirondack, New Hampshire's White, and Vermont's Green Mountains. Tire chains were an absolute must!
In its day, the Great American Mountain Rallye attracted top teams from around the world.  The Rootes team entered Sheila van Damm in 1953 and 1954.  Stirling Moss also competed in this rally in 1954.  The great Maurice Gastonides, the 1953 Monte Carlo Rally winner, was a competitor as well.  One year, multi-time world driving champion, Juan Manual Fangio was the official starter.
The current event (our second year of the revival) includes 3 days of rallying. Day 1 will start in the Capital District of New York State and run Northerly thought the center of the Adirondack Park to Lake Placid; the site of the 1932 and 1980 Winter Olympics with lodging at an exclusive inn.  Day 2 of the event will include a loop from Lake Placid North and West to the Saint Regis and Saranac Lake Regions and will end back at our exquisite host inn.  Day 3 will see us traveling East through the High Peaks and Keene Valley to Lake Champlain where a short ferry ride will take you across the lake to Vermont.  (You will need to purchase a ticket when you arrive at the ferry landing). http://ferries.com/vt-ny-ferry-routes/charlotte-vt-essex-ny/current-ferry-schedule/
The last leg of day 3 will take us South through the Western edge of Vermont and the Green Mountain Forest, including a number of the infamous 'gaps" that traverse the Green Mountains. The culmination of the rally will once again end at Hemmings Motor News (our host from last year) with a scoring and a reception in the museum.
Mileage for the 3 days will be approximately 500 miles. (mileage subject to change based upon final reconnaissance runs.)
GAMRR 2019 ITINERARY
Thursday night Oct. 24th Private kickoff event at the Saratoga Auto Museum (SAM) which includes access to all the exhibits, a museum guide and a wine and cheese reception with light hors d'oeuvres (cash bar). http://www.saratogaautomuseum.org/
Final registration paperwork will be Thursday night and will include a rally preview and rally school.
On Thursday night we have arranged lodging at Holiday Inn Saratoga Springs. https://www.ihg.com/holidayinn/hotels/us/en/saratoga-springs/sgany/hoteldetail?cm_mmc=GoogleMaps-_-HI-_-US-_-SGANY
Friday morning Oct. 25th things get started back at SAM (Coffee and donuts will be provided) then we head off at 8:00 from Saratoga Springs into the Adirondack Mountains passing through small villages, over a number of lakes, and into the High Peaks region.
Friday afternoon brings us to the Mirror Lake Inn https://www.mirrorlakeinn.com/ in downtown Lake Placid.  (Mirror Lake Inn is a 4 diamond boutique hotel).
Friday night will be dinner on your own at one of the inn's restaurants (The Taste Bistro & Bar or The Cottage Restaurant) on the lake, or at any one of a number of restaurants in town at your leisure.
Saturday morning Oct. 26th will start with a 7:00 a.m. breakfast buffet at the Inn's Wyckoff room; a brief driver's meeting and off for day two at 8:00.
Saturday afternoon we will return to Lake Placid with enough time for you to stroll through downtown, including a potential visit to the Olympic museum http://www.lpom.org/ .
Saturday night will be dinner in the Wyckoff room with a menu prepared by the Inn's award winning chef. (Attire is dinner casual).
Sunday morning Oct 27th will start with a 7:00 a.m. breakfast buffet at the Inn and then we will be off for our final leg to Hemmings.
Sunday afternoon we will close out the weekend at Hemmings Auto Museum in Bennington with scoring awards and a luncheon.
Classes:
Original: Cars that could have competed in the 1950's GAMRs (model year 1957 or older)
Classic: Cars of model years 1958-1978
Modern: Cars of model years 1979 or newer
All teams will be restricted to equipment similar to that used in original GAMRs:
Rally odometers with up to 2 distance displays are permitted; rally computers providing average speed information are not allowed, except for Halda Speedpilots.
Mechanical calculators and slide rules are permitted; electronic calculators are not.
Paper speed tables are permitted; electronic speed tables are not.
Clocks and stopwatches are permitted without restriction.
(GPS mapping assists are not permitted)
General:  Entry will be limited to 25 cars.  General Instructions will be posted on the NER website. www.ner.org
Final registration documentation and Scrutineering:  Thursday October 24, 6:00 PM-8:00PM at the Saratoga Auto Museum (SAM) in Saratoga Springs, NY during our private event at the museum. (Please note that all registration payments will be due prior to final registration).
Start:  Friday October 25th First car off at 8:00 AM plus car number in minutes at the Saratoga Auto Museum (SAM) 110 Avenue of the Pines, Saratoga Springs, New York 12866
Finish:  Sunday Oct 27th approx. 2:30 PM, awards ASAP.   At Hemmings Motor News In Bennington, VT
Registration Fee:  (per vehicle) Before July 25 $1850.00
                                                        After July 25   $2050.00
Save money, enter early! 
which includes:
Private function at the Saratoga Auto Museum
Meals noted above
3 nights of lodging (rooms are double occupancy)
Route instructions
Car Placards
Rally license plates
GAMRR Rally attire
Rally school
Awards
Questions? Contact Gary Hamilton - gamrrrally@gmail.com
More info: https://www.facebook.com/historicrallyrevival/
Mail Application and checks payable to SCCA New England Region "GAMRR2019" on check to:
GAMRR2019 c/o Gary Hamilton
2 Dunkirk Rd
Ipswich, MA 01938