About this event
Certificate will be customized for whatever holiday or occasion you choose - please provide details!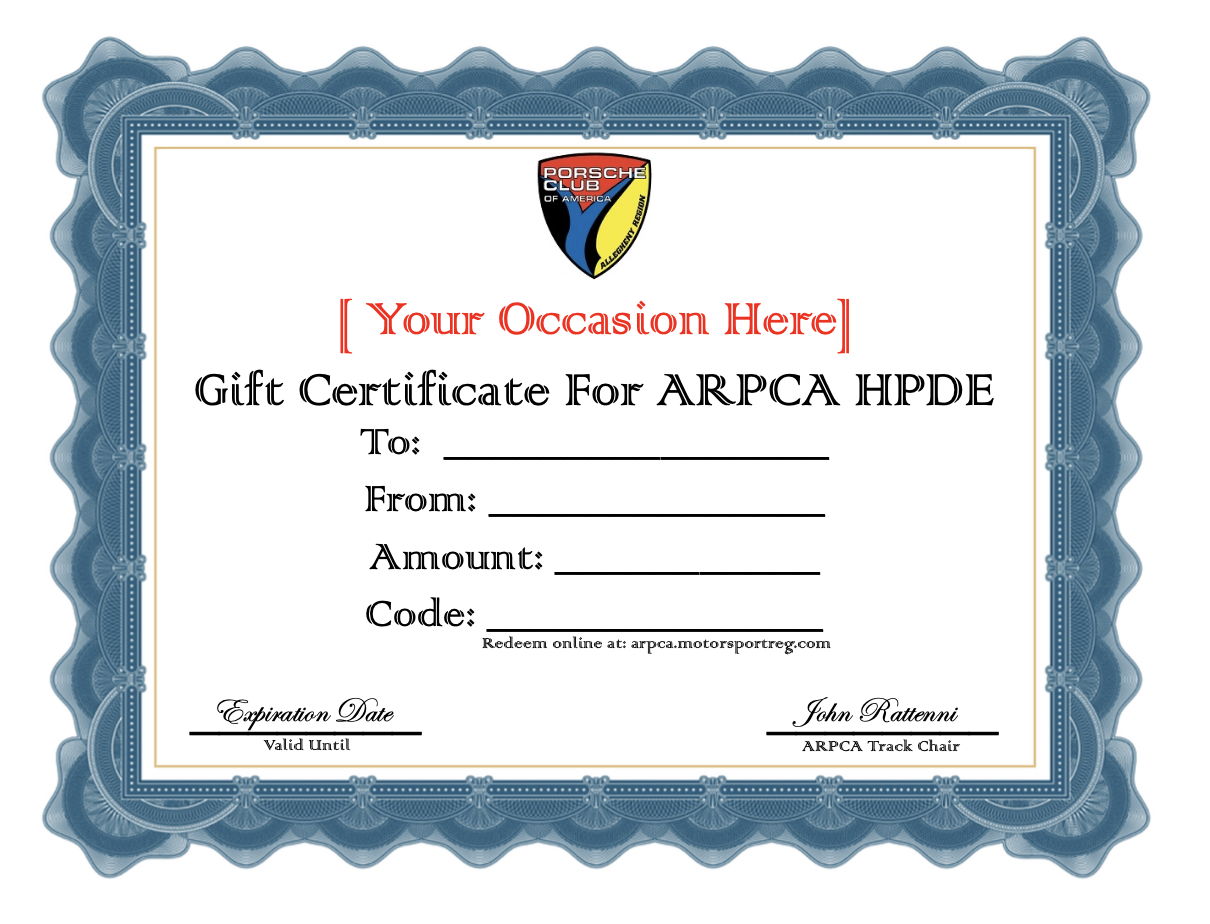 Purchase an ARPCA HPDE Gift Certificate in any amount (minimum purchase $100) for use with an ARPCA HPDE; expires two years from date-of-issue. Surprise your recipient with a customized, printable certificate to celebrate any occasion.
Certificate will include a unique redemption code to use when registering for an ARPCA HPDE of choice (within two years) on arpca.MotorsportReg.com. Customized to reflect a special occasion - will include recipient's name, gift-giver's name and gift amount. You may choose date of issue (birthday, anniversary, etc.), or we'll make effective day issued. Recipient will have two years to redeem with an ARPCA HPDE event from date-of-issue.
If value of certificate does not pay for entire cost of recipient's chosen ARPCA HPDE event, recipient will pay balance-due when registering. If value of certificate is more than ARPCA HPDE event, recipient will have a credit in unused amount until certificate expires. No refunds.
Whether your recipient is an experienced HPDE "track junkie", or has never experienced the thrill of high performance driving - this gift will be appreciated by ALL! Give the gift of an exciting, fun and memorable experience! New drivers are matched with an instructor who will provide expert guidance to keep them safe, and push their boundaries (within their limits). New drivers attend required driver's meeting and classroom sessions throughout weekend. Approved solo drivers may opt for an instructor if desired, or continue to work on their skills while enjoying the camaraderie of an ARPCA HPDE.

We pride ourselves on making everyone feel welcome. Our safety record is outstanding, and our events are well-run and lots of fun! Drivers routinely come to ARPCA events from local and far-reaching states including Florida, Tennessee, the Carolinas, Michigan, Indiana, Ohio, New York, and more.
Join ARPCA for an experience that won't soon be forgotten!
Contact John at track@arpca.com with questions.
Event requirements
Your PDF, printable, gift certificate will be emailed to you at email address you provide. We will use exact text you provide!
Certificate will include a unique redemption code recipient will use when they are ready to redeem their gift. - valid up to two years from date-of-issue.
Porsche ownership is not required to participate in an ARPCA HPDE. Nor is PCA membership. For more detail on HPDE requirements, visit our web site: https://arpca.com/de-info/
ARPCA HPDE Gift Certificate
Pittsburgh, PA
More events from this organizer