About this event
Thunderhill Driving School
NOTE: Student Registration Is Now Closed.
GGC Driving Schools are back again at Thunderhill!
Join the BMW CCA Golden Gate Chapter for our traditional fall driving school on October 2-3 on the 3-mile east course of Thunderhill Raceway Park in Willows, CA. Thunderhill is a beautiful and challenging race track, making it a great place to learn the art of high-performance driving from our dedicated team of instructors. Our HPDS and Advanced Data Coaching programs receive rave reviews from driving enthusiasts every year. You'll go home with skills you can use on the roads every day as well as some great memories of laps at this twisty racetrack.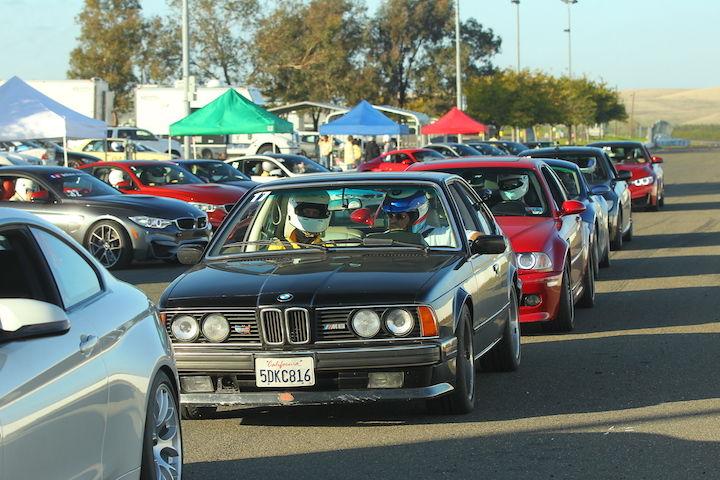 Every student (except those in Group S; see below) is assigned an instructor for the duration of the event. Our focus is on safety and learning. The price for this 2-day event is $850 for BMW CCA members.

Group S is available for a select group of enthusiasts who want to take the HPDS experience to the next level. This is a solo run group for the most advanced drivers. Group S will work with instructors both in the classroom and on the track (with advanced driving exercises). The Chief Driving Instructors will review your qualifications for entry into this run group.

The Advanced Data Coaching (ADC) option is available to drivers in A, B or S run groups. Group A/B drivers in ADC will have some in-car instruction, but the focus will be on the data.
Important COVID-19 information:
All persons attending this event, participants, guests and staff alike, must be fully vaccinated against COVID-19, in enough time before the event (typically two weeks for most vaccines) so that it will be at full effectiveness by the time of the event.
You will also be asked to explicitly opt in for in-car instruction. Note that if you opt out of in-car instruction as a student, there will likely be difficulty accommodating your request unless you are in Group S.

Important information about the waiting list:
Students:
If the registration form indicates that the event is sold out when you attempt to register, please sign up anyway: you will be waitlisted automatically, but we expect to accept a large number of students from the waiting list. We start with a conservative student count, and pull students from the waiting list as more instructors sign up for the event.
Instructors:
You will always be waitlisted when you register. This is a temporary screening step, and doesn't mean we're full up. Your registration will be screened and confirmed by the Chief Instructors.
Event requirements
You must be a licensed driver, 18 years of age or older, and you must be a BMW CCA member to be eligible for enrollment. Non-member registration includes a one-year BMW CCA membership. Please be sure to include or update your experience and your emergency contact info in your MotorsportReg profile when you register.
Car Control Clinic: Attendance at a GGC Car Control Clinic is strongly recommended. Working with a coach at a GGC autocross is another recommended form of preparation.
Documents: To minimize person-to-person contact during check-in, you must upload some documents (helmet and tech) to your online registration form. GGC is using an online waiver system -- Speedwaivers. You must provide a mobile phone number to receive SMS text messages from Speedwaivers.
Helmets: Snell certified (M, SA or EA) helmets are required for all track events. The Snell 2010 standards are grandfathered for this year, but will not be accepted after 2021. You will be required to upload a photo/scan of your helmet's Snell sticker no later than 7 days prior to the event (24 September).
Sharing a car: If you would like to share a car with another student, please contact the Registrar by clicking the "Send a message" to the registrar link at right before registering.

Tech Inspection: All cars that go on track must pass a tech inspection before the event; the inspector must complete and sign the Tech Inspection Form. The inspection must be performed no more than 30 days prior to the event. You must upload a photo or scan of the competed inspection form no later than 7 days prior to the event (24 September).
The sound limit for this event is 103 dB. Mufflers are required.
Convertibles and T-top cars must have 5-point/6-point belts and arm restraints, as well as an approved roll bar installed. Factory "rollover protection" for a soft top (e.g., BMW Z3 and Z4, Porsche Boxster) is not sufficient for the school. Convertibles with hard tops, including folding hard tops, are NOT ALLOWED. No exceptions.

Examples of cars NOT ALLOWED: Firebirds and Camaros with T-tops or convertibles; any Corvette other than the Z06 coupe and the C7; Porsche convertibles and Targas. The Lotus Elise, Corvette C7 and Acura NSX, while targa-style cars, ARE ALLOWED due to their structural design only if the hard roof panel is in place (the soft roof panel is not sufficient). It is essential that you email us to discuss these issues well in advance if you plan to bring a convertible or T-top car. We will not give refunds if you arrive with an ineligible car.

Additional important information, a FAQ, a program overview, and the required GGC BMW CCA tech form are available in the event document folder.

Thunderhill Raceway Park
Willows, CA
Download track map
Buy virtual track walk
BMW CCA - Golden Gate Chapter - HPDE