About this event
On Saturday, April 16, Flying Lizard Motorsports has generously offered to provide an inside tour of their race day operations to members of Porsche Club of America, Redwood Region. This awesome tour will be provided for free, although you will need to purchase your race day ticket in advance separately through the Sonoma Raceway Ticketmaster site or at the gate on the day of the event to be able to get into the Raceway. The price for an all day, adult ticket is $ 25. The gates will open at 7:00 AM and not close until 6:00 PM so you will be able to experience a full day of Porsche action.
In addition, the Porsche Hospitality Center will provide a brief tour of their operations to our group following the Flying Lizard tour.
The Flying Lizard Motorspot tour is from 9:30 am to 9:55 am on the track infield (between the drag strip and turn 10). This requires access through the underground tunnel that is accessed from the northwest corner of the main grandstands.
The Porsche Hospitality Center is also in this 'infield' location. Our 30 minute tour there will start at 10:20 am.
Flying Lizard will have three cars entered in the Porsche Sprint Challenge by Yokohama race: two 718 Cayman GT4 MR's and a solo 992 Porsche GT3 Cup car.
In addition to the Porsche Sprint Challenge, the day will also see the first round of the Fanatec GT World Challenge Powered by AWS.
You can reserve your spot for this exciting opportunity to learn about Porsche Motorsport racing from the inside by registering below. Additional information about the specific time of the tour will be sent by Brad Williams via email. There is a limit of 50 attendees.
Following is the provisional schedule for the day. There are likely to be some time adjustments, but this will give you a good idea of the different events that you will be able to experience.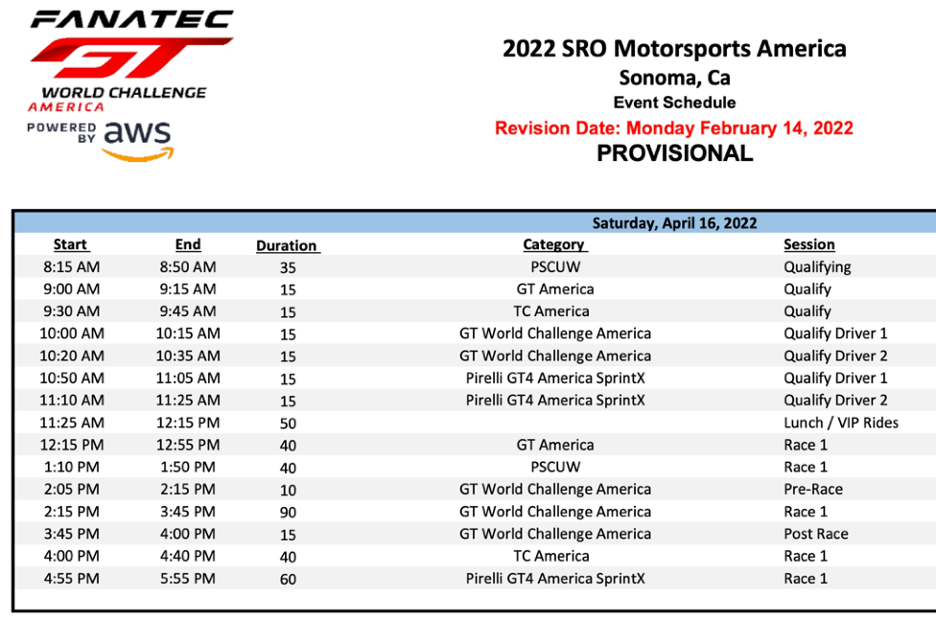 Event requirements
Note that you must separately purchase a ticket to enter the Sonoma Raceway site to be able to access the free tour. Click here to be directed to the Ticketmaster site.
Sonoma Raceway
Sonoma, CA
Download track map
Buy virtual track walk