About this event

May 3rd - Test and Tune
May 10 - Race 1
May 17 - Race 2
May 24 - Race 3
June 7 - Race 4
June 14 - Race 5
June 21 - Race 6
June 30 - Race 7 (Friday of Summer Challenge)
July 12 - Race 8
July 19 - Race 9
July 26 - Race 10
August 9 - Race 11
August 16 - Race 12
August 23 - Race 13
August 30 - Race 14
September 6 - Relay Event
*Race 7 (EDKRA summer challenge) is not included in all-in race fees.
Event requirements
Annual All-In Season fees are for 13 prepaid races, storage for one kart in DD2 storage seacan, eligibility for Rotax DD2 engine draw, and includes post-race dinner for $1430/season. These are race fees only and does not include the EDKRA membership or Race 7 Summer Challenge race fees. If you would like to pay per race, please complete the appropriate entry for it. Races are Wednesday nights with practice starting at 3:30 & qualifying starting at 5:00 for all races except for Race 7 which is on Friday night of the Summer Challenge.
May 3rd - Test and Tune
May 10 - Race 1
May 17 - Race 2
May 24 - Race 3
June 7 - Race 4
June 14 - Race 5
June 21 - Race 6
June 30 - Race 7 (Friday of Summer Challenge)
July 12 - Race 8
July 19 - Race 9
July 26 - Race 10
August 9 - Race 11
August 16 - Race 12
August 23 - Race 13
August 30 - Race 14
September 6 - Relay Event
*Race 7 (EDKRA summer challenge) is not included in all-in race fees.
Quali/Testing - 5pm till 6pm (tires you set your quali lap on are to be used for the race & you need to scale after running quali laps to ensure you are at weight)
Driver's Meeting - Approx. 6:15pm
Heat #1 - 6:30ish (10 laps)
Heat #2 - 7:10ish (10 laps)
Final - 7:50ish (12 laps)
The two weight classes are 397lbs and 420lbs.
Mechanics, officials or volunteers please check in with the following QR code...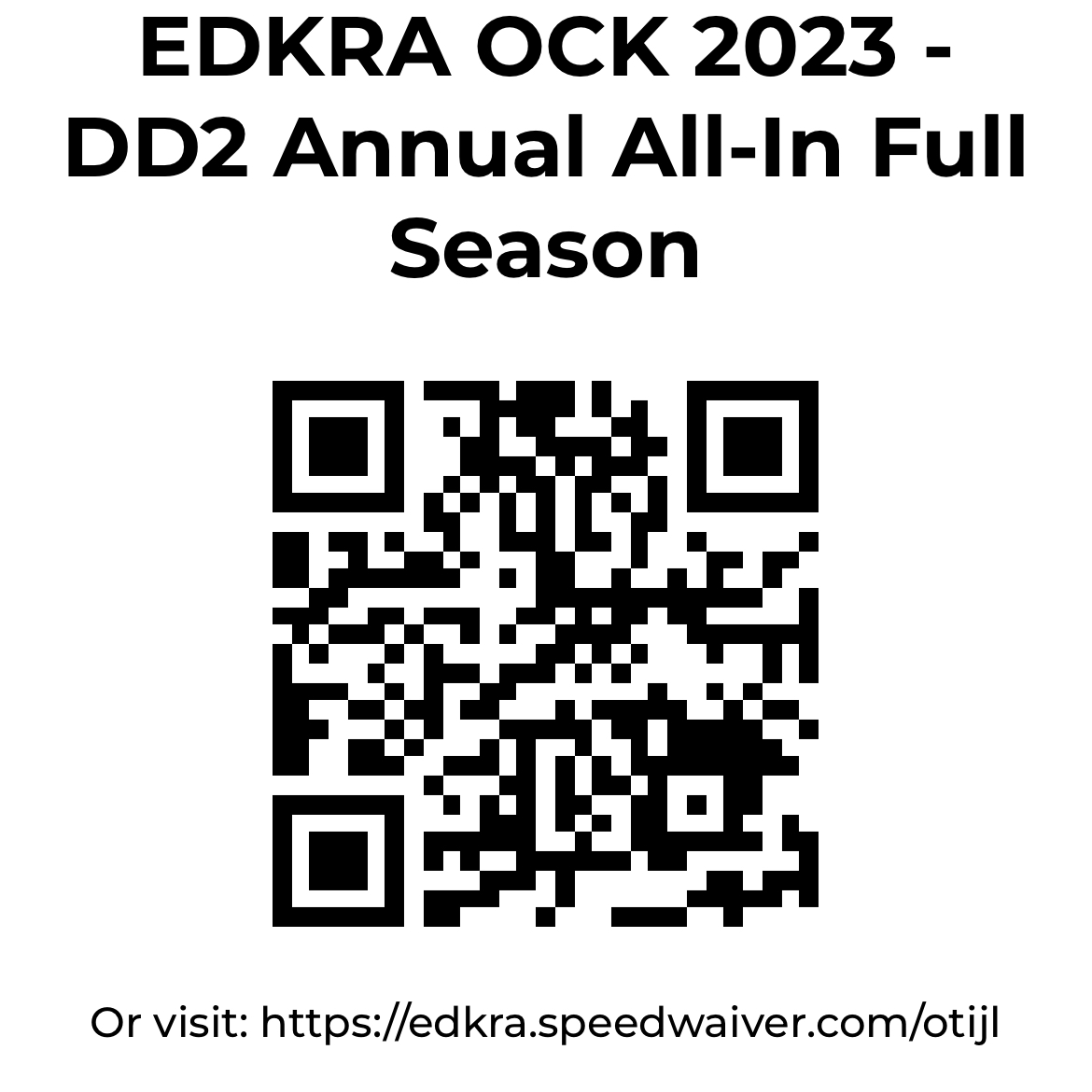 REQUIREMENTS FOR THE RACE SEASON
EDKRA must have an Annual General Facility Access and Annual Minor-Parental Consent Waiver (if applicable) completed. Please complete the digital SpeedWaiver. BOTH parents and/or guardians must sign the Parental Consent Waiver.
Through our Rotax sponsorship, OCK is allocated two DD2 engine packages for the season. OCK adminsters the draw for the engines using the following rules/eligibility:
One engine drawn for 420 class
One engine drawn for 397 class
Driver must participate in 70% of races (10 races) to be eligible
Driver must be an All-In racer
A driver that wins an engine is ineligible for the engine draw for the next three seasons
A driver that wins an engine in another EDKRA class is ineligible for the engine draw
** All in race fees can be etransfered to Brent Holowachuk at bholowachuk31@gmail.com.
SpeedWaivers must be signed by anyone in Pre-Grid/Scales/On-Track.
Racers will receive a SpeedWaiver link sent by text when they complete the registration form.
Rotax Mojo Raceway - Warburg AB
Warburg, AB
Download track map
Watch a video tour/lap
More events from this organizer