Fri, Mar 10 - Sat, Sep 30, 2023
DMS Time Trials Season Pass
Stratotech Park
About this event
Season Pass
Have a busy schedule and want the convenience of being able to just show up and compete to any StratoCross or StratoAttack competition this season completely hassle free? Then get the Season Pass! More info at www.dmstiming.ca
Benefits:
Get first pick at this seasons car numbers

Get first pick at The StratoCup registration spots before it opens up

Save $200 vs buying all the events separately

Always have a spot at the competitions even if they sell out!

No need to register or fill out any forms for the competitions. Just show up and race!
How easy is it?
Buy the package, sign the annual waiver, send in an online self tech for your vehicle(s) and you're ready to just show up and race at any StratoCross or StratoAttack competition for the rest of the season!
Price: $590
$790 value

Add in registration to the The StratoCup for $120 (save $20)

Only 10 available!
Some peace of mind with purchase:
Full refund if you change your mind before May 10, 2023

50% refund if you only attend 3 or less events after the season ends on September 7, 2023

$60 refund for any competition that gets cancelled & not rescheduled
Fine Print:
If changing classes you will have to give notice before or at the start of the event
Season pass does not include registration to The StratoCup or events that Dans Motorsports Timing is partnered with.
Classes
There are 5 classes: Tuner l Street l Extreme l Unlimited I The Slow Class
If your vehicle meets the classing requirements you may enter it.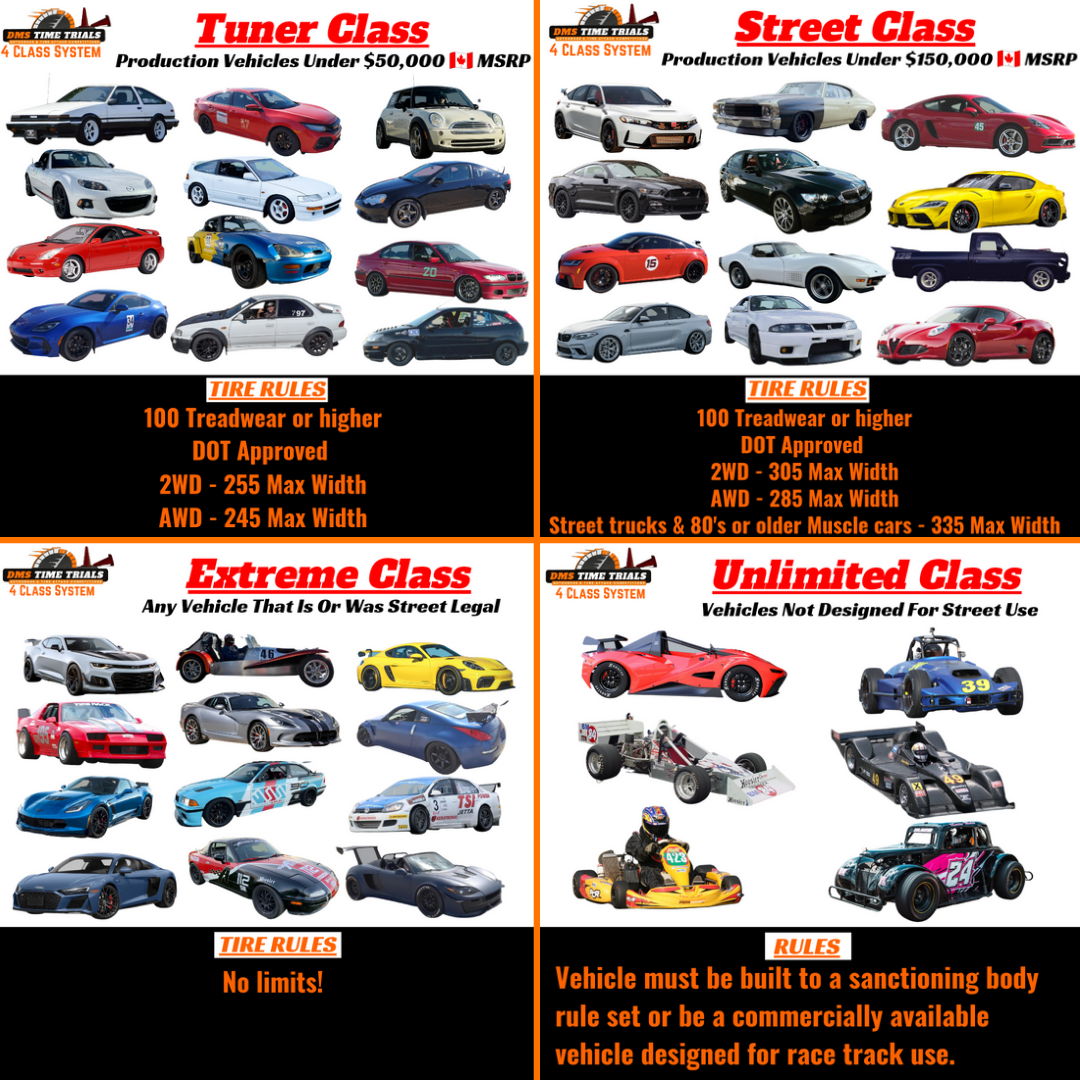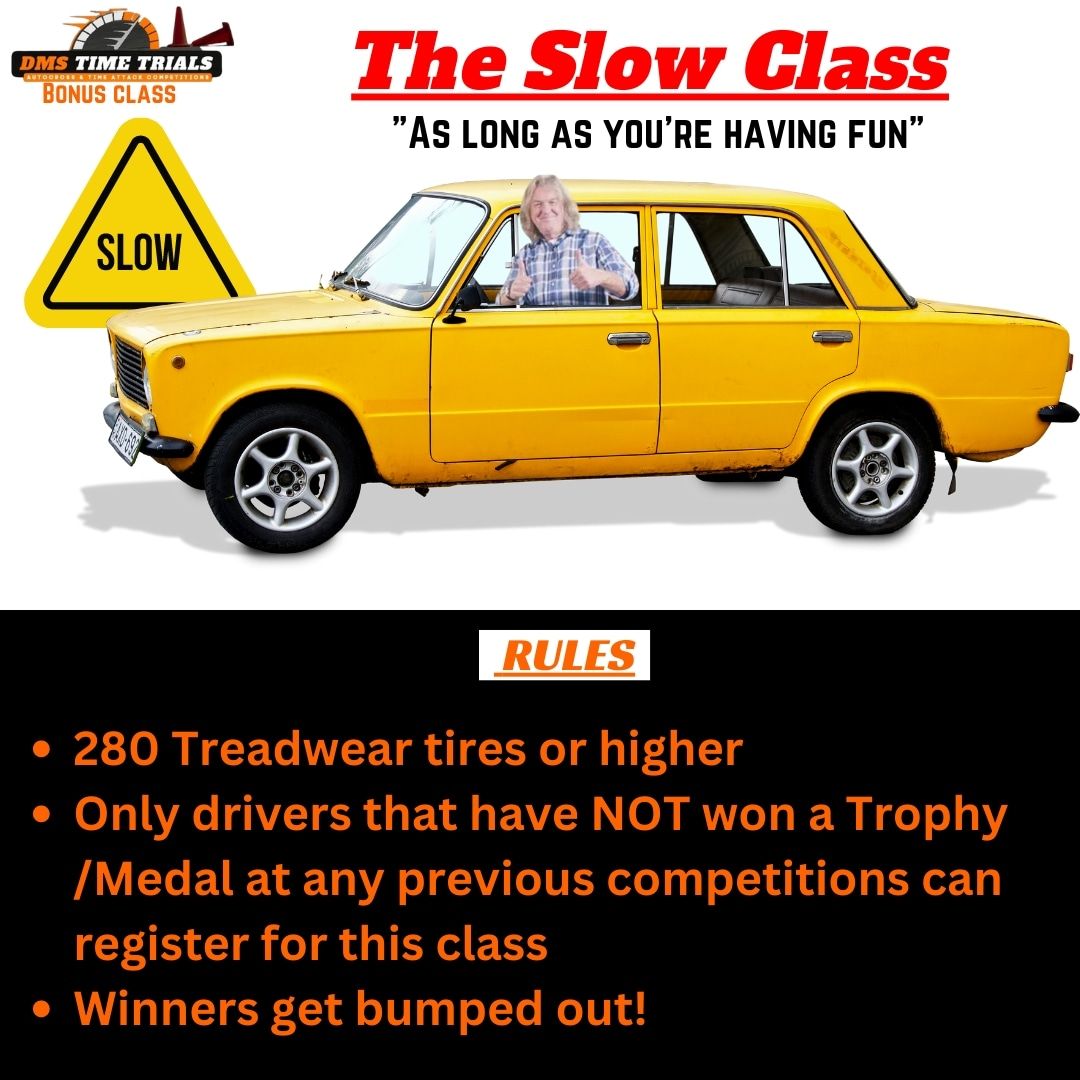 Vehicle Requirements
Suv's, trucks, vans and other high center of gravity vehicles are prohibited for safety reasons. Vehicles track width must be greater than it's height. (Street trucks are allowed)
Have a structure and bodywork that surrounds and protects the driver at least to their waist level when seated in their normal driving position.
Performance brake pads & brake fluid is highly recommended
Exhaust noise level less than 94dbA from 100 feet away
No fluid leaks that will drop oil or antifreeze on the track
All loose items must be removed from the vehicle.
3 point seat belt at minimum (Exception for Karts)
Kart Requirements Click Here *Kart are only allowed at StratoCross & The StratoCup competitions.
2023 Schedule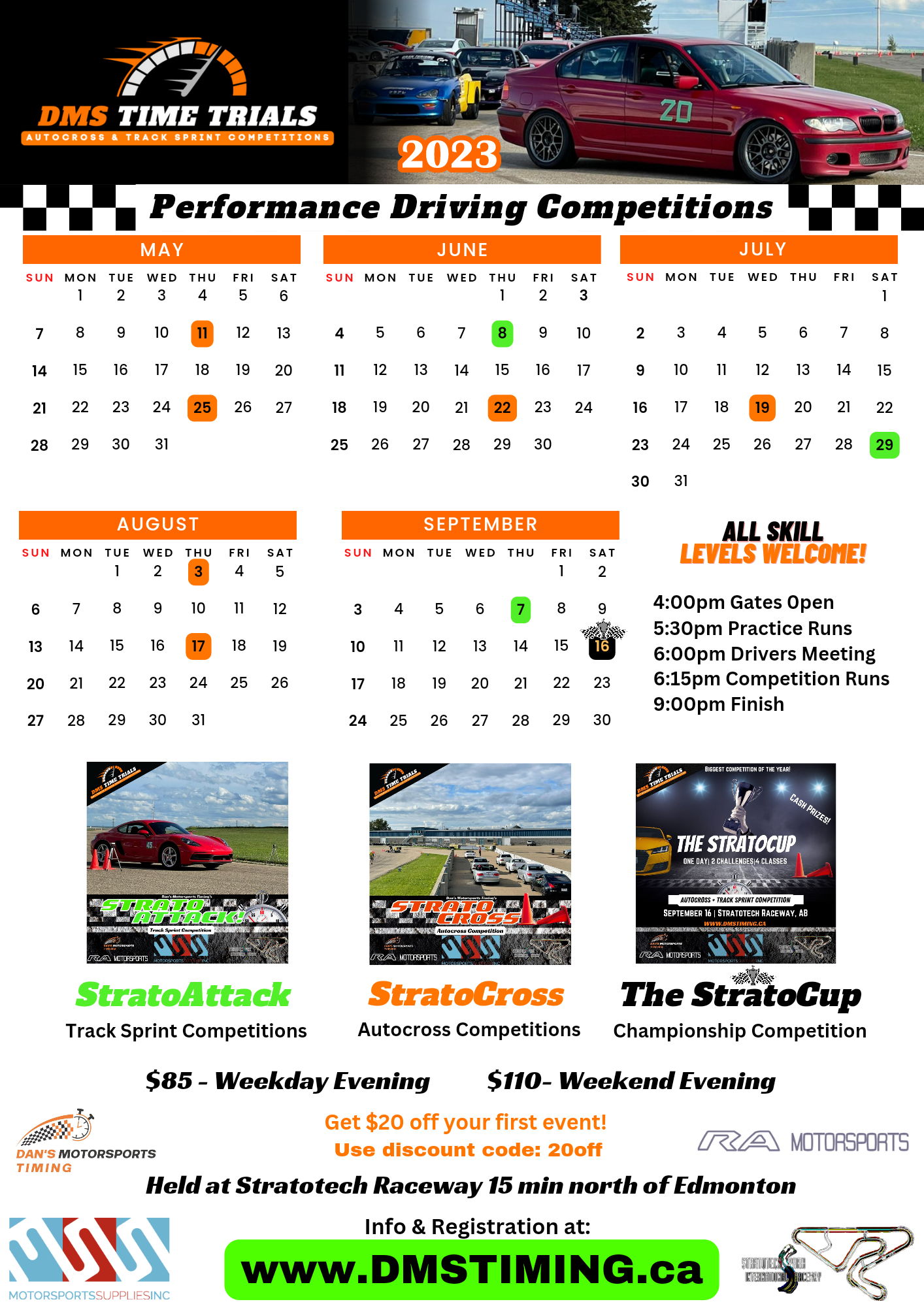 Event requirements
1. Purchase the Season Pass
2. Fill out the online Self Tech for your Vehicle(s) & Sign the Online Waiver (Click Here to fill out)
3. Show up & Race at any 2023 StratoCross or StratoAttack competition!

Stratotech Park
Sturgeon County, AB