About this event

SHERCO CANADA presents the 2023 AMSA OFFROAD PROVINCIAL CHAMPIONSHIP
ROUND #5 hosted by RMDRA
We welcome RMDRA Dirty Moose to the Round 5 of the AMSA Offroad Championship.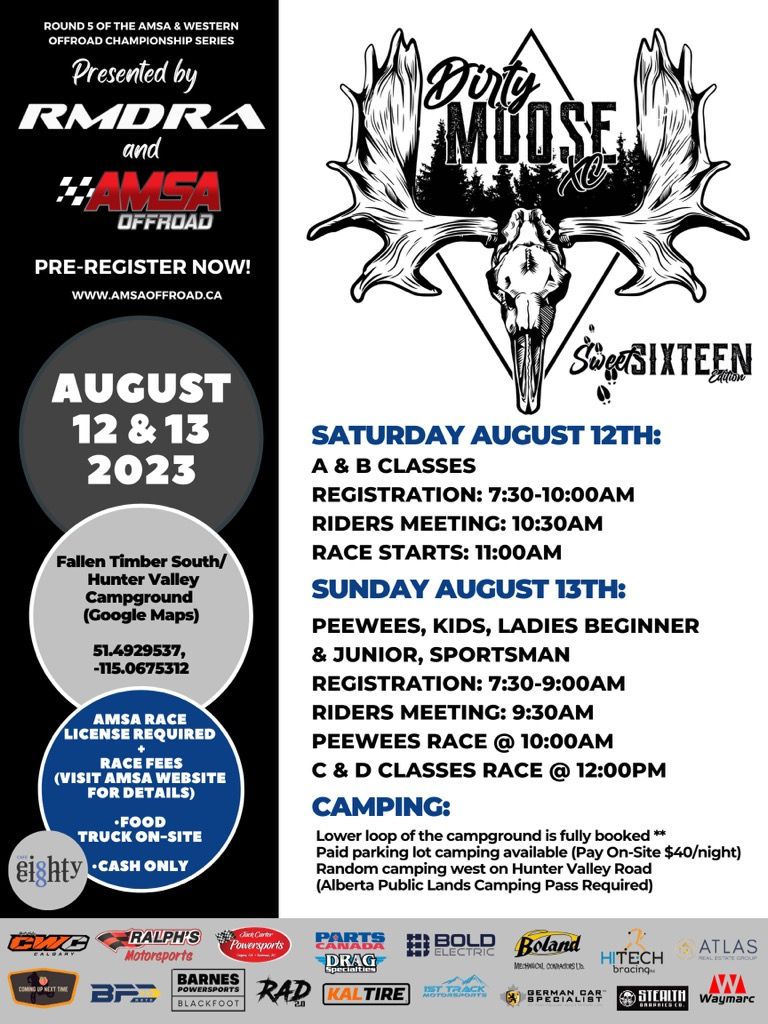 Event requirements
Follow all steps please!
Step 1) ALBERTA OFFROAD LICENCE - you must have an active licence to pre-register for the event. All non-memebrs must register on race day.
Step 2) RACE ENTRY - select your class and number. For riders racing both Kids Expert/Junior or Ladies Junior/Ladies Intermediate, please check both classes on the same entry form.
Step 3) PARTICIPANT EVENT WAIVER - Please follow the link here or on the next page to sign the waiver. For Parents/guardian to sign minor waivers please check the box "signing for minor". https://amsa.speedwaiver.com/spuav
Step 4) MAKE PAYMENT - After signing the waiver, complete your registration by making payment.
Step 4) RACE DAY - you pre-entered; therefore, go directly to the scoring team with your helmet to receive/confirm your RFID scoring tag is working. Bring a fueling mat for the pits if you have one, to mitigate environmental spills. ALL DOGS ON LEASH.
Hunter Valley Campground
Water Valley, AB