Sat, Oct 31 - Sun, Nov 1, 2020
DelVal BMW CCA - NJMP Thunderbolt HPDE
NJMP Thunderbolt
About this event
BMW CCA - Delaware Valley Chapter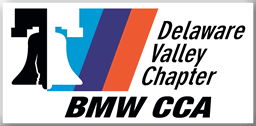 Join us October 31st and November 1st, 2020 at New Jersey Motorsports Park Thunderbolt Course for the Delaware Valley Chapter BMW CCA Thunderbolt Driver's School.
When: Saturday October 31st - Sunday November 1st
Where: New Jersey Motorsports Park Thunderbolt Course
We know you missed out on a lot of track time this year, but now's your chance to get another weekend in while the weather is still good! Many of the attendees at our August Lightning HPDE were hoping for another event this year, so here it is! Because this event is all HPDE (no Club Races) we will have maximum track time! 5 sessions a day for each run group, almost 4 hours of total track time! This event is open to drivers who have attended at least one driving school. Due to current NJ and national BMW CCA requirements, we cannot offer our usual in-car instruction. We have expanded our groups to include novice lead-follow, intermediate lead-follow and advanced solo. We expect to have plenty of instructors to help out, including lead/follow exercises and off-track discussions of on-track sessions.

PLEASE NOTE: We have COVID-19 policies and procedures in place in an attempt to keep everybody safe and ensure as much social distancing as possible. We will also not be collecting payment until the week of the event.

ANOTHER NOTE: Daylight Saving Time ends November 1st, so the Sunday event ends at 5pm instead of 6pm. We still worked out a schedule that will give you 120 minutes of track time Saturday and 116 minutes on Sunday.
| | |
| --- | --- |
| Last day to register: | Sunday, Oct 26, 2020 |
Student Cost for Saturday/Sunday: $500.00
Instructor Cost for Saturday/Sunday: $200.00
Young drivers (under age 25) are eligible for a $50 discount at Del Val events (proof of age is required, not combinable with other discounts.)
If this is your first time registering for and attending a DelVal Chapter BMW CCA HPDE, get a $50 credit to your MotorsportReg account!
Shirts - A commemorative event t-shirt is often included in our events. We reserve the right to substitute an item other than a t-shirt. Commemorative items are not a guaranteed element of your registration.
Please keep in mind that this is not a racing school but rather a high speed driving school, conducted on a race track under close supervision by experienced instructors. You will learn how to handle and control your vehicle at speeds not normally attained on public roads. This will help to prepare you for emergencies in normal driving. It will also allow you to explore your capabilities as a driver and those of your vehicle.
At no time will you be pushed or encouraged to go any faster than is comfortable for you. All participants will be organized into run groups in accordance with experience, skill, and type of vehicle. Participants not "signed off" will be required to drive with an instructor on board.
Pre-event tech inspection and registration for the prior evening will be announced and will also be at the track on Saturday morning (31st).
Cars with automatic braking and/ or lane drift correction systems will not be permitted to participate unless the systems can be fully turned off for the track sessions; proof that the systems can be turned off must be provided (i.e., information in Owner's Manual, etc.)
Be sure to visit the Chapter website, www.delvalbmwcca.org to read the Track Bulletins and Driver School event materials thoroughly.
See you at the track!!!
Event requirements
Everyone must read, understand and accept the WAIVER & RELEASE FORM prior to registering to participate in a Delaware Valley Chapter Driver School. The WAIVER & RELEASE FORM can be viewed above or downloaded from the Chapter Website. 
Please review the following information that is applicable to 2020 Delaware Valley Chapter Driver Schools:
Participation in Delaware Valley Chapter Driver Schools is limited to BMW CCA Members only.  Proof of BMW CCA Membership is required and may be verified.  Join BMW CCA on line <http://bmwcca.org/index.php?pageid=new_member> or call the National Membership toll free number 1-800-878-9292. However,while we strongly encourage membership, non-BMW CCA members are welcome to participate for their FIRST event.  Membership is required for participation in all subsequent events.
Participants must be 18 yrs old or more and hold a valid Driver's License. This may be verified at registration at the track.
We recommend that you have your vehicle inspected by a qualified mechanic no more than 30 days prior to the date of the event.
You must present your completed Student Tech Form or Instructor Tech Form to the tech inspector prior to event registration at the track. (Do not mail your Tech to the registrar.)
Once your Tech Form has been approved by the tech inspector, you must present the form and your completed Emergency Medical Form to the registrar to obtain your registration packet.
We require equal passenger restraint (minimum 3 point).
This is a driver's education school and is not practice for any racing or speed contest. All participants are required to attend classroom sessions to learn vehicle dynamics and driving techniques. These sessions will continue throughout the day to help you understand the fine art of high speed driving. Failure to attend as required will result in loss of driving privileges.
Clothing - long sleeves & long pants are required,  we recommend cotton or natural fibers. SNELL 2010 OR NEWER HELMETS REQUIRED.
Helmet - The state of New Jersey requires a full-face helmet with face shield installed (you do not have to use the face shield in a closed-top car).  Open-face helmets are not permitted for this event. Snell 2010 or newer helmets required.
Seatbelts - The state of New Jersey requires that aftermarket belts be less than 2 years old (SFI approval) and less than 5 years old (FIA Approval).
Cars must be muffled.
After-market window tinting / rear & side glass - you must be able to see through the vehicle while standing 20 feet away.  Since it may be difficult to assess whether your aftermarket window tinting is allowed it is strongly recommended that if you have any doubts that you contact Tech Chairman, Dave Somma, prior to the event to have the tinting inspected and approved. techchair@delvalbmwcca.org
SUV's are not eligible.  If you're not sure if your vehicle qualifies, contact Tech Chairman, Dave Somma, prior to the event.
No Convertible Cars Allowed
Cancellations:
•  Due to COVID-19 we are instituting a liberal cancellation policy. If you have symptoms or test positive before the event we will refund or credit you as below regardless of date.
•  Fees will not be charged until after October 26th, so you can cancel up until then with no processing charge.
•  Fees are non-refundable after October 26th, unless another student is on the Waitlist to take the vacated slot, in which case a 10% processing charge applies.
•  Fees can be credited toward a future DelVal Chapter Driving School within one calendar year to avoid the processing charge.
Event Registrar:  Lisa Mellott, 4 Cricket Lane, Westport, CT 06880 - E-mail address  registrar@delvalbmwcca.org - Evening Phone - 203-858-0262
Pre-event tech inspection and registration will be at the track on Saturday, October 31st starting at 7:00 a.m. (Registration and event tech inspection on the evening before the event will be announced closer to the date of the event).
Be sure to visit the Chapter website, www.delvalbmwcca.org where any event updates, Track Bulletins and other Driver School event forms and information may be found.
Wait List – Student applications are accepted on a first-come, first-serve basis, provided all eligibility requirements have been met. There are a limited number of Student spaces available for our events. This number may vary from one venue to another. Additionally - Students are divided by Run Groups (Novice, Intermediate & Advanced) based upon the experience level of the Student. If we receive event applications after a Run Group is full, a Wait List will be created. Wait listed applicants will be accepted on a first cone first serve basis if a vacancy is created due to a cancelation.  The event registrar will inform you of your status (confirmed or waitlist) prior to the event.
When you are ready to register, click continue.
NJMP Thunderbolt
Millville, NJ
BMW CCA - Delaware Valley Chapter