About this event
The Central Roadracing Association (CRA) is a 50+ year old non-profit organization run entirely by a volunteer board and staff. Our mission is to provide the safest, most affordable, and fun environment in support of the sport of motorcycle road racing. Everything we do in terms of financials is designed to support that mission. Our race fee structure, awards program, advertising, volunteer incentive programs, and safety funds are all closely maintained and managed to grow the sport, increase safety, and ensure longevity of the organization itself.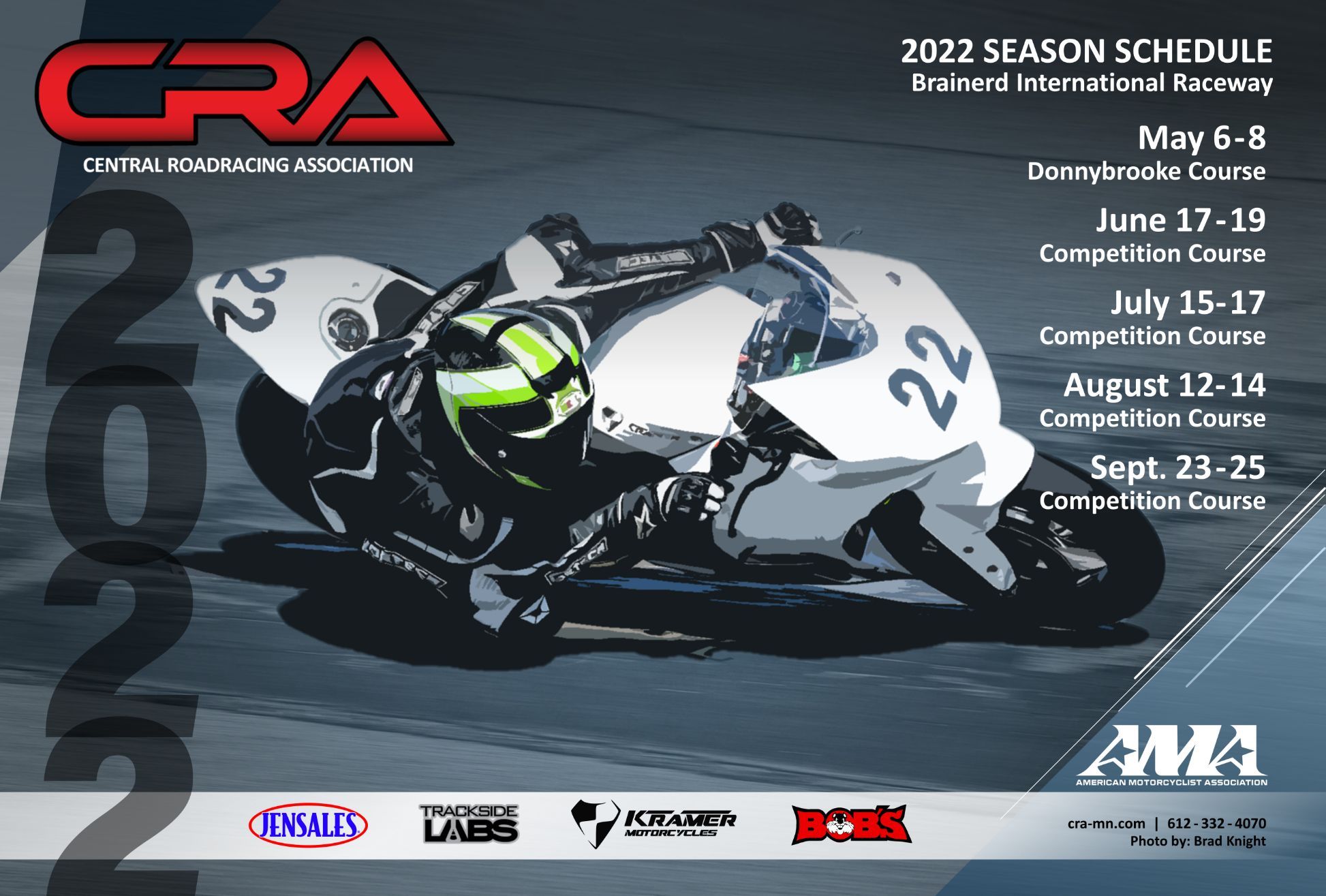 Brainerd International Raceway is the largest racetrack in the Upper Midwest and may offer the most diverse motorsports schedule anywhere. With a world-class drag strip and two road course configurations (one is 2.5 miles and the other is 3.1 miles), BIR hosts drag racing, road racing, endurance racing, Superbike racing, drifting and autocross competitions, cruising events, and car shows. It even has a small lake in the campground for watercross, where snowmobiles race on open water.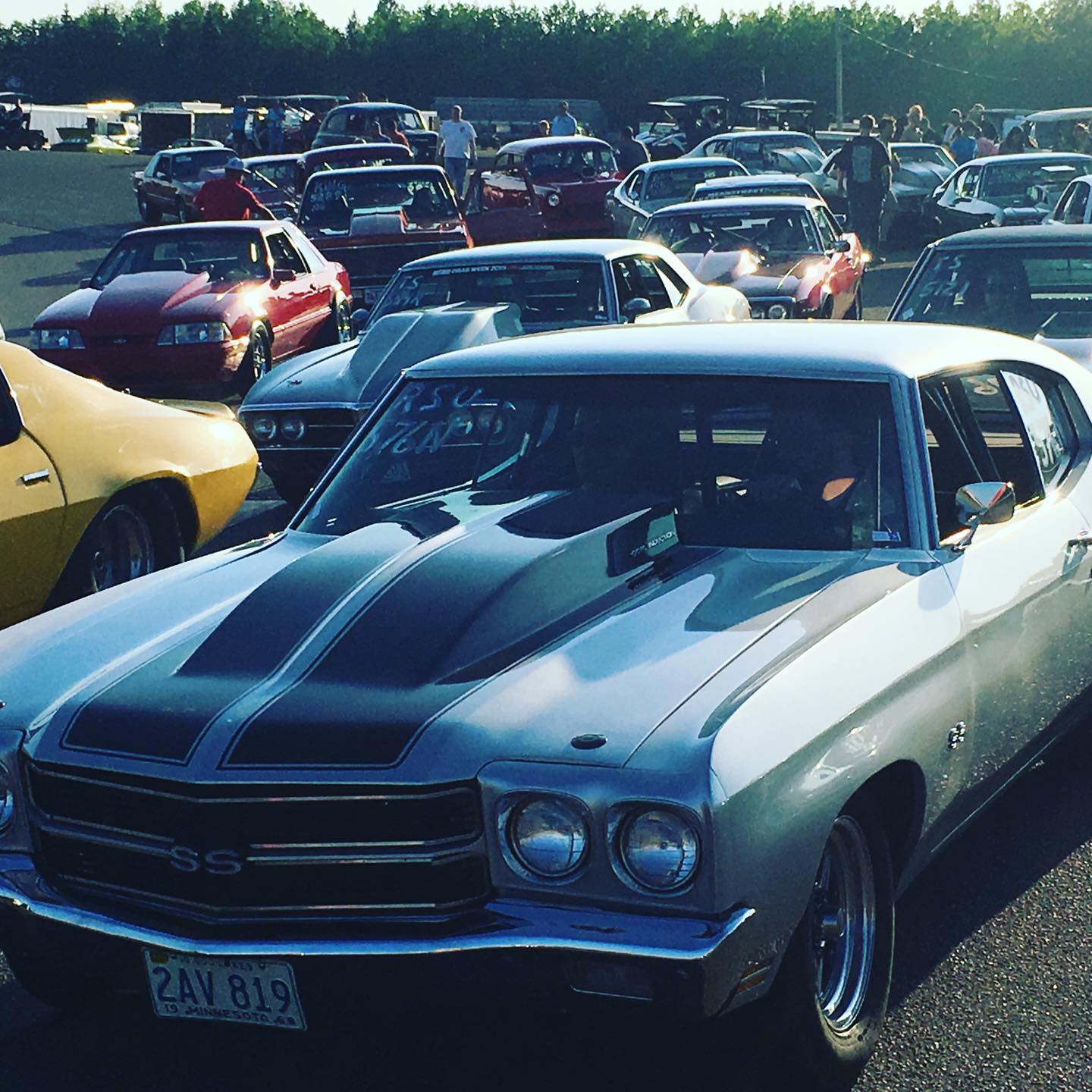 Event requirements
Pre-Registration Requirements:
RACER/MOTORCYCLE REQUIREMENTS
Motorcycles are to conform to Central Roadracing Association regulations.
A valid Competition License from the CRA ,or reciprocating organization.
Track day experience, driving school certificates, and/or resumes are NOT substitutions for a Competition License and will not be accepted.
In addition to a valid competition license, racers age 16 and 17 years old must also have a completed and notarized minor release waiver in hand that covers 1/1/22 - 12/31/22.
Your competition license must be valid at the time of registration.
Race Registration
The July race weekend of the 2022 season is already here and the CRA will be hosting Single Sprints and the always exciting Jed Copham Memorial Team Challenge on the Competition Course.
MotorsportReg.com
The CRA is now utilizing MotorsportReg.com (MSR) for all race registration and product purchases.
Racers are required to complete their

CRA Membership

on MotorsportReg.com BEFORE they register for a CRA event.

New riders CANNOT register for races until they have completed new rider school and received their race license.

Grid spots will continue to be awarded based on registration date/time. The earlier you complete your registration, the better your grid spot.
Customers will be able to update their own registration during the early bird pricing period from June 25th through July 9th.

After early bird pricing ends, in the event you need to add, remove, or change your registration in any way you will be required to contact Race Registration via email or in person at the event.
| | | |
| --- | --- | --- |
| Product | Early Bird Price* | Post Early Bird Price* |
| Racer Wristband | $100.00 +tax | $100.00 +tax |
| Friday Practice: Full | $85.00 +tax | $100.00 +tax |
| Friday Practice: Half | $75.00 +tax | $75.00 +tax |
| Sprint Races | $50.00 +tax | $60.00 +tax |
| Transponder Rental | $50.00 +tax | $50.00 +tax |
*All prices shown on MotorsportReg include sales tax at a rate of 7.375%
MSR does not do "pre reg" pricing in the same manner as the previous CRA store. MSR utilizes what they call early bird, and post early bird pricing. Once "pre reg" ends, items will incur a post early bird late fee increasing the price to the post early bird amount.

CRA Event Registration on MSR will not allow a user to select concurrently running races. ie. You cannot register for both Sportsman Lightweight and Sportsman Middleweight since they are on the track at the same time. If you attempt to select both, MSR will automatically uncheck the previously selected race.

MSR requires online payment at the time of registration. The CRA will no longer be accepting offline payments such as cash or check.
July 2022 Registration Dates
| | | |
| --- | --- | --- |
| Early Bird Registration | 8am June 25th | Midnight July 9th |
| Post Early Bird Registration | Midnight, July 9th | 8:30am, July 17th |
CRA & AMA
Starting in 2021 the CRA is now an AMA (AmericanMotorcyclistAssociation) sanctioned organization.
In accordance with AMA rules1 all racers are required to hold and provide proof of AMA membership before they are allowed to compete. Proof of membership will be requested at the race registration window prior to receiving your racer wristband,
1"All riders in AMA-sanctioned competition are required to be AMA members or have an AMA issued one event pass. AMA associate members cannot participate in AMA sanctioned competition."
Brainerd International Raceway
Brainerd, MN
Central Roadracing Association