About this event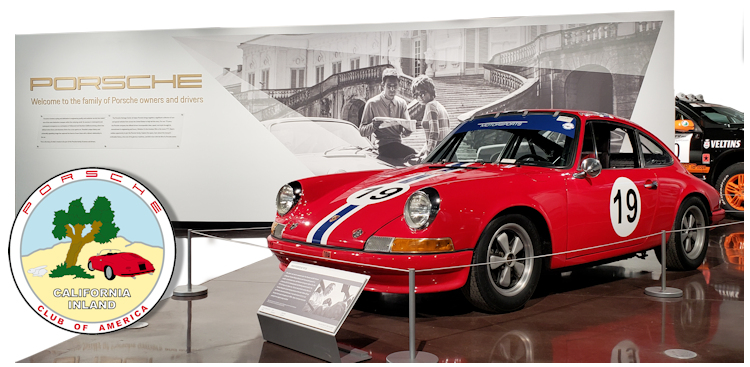 Hello, Cal Inlanders!
You won't want to miss this: Our June Breakfast, Board Meeting & Group Drive will be held at PORSCHE SANTA CLARITA on Saturday, June 25th!
Drive your Porsche, socialize with your Porschephile friends and hear the latest PCA news - while having a catered breakfast in Porsche Santa Clarita's Wunderground museum!! This is sure to be a very fun and enjoyable event, so don't miss out!
For the Drive: We will meet at 8:40 AM at the Albertson's in Palmdale (38727 Tierra Subida Ave.) and head out at 8:55 AM with a fun drive through the canyons, finishing around 9:55 AM at Porsche Santa Clarita (23645 Creekside Rd in Santa Clarita)
All group drive participants must sign the appropriate PCA waivers for driving tours.
Please review our (updated) group drive safety guidelines in the pre-registration requirements.
If you'd like to skip the drive, you can just meet us at Porsche Santa Clarita around 9:55 AM.
Date: Saturday, June 25, 2022
Time: 10:00 AM to 12:30 PM (PDT)
Porsche Santa Clarita Location: 23645 Creekside Road, Santa Clarita, CA 91355
Event requirements
Group Drive Details:
Rendezvous: We'll meet at Albertson's in Palmdale (38727 Tierra Subida Ave)
Please arrive by 8:40 AM: There are waivers to sign, followed by a short briefing. It'll also buy time for a quick "bio-break." We will hit the road @ 8:55 AM.
If you have a UHF radio, please bring it as the cellphone signal is spotty. We will be using Channel 5, CTCSS sub-channel 5.
Emergency Contact Phone #: John Quick (661) 878-1139
Load this web link into your smart phone for Google Map directions: https://goo.gl/maps/PoKePhh9Q321f18T6
The Route: At 8:55 AM we will exit the Albertson's parking lot, turning LEFT onto Tierra Subida Ave.
At the stoplight, turn LEFT onto Elizabeth Lake road.
In approximately 7 miles, turn LEFT onto Bouquet Canyon Road.
We will continue on Bouquet Canyon Rd. for 24 miles into Valencia, where we will turn RIGHT onto Magic Mountain Parkway and then take a RIGHT onto Valencia Blvd. A final RIGHT turn onto Creekside Rd. will get us to the dealership's parking lot.
Group Drive Safety Guidelines:
Safety is our first priority! Turn on your headlights and remember our group drives are not track events. Focus on the driving task stay sharp – you're in a PORSCHE!
Please ensure your car and you are tour-ready prior to departure: sufficient fuel, oil and coolant levels topped up, healthy and properly inflated tires, bio break etc.
Drive aware! Road hazards such as road debris and rocks can be kicked up by other vehicles unexpectedly. Remember that your PCA friends' cars - that they love as well - are with you. Bicyclists, wildlife, and slow moving utility vehicles are commonly encountered on weekends in the rural areas that we'll be passing through.
Once established on the drive, stay in your position relative to the other vehicles in the group. Maintain a safe nose-to-tail following distance from the vehicle ahead of you

About 2 to 3 second spacing is ideal: not too close (no rock chips), but not too far (large gaps can split up the group). Do your part to keep the driving group together and tidy!

Focus on enjoying your glorious Porsche - No distracted driving, please!
Maintain awareness of the lead vehicle. The route may have to be changed due to traffic or road conditions/closures. Stay flexible!
If you experience a mechanical issue/failure and must pull over, turn on your hazard lights. The sweeper car will advise the group and peel off with stranded member(s) for assistance and advise the group of status. No member will be left stranded.
Often we experience little/no cellular phone coverage along our twisty road adventures. Our group utilizes handheld UHF two-way radios for communication and safety. If you have your own UHF radio, please tune to channel 5, and use CTSS privacy code 05 as well. If you have a radio, pay attention and listen for any updates that may be broadcast; if we need to change channels due to interference, a new channel number will be broadcast to everyone in our group.
As always, club veterans are at your service for any questions or concerns you may have.
Have Fun! We're driving our Porsches in their native habitat: winding back-roads. Relish the drive!
Porsche Santa Clarita
Santa Clarita, CA