About this event
The event is CANCELLED. The autocross portion at lunch is still a go, and registrations for that are open. Refunds will be issued shortly.
Burbles of Bavaria 2022 @ Lone Star Park
The Lone Star Chapter CCA is pleased to host the 4th annual Burbles of Bavaria fest for all BMW fans! Come meet old and new friends, see some amazing cars, win some prizes, and learn a few things! This year, the event will take place on December 4th, from 10am to 2pm, at the Lone Star Park in Grand Prairie, TX. The event will happen simultaneously with Event #8 in the Lone Star Chapter AutoX series.
New this year - we are offering an Autocross add-on to the registration, which will take place over lunch. This is a great way to have a taste of the sport! We will only have 10 spots available. Each participant will get three instructed runs, followed by a ride with an instructor. Note that Autocross Event #8 in the series is a separate event from this add-on.
We will also have a few DIY demos during the event - plugging a tire, installing new brake pads, etc.
Anyone who joins the BMW CCA at bmwcca.org between November 1st and December 4th will be eligible to attend this event for free (full registration refund will be issued).
This year, we will again pre-draw any prizes we have the day before the event, and you'll be able to claim them at the tent. Anything unclaimed will be raffled out at the end of the event among those present.
Please park ONLY in the green parking lot: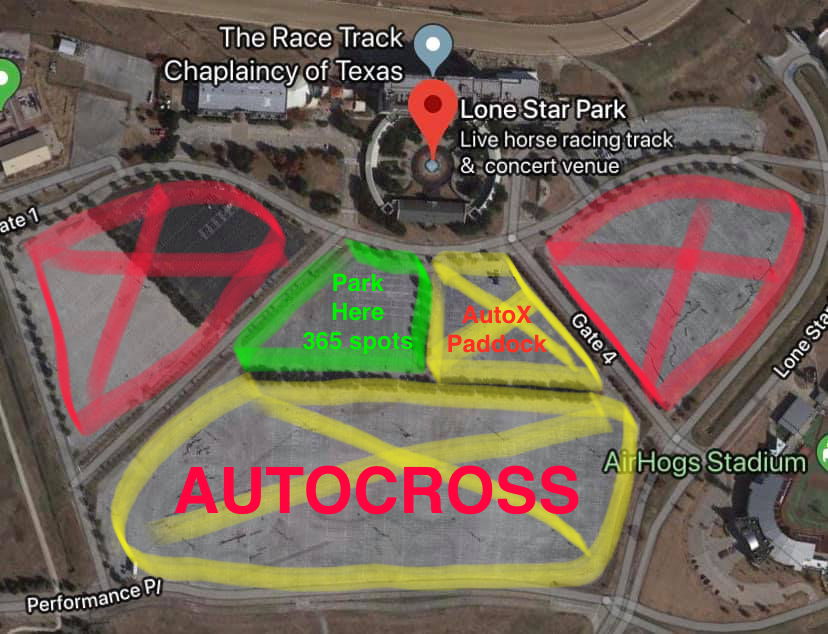 Lone Star Park
Grand Prairie, TX
BMW CCA - Lone Star Chapter