About this event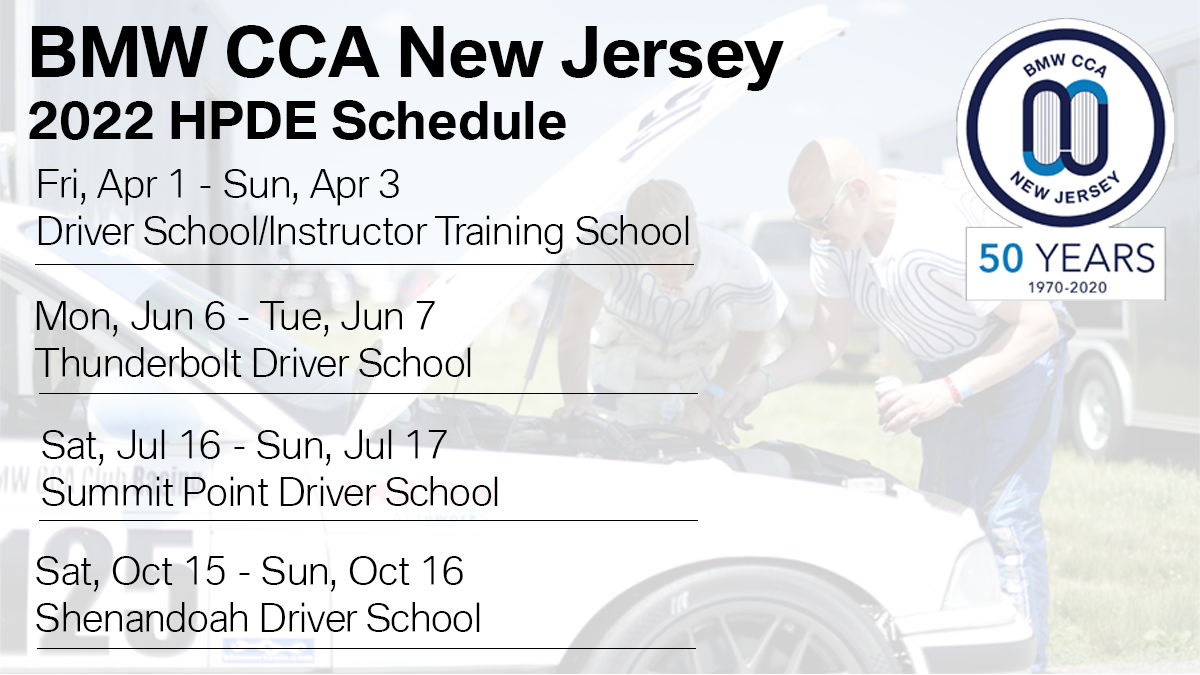 Welcome to the BMW CCA New Jersey Chapter
- HPDE 2022 Season Calendar-
This year, we will be hosting four premier driver schools at our favorite venues.
Why Choose BMW CCA NJ?
We mentor and nurture a learning atmosphere at all our performance driver schools. Our mission is to make you a better and safer driver, with education and safety being the foundation of everything we do while exploring the capabilities of you and your car. We have the BEST instructors around. As the first BMW CCA chapter to host a driver school, we have 48 years of experience running HPDEs. We know how to help our students learn & build solid driving skills, whether for daily driving, continued participation in track events, or even amateur racing.
What sets us apart?
BMW CCA NJ is a non-profit club run by dedicated volunteers. We do this for the love of the sport, and our goal is to foster a fun and educational environment.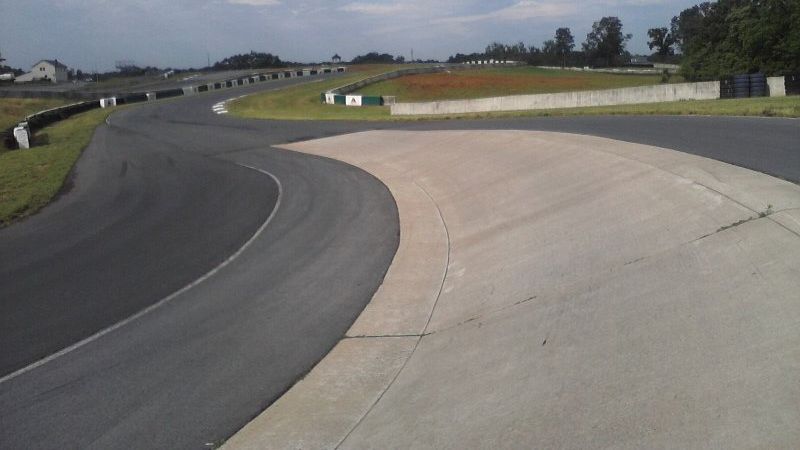 What should I expect?
Students drive in "run groups" based on their previous driving experience. First timers and beginner drivers are grouped on track. This group learning experience reduces on track stress and allows drivers of similar pace to drive together. Those with more experience will be grouped into intermediate and advanced groups, respectively.
Additional Specifics - More Information
What are the requirements for myself?
Our students have an open mind and are ready to learn.
Participants MUST have a BMW CCA membership. Participants must be over 18 years old.
You should have a full-face helmet Snell2015 (or newer) SA rated . Loaner helmets are available for first-timers.
Additional Specifics - More Information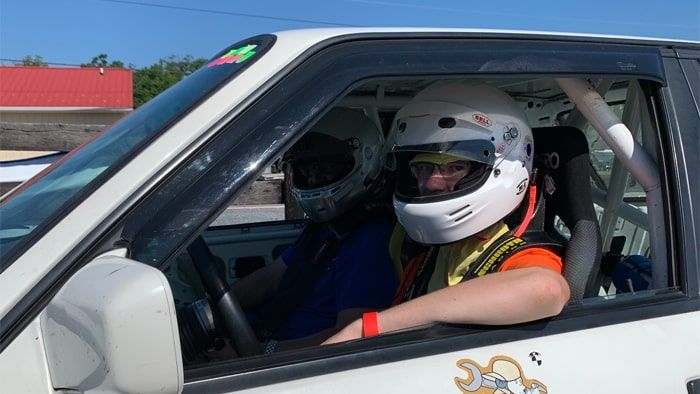 What is an HPDE Driver School?
A Driver School is a chance to have tremendous fun with your car, driving in a controlled environment on a racetrack. You will become a better, smarter, and safer driver through practice and various planned exercises.
What are the vechicle requirements?
ANY make and model are welcome to join in our HPDE regardless of model and make. Daily drivers, as well as full track prepared cars, are encouraged and welcome
High ground clearance vehicles, such as SUVs, and convertibles (hard or soft-top) are not permitted in NJ chapter events. Hard-top targa-style cars are subject to approval by the Event Chair and Chief of Tech.
Your vehicle MUST pass BMW CCA NJ Tech Inspection. We WILL check the day of the events with a basic inspection but you should perform a thorough inspection or have one done by a knowledgeable professional.
BMW CCA NJ Tech Inspection Form
Additional Specifics - More Information
What is a BMW HPDE instructor?
A BMW CCA instructor will sit right seat in your car and/or lead follow for the entire event. This trained instructor is your dedicated coach to ensure your success and safety. Your instructor will show you the ins and outs of the whole HPDE experience and be your guide to having fun and learning.
Additional Specifics - More Information
Come join us and have more fun than you can imagine.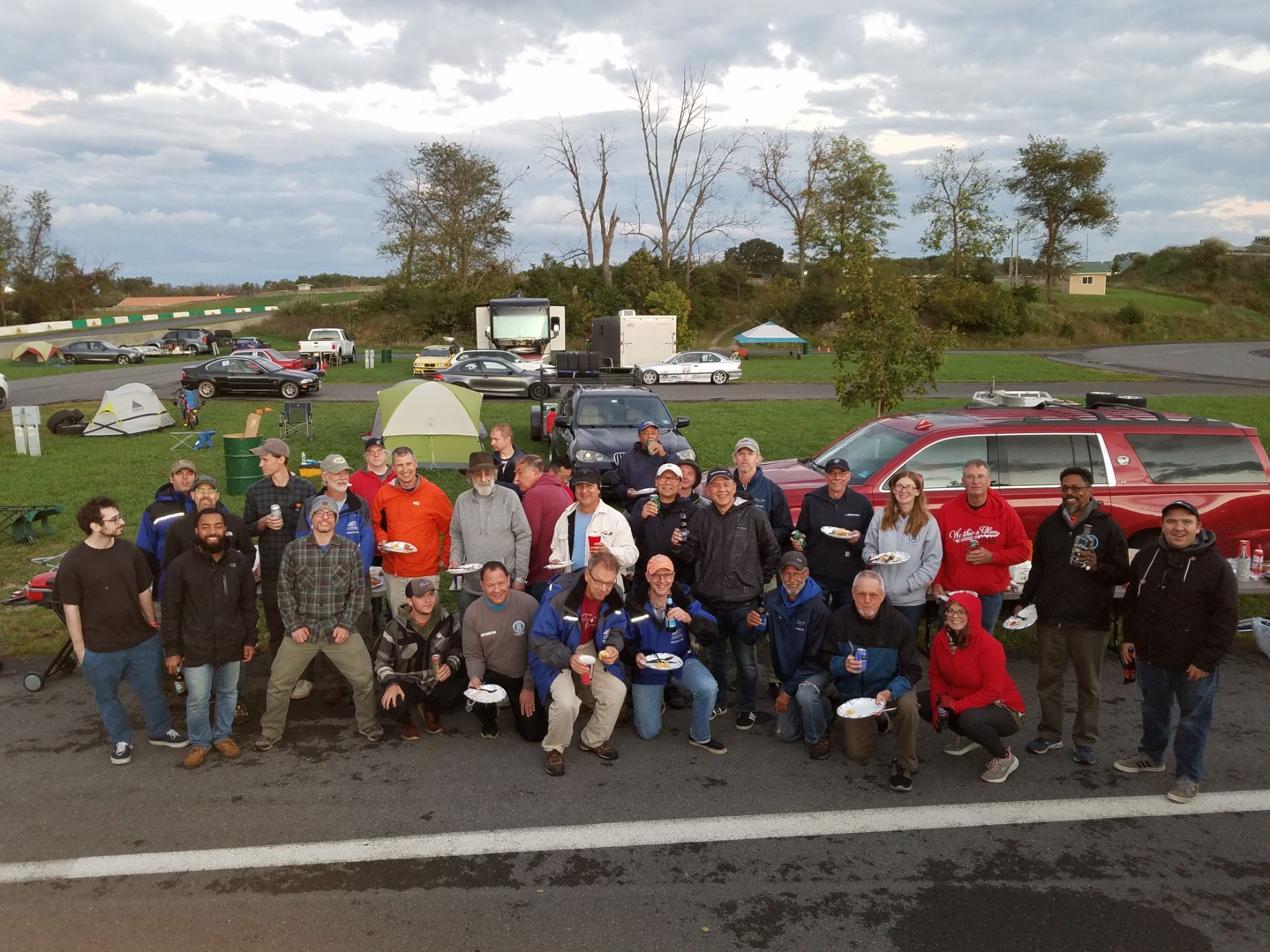 BMW CCA - New Jersey Chapter
More events from this organizer