About this event

The Bertil Roos Car Control Clinic Is Perfect For Expanding Your Comfort Zone In A Sliding Motion!
The Bertil Roos Car Control Clinic is a specialty program, designed by the Bertil Roos Racing School. This is NOT a drifting school, but it is a school that gives drivers the opportunity to experience the threshold of grip, and what it is like to exceed grip's limitations. Drivers will spend the entirety of this program either in our patented "slidecars", or in our racecars with a specific car setup for this program. Slalom courses, a modified racetrack, and a makeshift elevated "oval" track are some of the exercises that drivers will be tackling in this fun program.
*Please note that in order to attend this program, drivers will have needed to either attend our Bertil Roos 3 Day Road Racing School, other organization equivalent, or possess some form of autoracing license prior to this event. For questions regarding prerequisites, please contact our office.
Let's Get You Sideways!
Out of all of our programs, the Car Control Clinic utilizes our patented slidecars the most. These slidecars are designed to simulate a slide at a safe speed to give drivers the practice of feeling and controlling a car getting sideways. There is no other piece of equipment in  the world that simulates a car "stepping out" as well as our slidecars.
Drivers will also be spending plenty of time in our in-house built Formula 2000 cars. These cars were designed specifically for optimal training and safety. Powered by a Ford 2.0L, 4 Valve engine, and weighing in at about 1200lbs with the driver, our cars have no trouble accelerating out of corners. We place a specific car setup on our cars for this event that gives them plenty of oversteer. Drivers will have no trouble at all getting the back of the car to want to swing around on them, but they will have to learn how to control it and try to prevent a spin.
By using our slidecars and our racecars with an "assy" setup, drivers will have no trouble at all getting accustomed to sliding and spinning. In order to learn how to control a spin, you must first know what the beginning of a spin feels like. By the end of this program, drivers will have experienced and know the different levels of grip, and have gathered the know how and confidence to control a slide.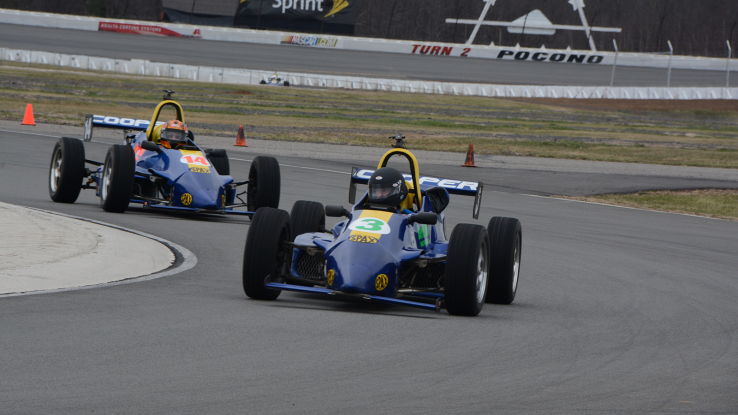 The Art Of Spinning!
Any driver that attends our Car Control Clinic is guaranteed to spin, and we highly encourage it. Drivers will learn that there actually is a right way and a wrong way to spin. Drivers who spin correctly will minimize damage, unnecessary movement, and keep the car from stalling. Drivers who do not know how to spin commonly end up letting the car drift and stall in a dangerous part of the track. A portion of this program will be teaching drivers how to safely spin and keep the car contained to a safe area on track.
Rain? Of Course We Race In The Rain!
The Bertil Roos Racing School will continue with the scheduled program rain or shine. Rain during the Bertil Roos Car Control Clinic will only making sliding easier and more fun. Any driver who has experience rain driving also knows that rain racing requires an elevated focus of car control. The only weather that will cause an event cancelation is stormy of extreme weather conditions that place the drivers and cars in danger. Please refer to our website, racenow.com, or contact our office to learn about our weather-related cancelation policy.
Get Comfortable Sideways Today!
For more information about this program, feel free to call our office at 1-800-722-3669, or email us at customerservice@bertilroos.com.
Event requirements

*This Program Requires The Prior Completion Of The Bertil Roos 3 Day Road Racing School, Other Organization Equivalent, or Some Form Of Autoracing License. 
After completing your registration on motorsportsreg.com, please contact our office to confirm your prior experience and complete your event reservation.

The Only Requirement is yourself and dressing for the occasion! Please also review the following as well prior to the event.
The Bertil Roos Racing School will provide loaner safety equipment to our students at no extra charge. If a student wishes to bring their own equipment, he/she must first have it approved by one of our instructors. Motorcycle helmets with an "M" are not permitted. Only helmets with a SNELL SA rating will be approved for use in our cars.
Closed-toed shoes are required. Boots are not recommended as they will not fit well in the cockpits of our cars. Loose, comfortable, but not baggy, clothing is recommended for the best comfort in our cars. Gloves are also recommended for driving our cars, but not required.
We recommend that all students review the provided important information packet, textbook, and track map prior to attending the program. This allows for a better understanding and reference throughout the program.
We ask that all attending students try to gain some familiarity with a standard/manual car transmission prior to attending our program. Our racecars' transmissions are standard and non-synchronized. Prior familiarity will allow operating our cars to be much less stressful.
All minors under the age of 18 participating in our event must be accompanied by a consenting adult. A valid driver's license is required to drive our racecars, but the Bertil Roos Racing School will make exceptions based on past driving experience. Please call our office to request an exception.
Any and all spectators are welcome but must sign our liability waiver during registration for our program. All spectators must also remain within the approved areas on track. Any children must be kept under strict supervision. Any pets brought to the event must remain on a leash or within a vehicle. Rules regarding spectators and pets are put in place for the safety of the spectators, the students/participants, and our staff. The Bertil Roos Racing School reserves the right to ask anyone whom neglects to adhere to our safety regulations to leave the event, however an initial warning will be given upon the first infraction.
Palm Beach International Raceway
Jupiter, FL
Bertil Roos Racing School
More events from this organizer