Bertil Roos 3 Day Road Racing School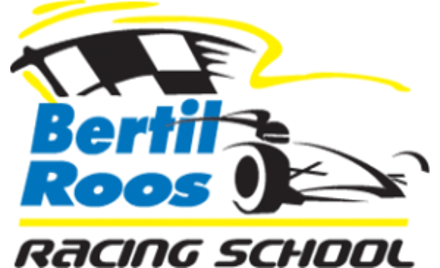 Bertil Roos Racing School
Monday, Dec 11 — Wednesday, Dec 13, 2017
Palm Beach International Raceway
,
Jupiter

,

FL
Registration closed December 10, 2017 11:59 PM on December 10, 2017 11:59 PM EST Registration ends December 10, 2017 11:59 PM on December 10, 2017 11:59 PM EST Registration opens November 27, 2017 12:00 AM on November 27, 2017 12:00 AM EST Registration runs from November 27, 2017 12:00 AM to December 10, 2017 11:59 PM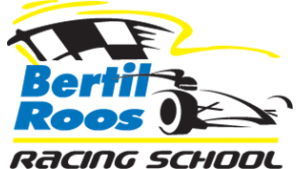 Start Your Road Racing Career The Right Way!
The Bertil Roos 3 Day Road Racing School is the very first step for every motorsports hobbyist or road racing career.
An Intense, But Minimal Stress, Training Setting!
This school teaches students the fundamentals of driving a racecar on track at a high performance level with subjects that range from driving lines to reading corners on a track. Plenty of on and off track training will ensure that students learn the materials covered within the school in the necessary environments.
Students will be learning initiate every lesson within a classroom setting so that stress is mitigated and the information sticks. Skills and practice will take place on-track so that students will be able to practice what they are learning in a hands-on fashion.
Upon meeting all of our staff, students will be assigned to instructors for the entirety of the school. This assignment allows for our instructors to place all their focus and attention into training their assigned students so that they can observe more and give better feedback and training. Assigning students also allows them to form a friendship with their instructors so that the students are more relaxed during thier training.
The Best Cars And Equipment For The Job!
The Bertil Roos Racing School heavily utilizes our patented Slidecars for the best car control and eye-technique training in the world. Our Slidecars simulate a lack-or-traction situation. No other piece of equipment in the world does this job like our slidcars.
The Bertil Roos Racing School utilizes in-house built formula cars that were designed by the school founder himself, Bertil Roos. Our cars are competition style Formula 2000 cars that have been redesigned for optimal safety and teaching purposes. Our cars run with a Ford 2.0L, 4 Valve engine that pushes 150bhp. With a weight of only 1200lbs, with the driver, our cars are capable of reaching 130mph in a draft and can stop on a dime! Front and rear wings on our cars allow cornering speeds capable of pulling up to 2Gs! Above performance, our cars have also been redesigned for safety. The entire chassis and roll bar are welded together with rigid steel that makes the car very durable and tank-like. A modern 5 point harness is installed in our cars to keep drivers safely secured as well. Each of our cars have different cockpit sizes, and the seat and pedals are fully adjustable, which allow for virtually any size driver!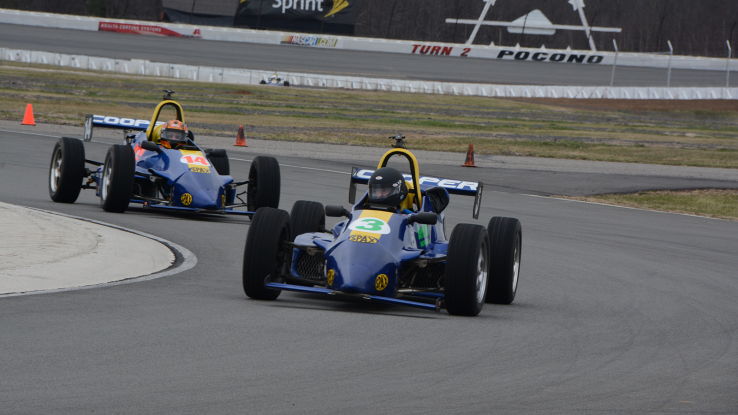 Rain? Of Course We Race In The Rain!
The Bertil Roos Racing School will continue with the scheduled program rain or shine. Drivers whom experience a day in the rain will learn that driving in wet conditions is an art all on its own, and is more fun than it sounds. Driving in wet conditions is an opportunity to gain a good amount of car control experience and and really learning to feel what the car is doing. The only weather that will cause an event cancelation is stormy or extreme weather conditions. Please refer to our website (racenow.com) or call our office to learn about our weather-related cancelation policy.
Learn At Your Speed, Not Someone Else's!
All sessions within the racecars include controlled passing. We do allow passing in all of our sessions so that students are able to learn and progress at their own pace, not someone else's. We also control how these passes are conducted so that dangerous passing situations are avoided. We choose the safest part of the track which a pass may be conducted and designate it as the "passing zone".
This program is one of the most dynamic that our school has to offer. Students will start out this program with the basics of lapping and driving lines. Based on each student's progression and skill development, instructors will be introducing new techniques and concepts throughout the school.
Move Up In Your High Speed Career!
This program is a prerequisite for the Bertil Roos 2 Day Advanced Racing School, upon which graduation provides eligibility to apply for various road racing competition licenses. Students whom complete the Bertil Roos 3 Day Road Racing School are also eligible to apply for their Vintage Racing license, as well as, apply for membership in various performance driving clubs.
For more information about this program feel free to call our office at 1-800-722-3669, or email us at customerservice@bertilroos.com.