Bay Area 02 Swap & Show 20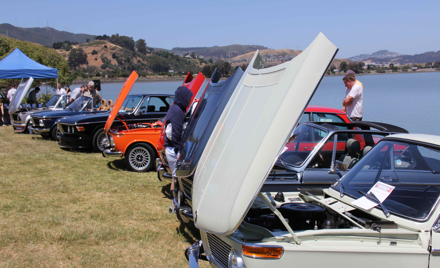 Bay Area 02 Group
Saturday, September 12, 2020
City of Brisbane Marina
,
Brisbane

,

CA
Register online and save time and money!
Bay Area 02 invites you to the 20th Annual Bay Area 02 Swap & Show. The Swap & Show will be held on Saturday, September 12, 2020 at the Brisbane Marina, in Brisbane CA from 10:00 am to 3:00 pm.  We will once again have the grassy venue on the edge of San Francisco Bay and we look forward to another great event here.
As with prior years, we anticipate a large and varied showing of BMW 2002s, and other BMW models between the model years of 1960 and 1976 including Neue Klasse, E9 coupes, E3 sedans, and Bavarias. We encourage all cars to be shown in whatever condition.  We love to see how the cars have been preserved, restored, modified, evolved, and devolved.  In addition to the automotive eye candy, there will be the now legendary taco truck, a well stocked and exciting raffle of BMW and 2002 goodies, as well as the opportunity to share a laugh and a story with fellow vintage BMW enthusiasts.
All are welcome at this event, and there is no charge for the general public to show up and walk the show. For those who wish to show their car, swap parts or do both, the entrance fee when registering online is just $25. For those who wait to register after online registration closes, on the day of the show, the fee will be $30.  In addition to parking among your fellow enthusiasts, the registration fee includes: a commemorative t-shirt, a couple of goodies, and a complimentary raffle ticket to get you in the spirit.  We cannot guarantee that we will have your t-shirt size if you do not preregister online.
If you're already in the spirit and would like to volunteer some time on the day of the show (usually only an hour or so), please contact Matt Brown at rhedtiger@yahoo.com and he will find a place for you.
We hope you will come and join us for this fun event as we mark our twentieth year of Swap and Show.  So register online, finish your winter car projects, and drive over to the 2020 Bay Area 02 Swap and Show!
THE FOLLOWING PACKAGES ARE AVAILABLE ONLINE ONLY 
$25      Show Only online package includes: 
- one space to display one car on lawn (please, no for sale parts on lawn)

- one event t-shirt

- "goodie" bag
$25     Swap Only online package includes:
   Swapping in a non-BMW or truck?  Choose this Swap Only package.
- one space for parts swap (separate parking for non-BMWs and trucks)
 - one event t-shirt
- "goodie" bag
$25    Show AND Swap online package includes: 
- one space for display of car AND parts swap (same space)

- one event t-shirt

- "goodie" bag
Day-of-show registration and check-in for online registrants will be open from 9:00 am to 10:00 am.   Day-of-show pricing will be $30 to Show, Swap, or Show AND Swap.  A T-shirt comes with day-of-show registration while supplies last and sizes will be limited to whatever are on hand.  Any left over T-shirts will be available for sale at the raffle tent.