About this event
Let's Autocross!
Sunday, June 4th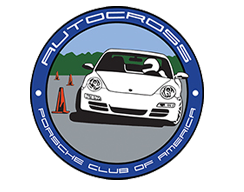 Join the Arizona Mountain Region Autocross on Sunday, June 4th for the Region's Very First Autocross Event!
Space is limited so register right away!
This is a great opportunity to experience the fun of autocrossing your Porsche. Instructors will be available for first-time drivers! Loaner helmets will also be available if you don't have your own. Helmets much be rated Snell 2010 or newer.
AutoX (Autocross) is a very exciting form of motorsport held at typical street speeds. It emphasizes precise car control in a fun, low-cost, friendly and safe competition. Learn and rapidly refine advanced driving skills and techniques in the non-threatening environment of a course marked by soft traffic cones in a large parking lot.

Enjoy your Porsche's capabilities like nowhere else and drive it the way it was designed. AutoX is easy on your car and all Porsches can participate. Car control skills you gain allow you to explore the limits of your car which makes you a safer driver on the street.
Two drivers may enter with the same vehicle (e.g. spouses) and will be placed in different drive groups. Each driver must pay the participation fee.
The participation fee is $60. And will include lunch.
The location is the Findlay Toyota Center main parking lot at 3201 Main St, Prescott Valley, AZ. Plan to arrive no later than 8 am for safety inspection and drivers meeting. First car on track at 9 am.
The event is open to all PCA members, and you may drive a non-Porsche if you prefer.
There will be two drive groups. When you are not driving you will be assisting by working on the course to replace cones that are displaced or using a yellow safety flag. The drivers meeting at the start of the event will explain these responsibilities in more detail. A checklist will be provided after you register that will explain the simple steps in performing your own basic safety check in advance of the event. Cars will also be spot checked for safety compliance the morning of the event.
Bring a lawn chair and plenty of water.
Any questions? Contact Phil Mullen at mull968@live.com or Bob Frith at bob911az@gmail.com