About this event

Track Day on Monday, June 13, 2022
Registration Will Close on Saturday
Willow Springs International Raceway
Time Trial ($175 Alfa Club member, $190 non-member)
Autocross ($50), Alfa Romeo Parade Laps ($35)
Alfa Club Member or Not
All Marques Are Welcome
This event is part of the Alfa Romeo Owners Club national convention, Alfiesta Coronado
WE WILL ADHERE TO ALL STATE AND LOCAL COVID-19 GUIDELINES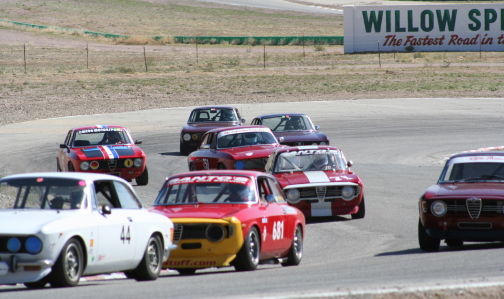 - Time Trial: Run by AROSC, who have been putting it on the track since 1972, Here is your chance to achieve your best lap times on the big track at Willow Springs, A special non-Alfa run group is available. Controlled passing in specific sections of the track, point-by passing, or open passing depending on your run group. Based on your experience and car, we have a run group just for you. Timing available using AMB Transponders. We have transponders for rent.
- Autocross: "A competition event in which cars are driven around a course outlined by cones". Run by our friends at Corner Exit who have been putting on autocross all over So Calif for years, and years.
- Lunchtime Alfa Romeo Parade Laps: A great opportunity for any Alfa driver to experience a real race track at freeway speeds. Parade Laps include a pre-track classroom session, then at noon you get about 20 minutes of track time as you follow an instructor in your own car. Just $35. Helmet and gloves are not required.
Accommodations:
Our host hotel is The Palmdale Holiday Inn. There may be some rooms available at our discounted rate of $139. Contact the hotel to see at Select a Room (ihg.com) at the Holiday Inn Palmdale or the old fashioned way just call: 661-947-8055 and tell them that you are with the Alfa Romeo Club to get the good room rate of $139 for single OR double.
The Holiday Inn Palmdale is located at: 38630 5th Street West, Palmdale, CA 93551
Questions? email: sidewaysalfa@msn.com



The Time Trial event is hosted by AROSC - "Taking it to the track since 1972"

The Autocross is run by Corner Exit - "Save The Cones"

NOTE: AROSC always has a Fire & Rescue team at our events. If and when you need them, every second counts!
Event requirements
Alfa Romeos Must Complete the AROC Class Calculator

1. AROC Competition Class Calculator .

Download this spreadsheet and figure out what Class your Alfa is in. Put the answer

on your Tech Sheet. All non Alfa Romeos are class "N"

AROC_Competition_Class_Calculator.xlsx (live.com)

2. Vehicle Tech - Use the AROC Tech Sheet

To be completed for ALL time trial and autocross vehicles and presented Monday June 13 at registration.

Not an Alfa, then you are in Class N.

"No Tech. No Track !"

* AROC Competition Code

Alfa Comp Code Final 160621 (aroc-usa.org)

You've probably never read this 32 pg document,

however, all your competition questions are answered there.
Willow Springs Int'l Raceway
Rosamond, CA
AROSC Racing, Time Trials, HPDE