Advanced Driver Skills School at NHMS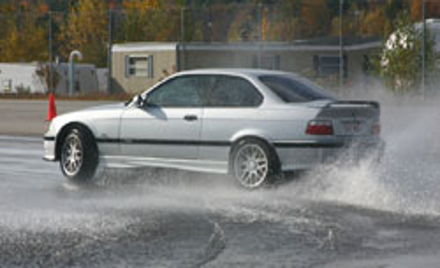 BMW CCA - Boston Chapter - Advanced Driving Skills School
Saturday, September 26, 2020
New Hampshire Motor Speedway
,
Loudon

,

NH
This is another add to the the schedule based on popular demand. We will be focusing on the Fun element of skill development and those who have taken the class before are welcome to come back and build on your skills. Driving is a tactile skill and without practice, it becomes dull and your responsiveness to unusual circumstances on the road falls off.
The Advanced Driving Skills School (ADSS) is designed to help you improve your driving skills and to learn about vehicle dynamics. The school's dual purpose is to prepare students for our High Performance Driving School and to teach skills useful in everyday driving situations.
The school is held in a large parking lot at New Hampshire Motor Speedway, using plastic pylons/cones, to provide a safe learning environment for these low to moderate speed maneuvers. The skid pad area is operated under a sprinkler system to practice the exercises at low speed and also to reduce tire wear. This is a driver education school and is not practice for any racing or speed contest.
Information for Students
There are a very limited number of student slots available for this event.
Plan to arrive at NHMS by 8:00am and to leave by 5:00pm at the latest.
Description of Exercises
THEORY - The day begins with a "chalk talk", where our expert instructors explain about vehicle dynamics, the techniques students will be taught, and summarize the exercises for the day. Prior to the school, students should read the curriculum (courtesy of our friends in the White Mountain Chapter), for an in-depth understanding of what the school will cover.

BRAKING - The braking exercises allow students to learn braking with ABS, threshold braking, braking and turning, and both single and double emergency lane changes. These life saving accident avoidance maneuvers prepare students for numerous real-world situations.

SKID PAD - The practical exercises include spending part of the day on our skid pad and figure eight courses, learning about: understeer, oversteer, steering with the throttle, secondary effects, "the line", and power-slides. These basic building blocks are key to learning how to bring your car under control, when the unexpected happens.

COMBINED EXERCISE - At the end of the day the students get to put together all the skills that they have learned through numerous fun-filled runs through our Combined Exercise course. Students demonstrate braking while turning, inducing rotation, countering understeer and oversteer, and other techniques by navigating through this challenging course.
Attendence at a Boston Chapter Advanced Driving Skills School is strongly recommended for anyone who is attending their first Boston Chapter Driving School, hence the discount available to students who sign up for their first HPDE, and first priority for enrollment will be given to those entered as novices in Boston Chapter Driving Schools. Other applicants will be accepted, on a space available basis.

Registration Fees
Membership
You don't need to own a BMW to be part of the club and participate in our Driving Events! We offer a huge variety of events to our community all across the country, making club membership a rewarding and worthwhile experience. Annual membership costs $48 and includes a subscription to the fantatic BMW CCA magazine, Roundel.
If you are not a member you can apply at the link below and then return to this page and enter your new membership number. The BMW CCA website will provide your membership number immediately with your enrollment.
https://myaccount.bmwcca.org/PortalTools/NewUser/EmailCheck.cfm
Questions?
For questions regarding registration or Driving Schools in general, please email the registrar using the "Contact Host" button on the right side of this page.