About this event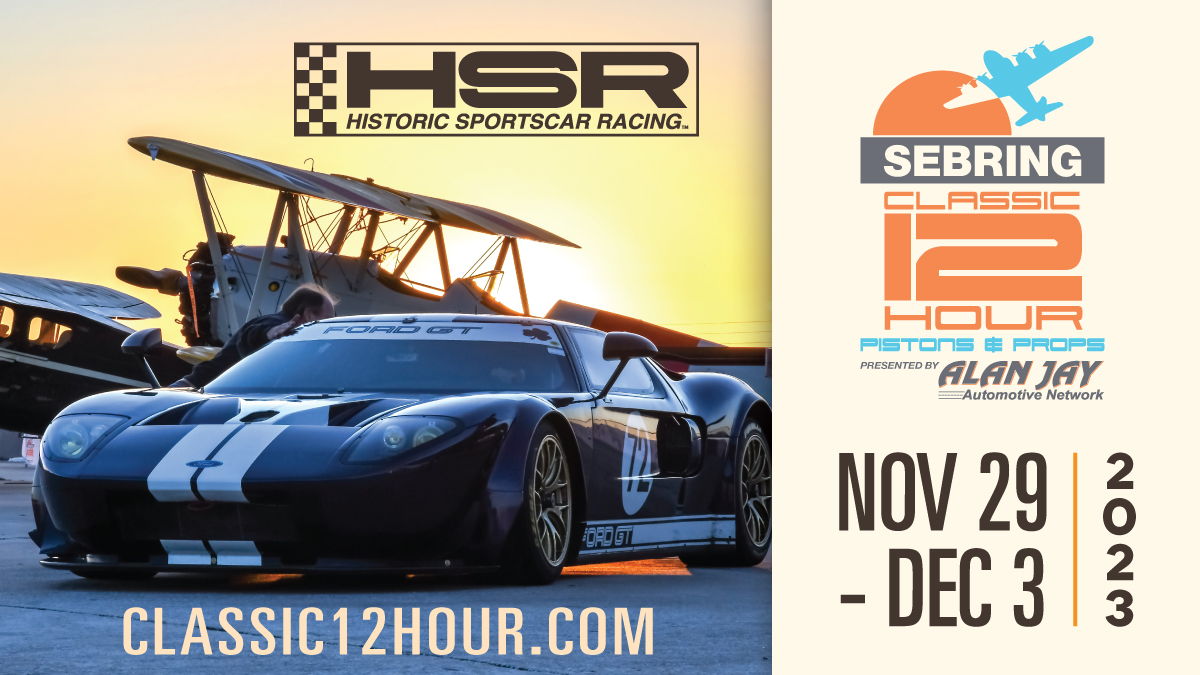 Join HSR for our second visit in 2023 to the famed Sebring International Raceway for the 2023 Classic 12 Hour - Pistons and Props event.
With over six (6) hours of potential track time, your fun meter will be pegged all week long!
Classic 12 Hour Entries include the following:
Two (2) Qualifying, Night Practice and four (4) Race sessions
Entry to Specialty Races for which car is eligible
Three (3) Crew Credentials
Priority Number Assignment
Also running will be the Sebring Historics which includes:
WeatherTech Sprint Races
SascoSports Int'l/American Challenge (for eligible cars)
Stoner Car Care Global GT (for eligible cars)
Classic RS Cup (for eligible cars)
In addition to the above, all eligible cars may enter:
B.R.M Chronographes Endurance Challange Races
Wednesday Test Sessions
2023 Sprint Race - Enduro Classes
Provisional Schedule - CLSeb 20230707
Event requirements
All Non-HSR-Licensed Drivers are required to upload a copy of a competition license that will be valid during the entire event. HSR accepts competition licenses issued by all Vintage Motorsports Council (VMC) member organizations and the FIA (and its associated member organizations). Non-HSR licensed drivers will be granted a single event HSR membership for the duration of the event.
All Classic 12 Entries include credentials for Driver and one (1) Co-driver plus three (3) crew/guests. All Sebring Historics Entries include credentials for Driver and three (3) crew/co-driver/guests.
Extra Crew Passes (Overcrew) be purchased ($100/each for the week).
An approved Head and Neck Restraint system is required in 2023.
Sebring Int'l Raceway
Sebring, FL
Historic Sportscar Racing - HSR
More events from this organizer