About this event
You do not want to miss this special 75th Anniversary Checkered Flag Party! Plans include a late afternoon social get together with hors d'oeuvres, beverages, a jazz band, and a silent charity auction of collectible 75-year Region history items.
Dinner will feature carved prime beef, potatoes, Italian sausage and penne pasta, salad, rolls and desserts. The party includes complementary beer, wine and pop.
2022 Region awards will be presented after dinner.
Everyone attending will receive a copy of the 75th Anniversary book covering the history of the Region, a Swintel 75th anniversary poster, a wine glass, prints of the 6th and 7th images in the series of Swintel seven-decade artwork, which were used for the June Sprints shirts, and a chance to win the anniversary table center pieces.
This event, which is subsidized by the Chicago Region, is intended to kick off the Region's 75th anniversary in style and to thank members for their support throughout the years.
UPDATED SCHEDULE (earlier start than initially annouced):
4:00 - 6:00 p.m. Check-in
4:00 - 6:30 p.m. Social (appetizers; complementary beer, wine, pop)
4:00 - 6:30 p.m. Charity auction and ive jazz trio
6:30 - 8:00 p.m. Buffet dinner
8:00 - 8:30 p.m. Awards presentation
The ticket price is $75 each. Credit card information will be collected when you register, but your card will not be charged until registration closes. Everyone 16 years of age and older is welcome. Due to site restrictions, children under 16 may not attend.
Many thanks to Ferrari Lake Forest for opening their fantastic facility to our club and offering fun among Ferraris.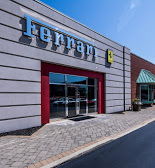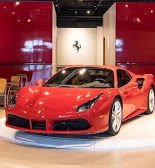 For a location map and information about Ferrari Lake Forest go to:
https://www.ferrarilakeforest.com/
Event requirements
Please note that attendees must be 16 years of age or older.
Ferrari Lake Forest
Lake Bluff, IL
SCCA - Chicago Region - Club Racing
More events from this organizer