About this event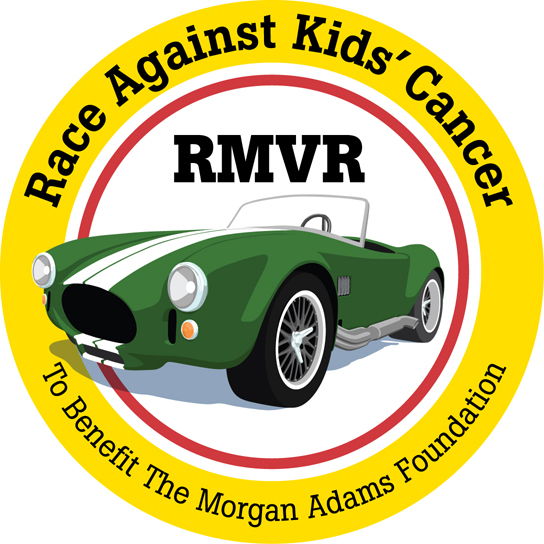 Help us make this year's 12th Annual Race Against Kids Cancer another banner year. We hope to add to our cumulative 11-year total of just over $1,600,000 raised for the Morgan Adams Foundation,.a 501(3) nonprofit organization. We are honored to support their unending and valuable support into research of pediatric cancer. Let's keep it up.
This year and next, our Race Against Kids' Cancer will be featuring Formula Vee. Some of you may know, 2023 is the 60th anniversary of Formula Vee racing and there will be several VMC clubs across the country putting on big national events to celebrate. RMVR will be one of them!! The 2022-2023 RAKC Theme is:

Do you remember the fun and quirky ad campaign that Volkswagen used in the early 90's?? It was a made-up German-sounding word—Fahrvergnügen—which translates to "driving pleasure". That funny German sounding word was the inspiration for our special RAKC Formula Vee focused event, namely Veevergnügen!
We have something very special in store. Our plan is to host the biggest and best national event with a 2-year points race—with cool prizes across the various Vee classes—starting this year and going thru 2023!!
To attract Formula Vee racers from outside RMVR, we are:
Inviting past National Formula Vee Champions to come and race with us for free!! If you are one of those SCCA or SVRA national champions, enter and contact us for a race credit. All you FVee drivers, come race at this event and race against a GOAT (Greatest Of All Time) for some cool bragging rights.
We also incentivize Vee racers from far away to join us. If you will be towing OVER 1,000 miles, check the box for a $75 entry fee credit. Claiming is on the honor system, but, duh, we will double check it.
All Formula Vees, any year manufacture, are welcome. If you own one, bring it.. Any car with a current logbook and annual tech is welcome.
Help us spread the word to the Vee racers across the country.
Other Features of the weekend include;
T-shirts will be provided to entrants who raise over $50 (Hint: donate when you register to get your free shirt.)
Prizes will be given to those raising the most money.
A Virtual Silent Auction for neat goodies will be held in the days prior to the weekend with an opportunity to continue bidding Saturday at the track.
Again this year there will be a Fun'd Race featuring the ability to do GRID BIDS FOR KIDS. A donation will let you bump your buddies to the back or to even bump yourself up to the front. All in good FUN.
We'll again be offering the opportunity to purchase Lunch-Time-Rides in some very fast cars.
There will be Saturday night dinners available for purchase when registering as a racer. Or, if spectating, you can purchase tickets on Saturday in the paddock at the MAF desk.
Again this year, the Friday HPR Test & Tune will be exclusively for RMVR racers, its members and our "guest" racers. No "track day folks" or other interlopers on track.

Sign up directly with HPR

for the extra day of track time on Friday.

HPR's regular Lapping Day prices apply. But it will just be us RMVR chickens on track. Plus Friday will have some added features like professional drivers on-site to do some coaching

And "

Biergarten

" Friday evening.
Of course, we are once again excited about the prospect of making a significant impact for the Morgan Adams Foundation (MAF), a great organization dedicated to pediatric cancer research. Come join the fun and help RMVR meet our fund-raising goals again this year.
Kirk Peterson and Bonnie Mortimer are the Event Co-Chairs. Feel free to contact either of them with questions: kirk@petersonfs.com or edzink88@aol.com
Weekend Run Groups: Entrants will receive an email prior to the event with the detailed Weekend Schedule of grid times and the running order for groups.
Our RMVR Regular Run Groups are: Small Bore Production cars, Formula Vee Cars, Mid-Big Bore Production cars, and Formula Fords / Wings and Things / Sports Racers.
In addition, there is a conditional Special Run Group - Production cars without an RMVR or VMC logbook are welcome to enter and run in an added Special Run Group. (See below for additional details and requirements.). If insufficient number of cars for these run groups are not registered 10 days before the event, those who did sign up will be advised and their entry cancelled.
Entry Fees: Won't be charged to your credit card until after the race weekend so sign up NOW!
$385 for Full Two-Day regular competition weekend.
Registrations 3 weeks before the event get the $25 Early Bird discount.
Registrations after 9 days before the event will be charged a $75 Late Fee.
Online Registration closes on Monday before the event at midnight. After this, call 303-319-3062 to arrange entry. Entries phoned in after registration closes or at the track are $535
Tech: Don't forget to get your Annual Tech done BEFORE you get to the track. Here's more info on the benefits to you of doing this and how/where to get it done.
Marshal & Volunteers: If you wish to work this event as a marshal or volunteer, please sign up HERE.
Event requirements
Important Stuff To Read Before Proceeding
Cars which DO NOT have an RMVR logbook:
Race cars without an RMVR or VMC logbook: Such cars are welcome to run in our Special Run Group. They must be race prepared cars having a logbook from a wheel-to-wheel racing organization. When asked for the car's "class" please select "Exhibition." They must pass an RMVR Event Tech Inspection Form and be prepared to conform to that organization's preparation and safety rules.. Drivers entering this Special Run Group must also hold a valid up-to-date medical exam AND a current Competition License OR a Provisional License from their home organization.
Graduates of any of RMVR's past Performance (HPDE) Schools. You can run your street car. When asked for the car's "class" please select "Performance (HPDE)."
If insufficient number of cars for these run groups are not registered 10 days before the event, those who did sign up will be advised and their entry cancelled.
For Double-Driven cars: If you are sharing a car with another driver for the weekend, just have the one person enter. Only that one entry fee will apply. To avoid another entry fee, simply CALL THE CLUB ADMINISTRATOR, 303-319-3062, to advise who the second driver is. Don't try to enter that second driver online. The second driver MUST also go thru registration Saturday morning and have a valid competition license and medical.
Please double check the transponder number listed in the car's profile is correct.
When entering you might be required to pay a Membership Fee in order to complete your registration. It will be good for the entire year. After Labor day that RMVR membership will also be good for all of the following year.
High Plains Raceway
Deer Trail, CO
Download track map
Watch a video tour/lap
Buy track decal
Rocky Mountain Vintage Racing