About this event
The MRA will be holding an exhibition event at La Junta Raceway April 24-25. This event will consist of a Saturday track day and exhibition races on Sunday.
The Motorcycle Roadracing Association Inc. (MRA) takes pride in creating fun, safe, affordable, competitive motorcycle roadracing opportunities in Colorado!
The MRA features the fastest riders on sport bikes in the state competing head to head on a wide varieties of racing motorcycles. You can experience the excitement of motorcycle racing first hand by attending a racing event, volunteering to be part of the action, or becoming a motorcycle racer.
The purpose of this event is to kick off the 2021 MRA season with a fun event at a race track that will be new to many racers. This is also a great opportunbity to do some pre-season testing prior to Round 1.
Saturday Track day is $90
Sunday Races is $160
This is an exhibtion event so no points, no trophies, no contigency, no protest and no crashing!
Schedule:
Friday - Evening paddock open for move in (maybe tech)
Saturday - Track day (sessions will depend on attendance)
Sunday - Morning practice (3 practice sessions for groups A, B, C and D) and Afternoon races:
Novice GTU
Novice GTO
Amateur GTU
Amateur GTO
SuperTwins GTU
SuperTwins GTO
Middleweight Superbike
Open Superbike
Lightweight GP
Formula Colorado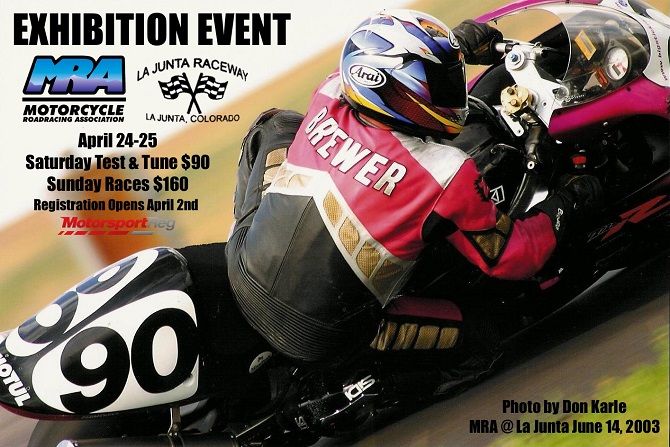 Event requirements
All competitors must possess a valid MRA Racing License or a current racing license from another MRA recognized organization. Please see MRA Rule Book Section 3 & 4 for more detailed information about Licensing & Membership.
The MRA Membership Event in MotosportsReg can be found here:
MRA 2021 Membership & Licensing
Online preregistration for all races closes at 11:59pm the Monday before the event (unless otherwise noted). After preregistration, late entries will be accepted beginning at 6:30am on the day of the race event for an additional $20. Details are in the MRA rulebook, Section 3.2.
• Town of La Junta is 10 min away w/hotels, stores & restaurants
• RV power hookups available for $80 for the weekend; 20, 30, and 50 amp. First emailed, first served - allan@lajuntaraceway.net
• There'll be a food truck there both days and maybe Sat catered dinner
• Bathrooms are porta-potties
• Paddock surface is rough in spots
• Good idea to bring a piece of plywood for your bike & stands
• No shade, carports, etc. – similar to Pueblo
• Bring your own fuel
La Junta Raceway
La Junta, CO
Motorcycle Roadracing Association