About this event
 41st YEAR!  VARAC Vintage Grand Prix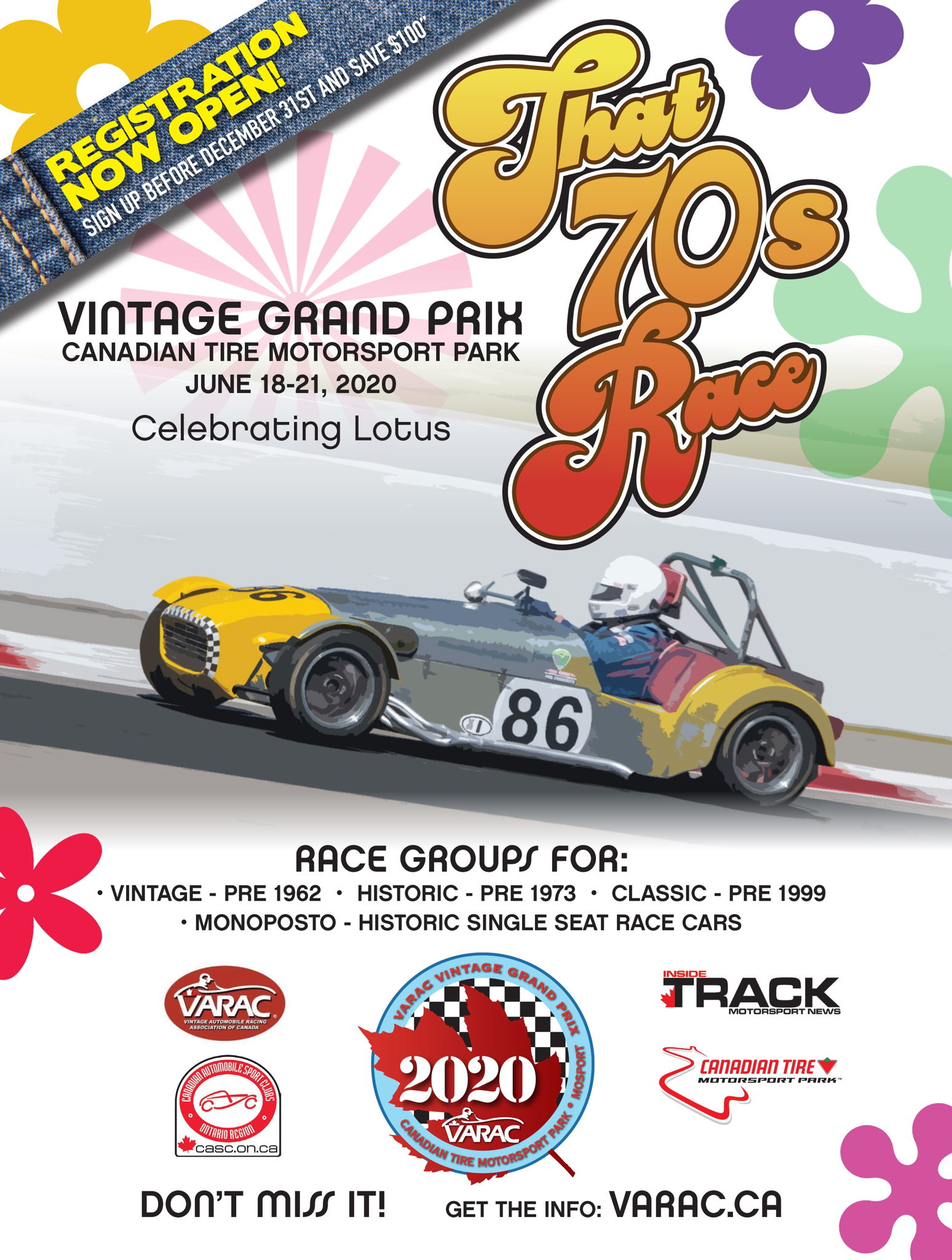 EARLY BIRD ENTRY BEFORE JANUARY 1, 2020 AND SAVE $100 - CREDIT CARD WILL NOT BE CHARGED UNTIL JUNE 1, 2020!
FEATURED MARQUE: LOTUS
**updated as of Oct 25, 2019**
We are excited and pleased to announce that the Formula Ford Challenge Series has decided to join us for the 2020 VGP.  This group races vintage, historic, club and post-club formula fords.  The racing is always close and very exciting.  
We are as equally excited to announce that the Vintage Sports 2000 NA series will also be joining us for the VGP in 2020.  The Sports 2000 racing cars were part of the early developments of down force - they run on 2 litre engines, but because of their improved aero, their lapping speeds are quite impressive.  
Please plan to join us for the 41st running of the VARAC Vintage Grand Prix being held June 18 - 21, 2020 on the Mosport Grand Prix track at the Canadian Tire Motorsport Park.
Classes include Vintage (pre 1962), Historic (pre 1973), Classic (pre 1999), and Formula Classic (Monoposto race cars).  In addition, the Toyo Tires F1600 Championship Series, the Formula Ford Challenge Series, and the Vinatge Sport 2000 NA Series will be joining us.  There should be something for everyone - classic sedans, vintage sports cars, and a wide assortment of formula cars.  It promises to be a great weekend of vintage racing.

Thursday, June 18 is a Test Day open to competitors looking to gain experience on this world class circuit.  Please note that drivers that have not run on the Mosport Grand Prix track previously must attend the Test Day, or receive a waiver from the Race Director.
RUN GROUPS for 2020 - once again, we are limiting run groups for practice and qualifying sessions to 40 entries.  This may require us to institute wait lists for some of our groups.  Please register early so we can adjust the groups to allow as many entries as possible to run.
RUN GROUPS for 2020 - we are grouping our Vintage-Historic entries based on LAP TIMES, not engine displacement.  When registering please select the run group with the appropriate lap times.  If you don't know what your lap time is likely to be, please look at the list of entrants and place yourself with comparable cars.  You will be able to change run groups following Friday's sessions (Practice in the morning and Qualifying in the afternoon) and again after Saturday's races if you want to.  More details to follow...
The Formula Classic group will NOT be using lap times, but will be classed by formula/vehicle type.  (For example Formula Juniors will be one class).  Please contact the Race Director if you are uncertain as to how your car should be classed.
VMC Membership required for 2020 - all entrants, other than than our Toyo Tire F1600 Championship guests, MUST be a member in good standing of a Vintage Motorsports Council club.  Non-vintage club racers will not be permitted to enter this event without the approval of the Race Director.
Off track on Friday evening we have "dinner and a movie" in the CTMP Conference Centre (cash bar).  We haven't settled on the movie yet, but you can bet it will be motorsport related...
Off track on Saturday evening is the Steam Whistle Paddock Tour, followed by the Safety Teams "party" featuring the Mudmen - a Celtic Rock band.  The paddock tour involves 3 stops in the paddock : the first is for chicken wings (and beer); the second is for submarine sandwiches (and beer) and the third for desserts (or another beer if you are so inclined).  Sponsored by Steam Whistle Brewing (http://steamwhistle.ca/).  The paddock tour and band are included for a driver and one guest with your entry fee.
Off track on Sunday, Fathers' Day, is the ever popular Field of Dreams Car Show and parade laps.
As always, free weekend camping courtesy of Canadian Tire Motorsport Park
 Go to  VARAC.CA for more information.
Questions on the event? Contact Ted Michalos at VGP@varac.ca or call 1-844-214-1892
Event requirements
-      Unless you are doing the Street Car Lapping on Thursday, June 18, all Drivers must hold a valid membership with a Vintage Motorsports Council club, as well as a valid competition licence.  Canadian competitors must use a competition license issued by VARAC, CASC-OR, another organization under ASN Canada.  Non-Canadian entrants must use a recognized VMC competition licence.  Non-vintage racers will not be permitted to enter the event.
-       Toyo Tire F1600 Championship entrants must meet the licencing and membership requirements set by their series.
-       Drivers for the Street Car Lapping require only a valid provincial driving license in good standing.
Canadian Tire Motorsport Park
Bowmanville, ON