About this event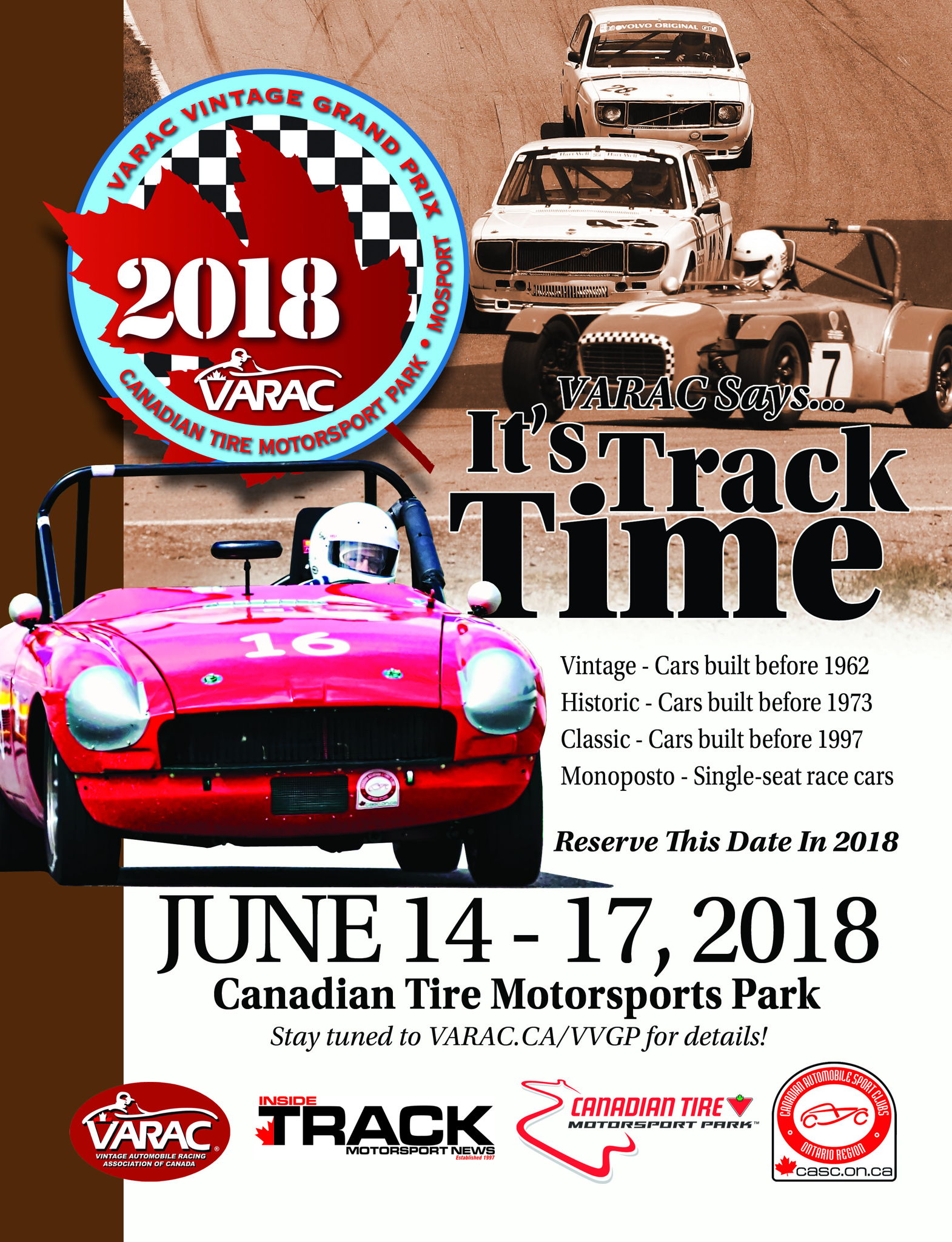 *** UPDATE JUN 5:  Due to enthusiastic registrations, we will be instituting a WAIT LIST for ALL VINTAGE-HISTORIC and CLASSIC entries as of this date.    The maximum number of cars allowed on track for any session is 62.  At the time of posting this update we were over that limit for BOTH VINTAGE- HISTORIC GROUPS.  We will accept additional entries, but be warned, entry is on a first entered first allowed to run basis.  Entry number 63 and beyond will be placed on a WAITING LIST for the event.  This may mean that you won't be allowed on track for the first session(s) on Friday.                                                                                     
Save the date!  VARAC says, "It's TRACK TIME!"
Please plan to join us for the 2018 VARAC Vintage Grand Prix being held once again on the Mosport Grand Prix tarck at the Canadian Tire Motorsport Park.
We are excited and pleased to say that our event has been selected by the MGVR (the MG Vintage Racer group)  as a focus event for 2018.  We expect 3 dozen or more octagon badged race cars including T-Types, MGAs, MGBs, MGCs, Midgets and more...  And where MGs go, you can bet their will be Triumphs to contest the annual MG - Triumph Challenge Cup.
In addition, the Royale Formula Ford Challenge Series, a division of VRG, will be joining us for the first time.  This series runs vintage, historic, club, and post-club formula fords.  The racing is exciting and close.  We know there are dozens of old formula fords out there and this series is the perfect place to run them.  Come on out and join the fun!
Not to be out done, once again we are hosting the Toyo Tires F1600 Championship.  This series is split into two classes, the A Group for "modern" formula fords, and the B Group which runs pre-1994 formula fords.  The B group cars should be eligible to run with the Royale Series for those that want even more track time!.
And finally, the F5000 Series will also be joining us for the 2018 VARAC Vintage Grand Prix.  These cars first ran in 1968 so this is their 50th anniversary!  What a treat to see these powerful open wheeled race cars back on the Mosport Grand Prix Track at the Canadian Tire Motorsport Park.  You don't want to miss it.
1st race class entry between January 1, 2017 and May 31, 2017 $625. Regular entry as of June 1, 2017 $700.
Optional Thursday June 15 test day $300
Optional Thursday track orientation for new drivers is free, but does not include any track time with your race car.
Off track we have the Steam Whistle Paddock Tour Friday evening, followed by "Kim & Company", a 12 piece live band that was a major hit in 2017.  The paddock tour involves 3 stops in the paddock : the first is for chicken wings (and beer); the second is for submarine sandwiches (and beer) and the third for ice cream (or another beer is you are so inclined).  Sponsored by Steam Whistle Brewing (http://steamwhistle.ca/).  The paddock tour and band are included for a driver and one guest with your entry fee.
Saturday evening we have a dinner/reception in the Canadian Tire Motorsport Park Conference Centre (cash bar).
Off track on Sunday, Fathers' Day, is the ever popular Field of Dreams Car Show and parade laps, as well as the Legends of Motorsport panel in the CTMP Conference Centre.
As always, free weekend camping courtesy Canadian Tire Motorsport Park
 Go to http://varac.ca/vvgp/2018-vgp/ for more information.
Questions on the event? Contact Ted Michalos at VGP@varac.ca or call 1-844-214-1892
Event requirements
-       All Drivers must hold a valid competition license with CASC-OR, another organization under ASN Canada, a Vintage Motorsports Council club, or a recognized sanctioning body under FIA, etc. with a current medical date.
-       Entrants that do not hold a Vintage Racing License or have not competed in a Vintage Event are required to participate in the Driver Orientation Program on Test Day June 14, 2017
Canadian Tire Motorsport Park
Bowmanville, ON
More events from this organizer