2017 Sprints + Enduro Re-Imagined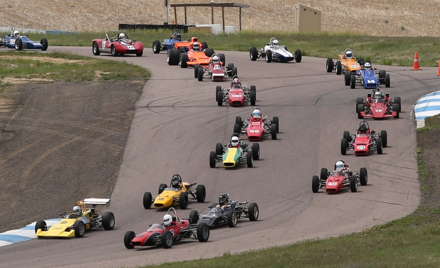 Rocky Mountain Vintage Racing-RMVR
Saturday, Oct 7 — Sunday, Oct 8, 2017
Pueblo Motorsports Park
,
Pueblo

,

CO
Registration closed October 4, 2017 11:59 PM on October 4, 2017 11:59 PM MDT Registration ends October 4, 2017 11:59 PM on October 4, 2017 11:59 PM MDT Registration opens January 4, 2017 12:00 AM on January 4, 2017 12:00 AM MST Registration runs from January 4, 2017 12:00 AM to October 4, 2017 11:59 PM
    Event Chair is Judd Evans judd@compute.com
Best Value In Racing ANYWHERE!  Special Prices This Weekend
And This Year This Event Is At Pueblo Motorsports Park
Your Choice of Track Time -  Minimum or Maximum
This year we're again offering two entry options.  Sat. Only or a Sat & Sunday entry.  Sunday's Enduro Format has been Re-Imagined.  Now there's something for everyone:
Saturday Only -  All Sprint races.  Saturday's format is the same as any regular race weekend.  The normal four run groups. Four on-track sessions: a morning practice session, then a separate qualifying session, then two races.  All for $170.
Sat. & Sunday Entry with Sunday being a new RE-IMAGINED Enduro Format  - If you opt to also race on Sunday, the Enduro Format has been revised to reflect a hybrid Enduro/Sprint format.  Instead of the traditional 10 minute breaks taken at random times (with time-in cards, clocks, etc., etc.), this year's Enduro will consist of three consecutive 25 minute race segments, each getting a checkered flag "Finish."   After each session cars return to their pits for a leisurely 20 minute break (15 minutes plus the 5 minute grid call).  Grid sheets from the first and second segments will determine grid position for the start of the next 25 minute segment.  Segments #2 and #3  will get a green flag single file start for the next 25 minute session..   Overall Enduro finish positions are thus reflected in finish position after the third segment.   If you feel like that's too much track time (Ye gads!!!) you can opt to run only one  or two of the "Endruo" segments and still get your finish results for that segment, just as if it were an individual sprint race. .
Why this format you ask?  Because some folks don't like the traditional Enduro format.  This way they can consider Sunday's Enduro segments like a sprint race if they wish, do only one or two of them, get results for those individual segments as if they were separate sprint races.   Also, and not inconsequentially, the manpower required to offer this new format is substantially reduced.  It's all managed by our regular Timing & Scoring and grid folks.  No need for the body-intensive time cards, pit-out time card collection, etc., etc.  
And the net result is you can get as much track time as you chose -- a little or a lot. Tons of racing and we'll still be able to be done reasonably early on Sunday afternoon.  
Plus, to respond to the desire of many members, it's an opportunity to run a second event at Pueblo Motorsports Park.
Something for everyone and the price is right!
Registration Fees:
Sat. Only - $170
Sat & Sunday AM  $270
ATTN: Workers and Volunteers:   If you wish to work this event, simply CLICK HERE to sign up online.
Note: As an RMVR member if your dues are not current,  you'll be required pay the $75 RMVR membership renewal to register.  If you are from a non-VMC organization, you'll be required to join RMVR ($75 will be added to your entry but if you raced with us earlier this year your dues will have already have been paid and you won't have to pay them again for this or subsequent 2016 events.).   If you are registering as a guest from another VMC organization, we don't require you to join RMVR.