2016 Thunder On The Arkansas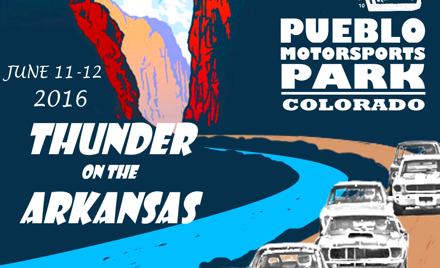 Rocky Mountain Vintage Racing-RMVR
Saturday, June 11, 2016
Pueblo Motorsports Park
,
Pueblo

,

CO
Registration closed June 6, 2016 11:59 PM on June 6, 2016 11:59 PM MDT Registration ends June 6, 2016 11:59 PM on June 6, 2016 11:59 PM MDT Registration opens January 26, 2016 12:00 AM on January 26, 2016 12:00 AM MST Registration runs from January 26, 2016 12:00 AM to June 6, 2016 11:59 PM
This year a "big" race weekend is planned for our only visit to Pueblo Motorsports Park.  We will be featuring the thunderous upper class sports-cars and racing sedans. Although the track is under new management this year, the weekend will include the usual RMVR format:
This will be a three day weekend so plan to come early and stay late:
Thursday move-in the gate opens at 1600 hrs.  There are no restrictions/ pit space reservations for the drag racers this year, so all open pit spaces are available upon arrival.  
Friday test-and-tune. the gate opens Friday at 7 am. The track will be controlled by track management on Friday, not RMVR.  If you plan to test and tune Friday,  you must register and pay in-advance on-line at their MSR website   Track fees are: $120 for full day (0830-1500hrs) or $75 for half day (1200-1500hrs).  The track will be "cold" from 1130 to 1200 for lunch break.
RMVR Tech and Registration hours are from 2pm to 6pm on Friday and all weekend.
Drag Racers move-in Friday at 1600hrs and move-out after midnight.
Friday evening move-in. There is no gate fee for RMVR participants so use the password "RMVR" with gate personnel Friday night
VP Racing fuel will be available all three days but cash only! (tele:719-947-3835)
On-Site Tire service (tele: 720-410-7007) will be on-site during the weekend
This will be the first 2016 event (the 2nd being Labor Day Hastings Race) where RMVR has a big welcome mat out for racers from Corinthian Vintage Automobile Racing (CVAR).  CVAR is sort of RMVR's twin brother. The cars raced and run groups are very similar for both clubs, we both adhere to a "as raced in the day" preparation ethic, and the CVAR drivers are, well, like us -- wishing to race with the vintage spirit and just have fun.   Many of CVAR's finest will be attending this Thunder on The Arkansas event and we welcome them.
The featured run group of upper classmen in the production cars (aka big-bore) will include AP big-block Corvettes, BP GT-350s, Tigers, and E-types, plus the top guns in "Saloon" including A-Sedan Camaros, Mustangs, Cudas, and Firebirds, and the B-Sedan door-slammin' Bimmer 2002s and Alfa GTVs amongst others.
To top it all off, a special collection of race cars touched by Walt and Chip Hane of Evergreen Performance Systems will be attending as a special tribute to their 50 years of goin fast and their 30 years with RMVR.  This will be reunion of a special family of cars and a special family of friends.
The traditional track-side party will kick off around 5pm on Saturday.   The barbeque dinner will include open beer and wine "bar".  Because the dinner meal requires a head count several days in advance, guest and crew dinner tickets should be purchased in advance on-line.  As usual, one dinner ticket is included with each entry. Ticket purchases offset the cost of providing complimentary dinners to our track marshals and officials.
Registration Fees:
Entry fee $275.  
Dinner Party Saturday night at the track includes catered barbeque and open bar/ ice bucket
One dinner ticket included per entry, Additional $20 each dinner tickets for crew , family or guests can be purchased when registering.   Dinner tickets should be purchase when registering to enable a proper head count for catering.  (If you failed to order enough dinner tickets when registering or are NOT entering the race, additional Dinner tickets can be purchased here.)
A cool Event T-Shirt can be purchased when registering.
The Substitutes will be presenting their musical and theatrical rendition of the 1960s+ English rock band The Who at the dinner party.  Bring your English Rock Concert regalia to show your appreciation for the Union Jack!
Racers from VMC organizations, especially our friends at CVAR, or any qualified racers from other racing organizations are welcome. We are looking forward to a great weekend and thanks for putting us on your race schedule.
Keith Davidson, Event Chair 720-387-9339
ATTN: Workers and Volunteers:   If you wish to work this event, simply CLICK HERE to sign up online.