About this event
Welcome to the 12th Annual Maryhill Hillclimb, proudly presented by Willamette Motor Club.
Event Brochure here: Maryhill-WMC-2023-Flyer-R1.pdf
Registration Fees:
2-Day Registration - $150 (There is no single day fee). Discount for WMC members!
Register by September 5, 2023 if you want to order T-shirts & Hoodies.
If you don't already have a MotorsportReg profile, you will create one first and add a car, then register for the event. If you have an MSR profile, please be sure that it has been updated to reflect current driver and car information.
You'll know you're registered if the site takes your money and sends you a confirmation email.
Camping has returned! We have made arrangements with the owner of the lot directly to the south of the pits/grid area to allow overnight camping/RV parking at the site. Best part... no additional charge this year! Note, no charcoal grills allowed in the camping area. Propane/Coleman grills are OK.
Additionally you will be allowed to park trailers on one side of the road like we did last year, and the cars can park in the pit area overnight. There will be event personnel on site at all times to provide security if you wish to park your car in the pit area.
Event requirements
All drivers must be at least 18 years of age and have a valid driver's license.
All drivers must have previous competition driving experience.
You must be a current 2023 member of NHA to register for this event. If you need to register for a 2023 membership, please go here first NHA-2023-Membership and register. Upon registration you will be assigned a membership. PLEASE NOTE: If you register for this event and you are not a current 2023 member of NHA, your registration will be placed on hold until you become a member. If you choose for any reason not to renew your membership, you will not be allowed to run this hill and you will be refunded your money. The registrar will contact the Secretary/Treasurer of NHA to verify your membership.
For event details download the hillclimb brochure: Maryhill-WMC-2023-Flyer-R1.pdf
SAFETY - VEHICLE MUST HAVE A FIRE EXTINGUISHER MOUNTED WITHIN REACH OF THE DRIVER. DRIVER MUST WEAR A HANS DEVICE IF RUNNING IN A CLASS THAT ALLOWS TIRES WITH TREADWEAR LESS THAN 200, EVEN IF NOT USED ON THE CAR. AND A ROLLBAR AT MINIMUM FOR THOSE USING HANS DEVICES (except HANS Hybrid). OPEN TOP CARS REQUIRE A CAGE. BASIC STUFF YOU'LL FIND PARTWAY DOWN THE RULES ON THE NHA page.
For details on unique NHA classes (formula libre, Super production etc.) go here: https://nhahillclimb.org/assets/NHA-Rules.pdf
Car classification includes SCCA Solo and Race classes plus Northwest Hillclimb Association special classes, for GCR (General Competition Rules), SOVREN, and NHA.
NOTE: THE VENUE MAP GENERATED BY MSR IS NOT ACCURATE! The venue is near Goldendale, but not in Goldendale.
Use the Map image below: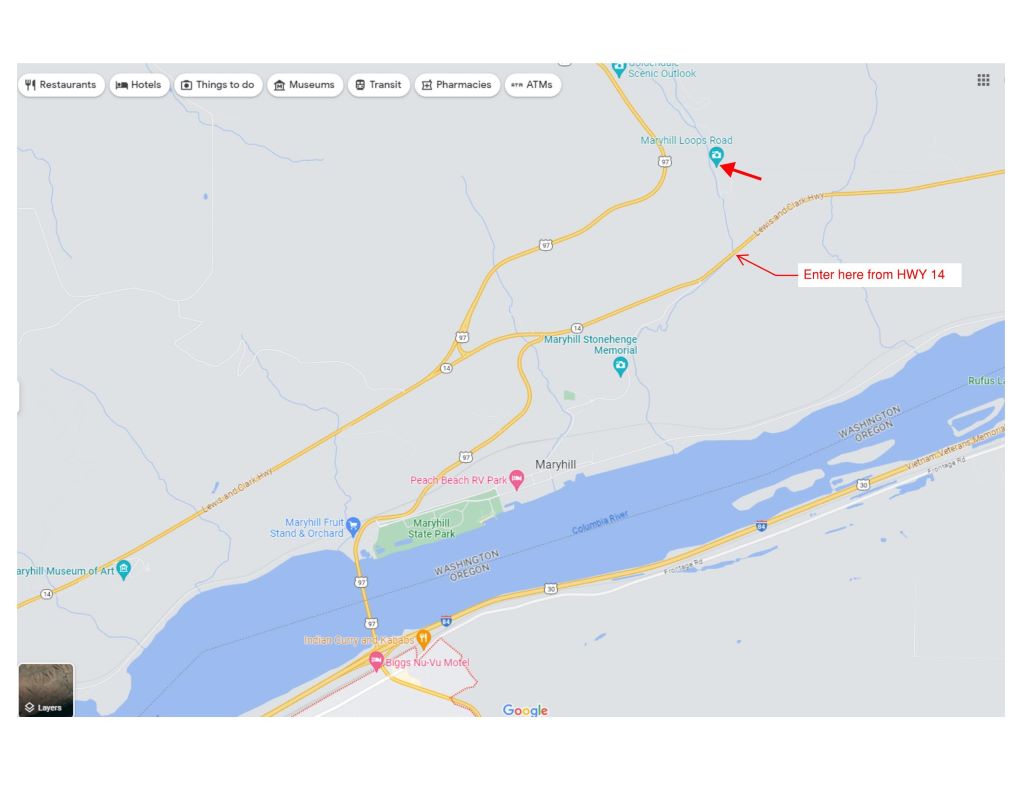 Maryhill Loops Road
Goldendale, WA