PCA Diablo DE Event - Mazda Raceway Laguna Seca
Continue
Registration closed November 11, 2016 11:59 PM on November 11, 2016 11:59 PM PST Registration ends November 11, 2016 11:59 PM on November 11, 2016 11:59 PM PST Registration opens October 3, 2016 12:00 AM on October 3, 2016 12:00 AM PDT Registration runs from October 3, 2016 12:00 AM to November 11, 2016 11:59 PM
Porsche Club of America Diablo Region Track Day at Mazda Raceway Laguna Seca
 Monday, November 21, 2016  
 Sponsored by Porsche of Walnut Creek
Limited size run groups, lots of track space, tons of track time
"Have Fun, Be Safe, Drive Fast"
**** PLEASE NOTE WE ARE NOW WAIT LISTING ALL NON-SPONSORED BEGINNERS WHO REQUIRE AN INSTRUCTOR **** 
THIS EVENT IS FOR PORSCHE CARS ONLY - All event details can be found at www.diablo-de.org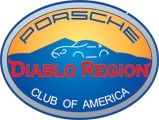 General Information:
This event is open to all Porsche drivers from first time beginners through advanced level track drivers. We expect to run four run groups: Beginner, Intermediate, Advanced and Instructors.  The DE team will review all registered drivers and will confirm the run group classification of all drivers based on overall track experience.  During the event the DE team will work to accommodate drivers wishing to change run groups, subject to approval by our Chief Driving Instructor (CDI).  Instructors will be allocated to all 'first time' drivers to the track.
Two Drivers Sharing One Car:
Please note that if you intend to share one car with two different drivers, BOTH drivers need to register AND be capable of running in different run groups.  That is, both drivers cannot drive in the same run group.  No passengers or guests allowed in cars during hot lap sessions.   If we do offer a parade lap session during this event, passengers will be allowed at that time.
Passing will be with mandatory point-by in all groups. We take safety very seriously, and will 'black flag' any participant who disregards passing protocols or consistently fails to give point by's, including denying access to the track with no refund of registration fees if deemed necessary by the safety officer. (Fortunately, in 7 years we have hardly ever had this happen because, as a limited sized group, we have a chance get to know each other and conga lines rarely happen!).
We are a Porsche club, not a driving school or a driving business.  We run several safe, fun and friendly track events each year. We do not race, time trial or time laps. We limit this event to 25 cars per run group so that we can offer plenty of room on track and lots of track time. The registration fee includes a full yummy lunch and bottled water throughout the day.
Sound Limit Strictly Enforced:
Mazda Raceway Laguna Seca enforces a strict sound limit.  This is a 90db day so please make sure your car will pass under the limit prior to arriving at the track.  No refunds if your car fails to pass the at track sounds checks.
Safety Inspection Information:
All drivers must certify that their car has passed a safety inspection by an authorized person within 30 days of this event per PCA guidelines.  The safety inspection form can be downloaded from our DE website (https://www.diablo-de.org). All drivers will complete this safety inspection form which verifies the condition of their car is ready for the track and will be handed to us at check-in, or at 'grid tech', which is final inspection of your car on the day of the event. Well maintained Porsches should have no problem passing tech inspection, if they have good brakes, tires, no oil leaks and no defects. If in doubt, have the experts look at your car.  We will update our DE website with information on any free inspections.
The following two sponsors are offering free safety inspections for participants of this event:
Walnut Creek Porsche – by appt. only
Contact Melissa at by phone at 925-280-4363 or stop by the dealership to make an appointment.
Kahlers in Dublin – by appt. only
Contact Ash Reddy by phone at 925-829-2050 to make an appointment..
Pre-Event Information:
Drivers are invited (Beginners strongly recommended) to attend our DE Introduction briefing called DE 101 / 201, which is typically held two weeks prior to the event. We will have a section for new drivers to track, as well as discussion on driving Mazda Raceway Laguna Seca, an opportunity to share experience for all levels.  Ths event is scheduled for November 2, from 6:30pm to 8:30pm at Walnut Creek Porsche.
The always popular and fun no-host group dinner and check-in will be Sunday night, November 20, at Tarpy's Roadhouse at 2999 Salinas Highway, Monterey.  The dinner will start at 5:30pm. Bring your guests to dinner as well, it's always a good time.   
Run Group Selection:
Drivers with 5 or less track days experience should register as Beginners 
Drivers with 19 or less track days should register as Beginners or Intermediate
Drivers with 20 or more track days or Instructor experience can register as Advanced
Garages (Day of the Event Use)
10/25/16: Good News, we found more garages!  We can now accommodate up to 40 cars!  Registration for garage spots is now back open on MSR.
Registration Fee: $315 per driver 
Refunds are subject to a $75 cancelation fee.  Sorry, no refunds after November 11, 2016.  Registration will close when driver count is reached, or on midnight, November 11, 2016.
Instructors driving their cars are $50.  Instructors not driving are free.
WE ARE NOW WAIT LISTING ALL NON-SPONSORED BEGINNERS WHO REQUIRE AN INSTRUCTOR.