Midwest Track Day at Blackhawk Farms Raceway
Continue
Registration closed September 20, 2013 4:00 PM on September 20, 2013 4:00 PM CDT Registration ends September 20, 2013 4:00 PM on September 20, 2013 4:00 PM CDT Registration opens August 30, 2013 12:00 AM on August 30, 2013 12:00 AM CDT Registration runs from August 30, 2013 12:00 AM to September 20, 2013 4:00 PM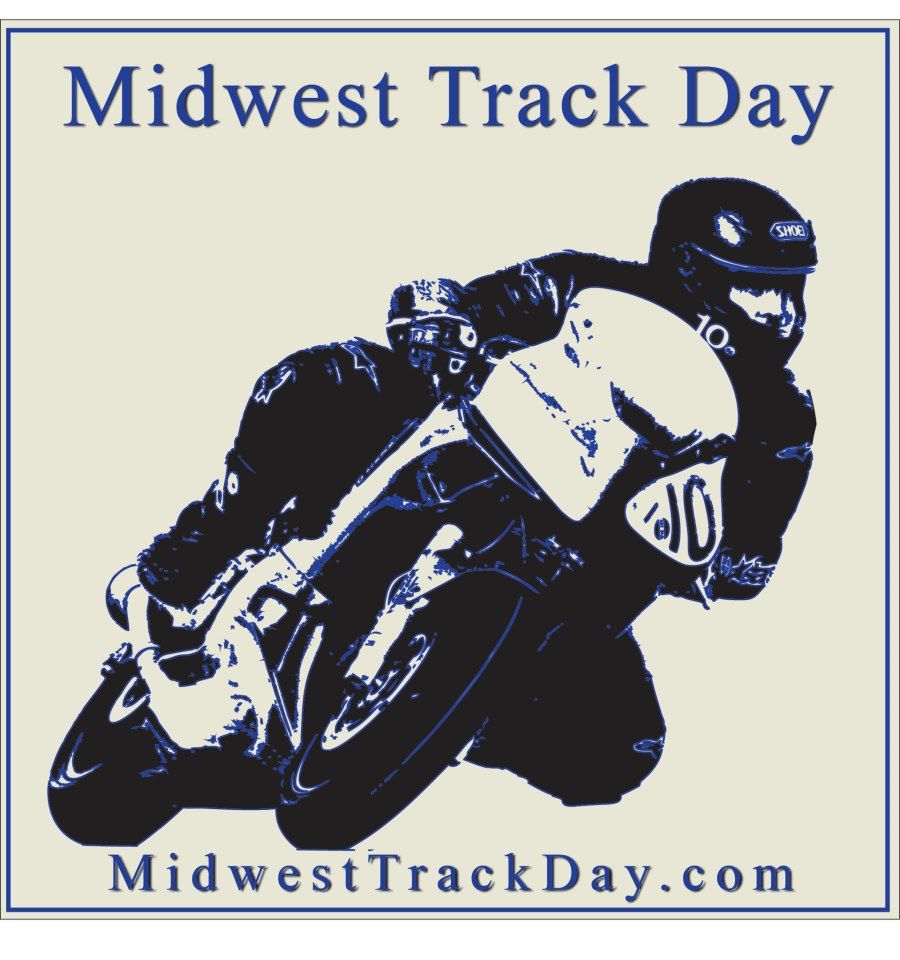 This will be a special Friday edition for Midwest Track Day!! Most things will be the same with the following exceptions. The track will run from 9am to 4:30pm. The the last two cycles of the day will be 15 minute sessions. This is reflected in the schedule below. Championship Cup Series will be racing at Blackhawk that weekend (Sept 21-22). So, when you come to the security booth, you will be asked if you are there for Midwest Track Day or for Championship Cup Series. You are absolutely welcome to stay for the races over the weekend but, there is a gate fee of $25 to do so. There is no gate fee for our event on Friday.
If you haven't been to a club racing event, I highly reccommend staying. It's great fun and there are some very fast racers.
Racers will be arriving throughout the day on Friday. Please be patient and courteous. And, as always watch for traffic in the paddock.

Red Group is for street experienced riders and, riders with some of track experience who are looking for a moderate pace. Passing limited to straights.
White Group is for track experienced riders who are familiar with the flags, pit in/out procedures and 10+ previous track days. Passing on straights and on outside in turns.
Blue Group is for track day veterans and licensed racers. The pace will be fast with passing allowed in every section of the track.
 
Gates open at 5pm Tursday.
Registration and Tech will open at 7:30am each day.
Mandatory Rider meeting at 8:30am
 Blue - 9:00
 White - 9:20
 Red - 9:40
 Blue - 10:00
 White - 10:20
 Red - 10:40
 Blue - 11:00
 White - 11:20
 Red - 11:40
 Lunch - Noon
 Blue - 1:00
 White - 1:20
 Red - 1:40
 Blue - 2:00
 White - 2:20
 Red - 2:40
 Blue - 3:00
 White - 3:15
 Red - 3:30
 Blue - 3:45
 White 4:00
 Red - 4:15
 Checker - 4:30
 
Gates will open at 5pm Thursday. Camping is allowed at Blackhawk. When you come in let security know if you want an electric hook up. And, also let them know if you plan to stay for the races over the weekend. There is a $25 gate fee if you are. And, they will give you a CCS wristband
Pricing
Registration - $145
If you have any questions about our format or track days in general, please contact us through our website, forum or Facebook page.
www.MidwestTrackDay.com
www.facebook.com/MidwestTrackDay
www.forum.midwesttrackday.com