I.T.SPEC*tacular weekend Worker Registration
Continue
Registration closed August 5, 2014 6:00 PM on August 5, 2014 6:00 PM EDT Registration ends August 5, 2014 6:00 PM on August 5, 2014 6:00 PM EDT Registration opens May 26, 2014 7:00 AM on May 26, 2014 7:00 AM EDT Registration runs from May 26, 2014 7:00 AM to August 5, 2014 6:00 PM
  Welcome to worker registration for the Cincinnati Region I.T.SPEC*tacular Plus. If you are searching for driver registration click HERE.
 If you volunteering to work Flagging & Communication, Lake Erie Communications has a separate sign up page. Click HERE for a direct link.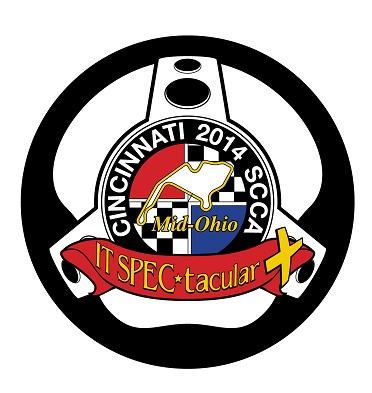 This years event will again feature a PDX on Friday 
Saturday's schedule will have 6 race groups and 1 Club trial group. We anticipate finishing the day at 5 pm.
1)  ITA, IT7, ITB, ITC, ITS, T3, T4, B-SPEC
2)  F5, F6, FV, FST, FF, CFF
3)  SM, SM5
4) F1000 East Championship Series 
5)  GT1, GT2, GT3, STU, ITR, ITE, STL, SP, AS, ST, T1, T2
6)  GTL, EP, FP, HP, SPU,  SRF, SRF-3
7)  FS, FA, FC, CFC, FM, ASR, S2, FE, P1, P2
8) Club Trial (Saturday only) 
Sunday's schedule will have 7 race groups and we anticipate finishing the day at 5 pm. 
1)  ITA, IT7, ITB, ITC, ITS, T3, T4, B-SPEC
2)  F5, F6, FV, FST, FF, CFF
3)  SM, SM5
4) F1000 East Championship Series 
5)  GT1, GT2, GT3, STU, ITR, ITE, STL, SP, AS, ST, T1, T2
6)  GTL, EP, FP, HP, SPU,  SRF, SRF-3
7)  FS, FA, FC, CFC, FM, ASR, S2, FE, P1, P2