School Registration (Step 1 of 4)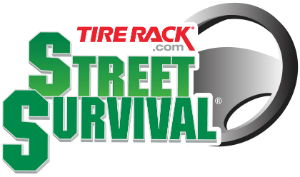 Saturday, June 17th, 8:30AM-4:30PM
Allegheny Region PCA proudly presents the 2017 Tire Rack Street Survival program in Pittsburgh!
Supported locally by Moon Township Ford and PITT OHIO Express.
Please note that Porsche Club of America (local host for this school) does not allow anyone under the age of 16 to participate. Drivers 16 years old and older who hold a valid drivers license, that have no restrictions during the hours the school takes place are eligible to participate. (i.e. If the participant is allowed to drive to and from the event without an adult required to be in the car with them).. Updated 2-28-17
The primary emphasis of the Tire Rack Street Survival® is a "hands-on" driving experience in real-world situations! We use your own car to teach you about its handling limits and how you can control them. The students will become more observant of the traffic situation they find themselves in. They will learn to look far enough ahead to anticipate unwise actions of other drivers. As the students master the application of physics to drive their cars, they will make fewer unwise driving actions themselves. They will understand why they should always wear their own seatbelts, and why they should insist that their passengers wear seatbelts, too.
Three parents, including Scott Goodyear, former Indy Car Champion, share their perspectives in this video.
It's about more than driving - it's about LIVING!
All Schools $75.
This event is open all drivers meeting the minimum requirements and you do not have to be a member of ARPCA.
See our FAQ page at: http://streetsurvival.org/schools/frequently-asked-questions
Any questions after reviewing the FAQ page call Bill Wade, National Program Manager, @ 864-438-2060 (8 am - 8 pm EST)
If you have a MotorsportReg.com account, you can add profiles and then register here (see help).