2018 Tire Rack SCCA Solo Nationals
Event Requirements
Registration closed August 22, 2018 6:00 PM on August 22, 2018 6:00 PM CDT Registration ends August 22, 2018 6:00 PM on August 22, 2018 6:00 PM CDT Registration opens July 2, 2018 6:00 PM on July 2, 2018 6:00 PM CDT Registration runs from July 2, 2018 6:00 PM to August 22, 2018 6:00 PM
Entry Cap for this event is 1400 which does not include Formula Juniors. 
The 46th annual Tire Rack Solo National Championships returns to Lincoln Air Park to host over 1300 competitors and crown the best of the best in Solo competition!
 Click here for all event updates and detailed information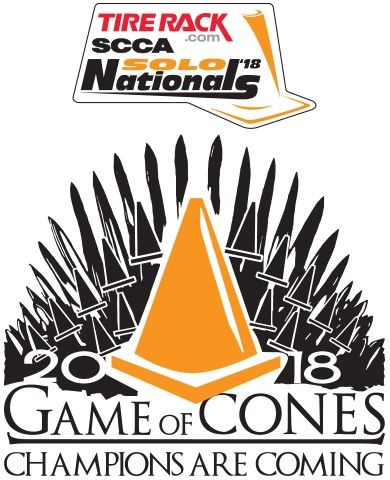 This year's theme is "Game of Cones."
  
Site Location
Use the intersection function on your GPS
Lincoln Air Park
W Mathis St & NW 36th St
Lincoln, NE 68524
Enter site at Gate 41
Registration Schedule

July 2 @ 6:00 pm central - Event registration opens to everyone
                                    All entrants must be an annual SCCA member
                                    Entry fee is $190 for regular classes & $85 for Junior Karts
                                    Option to select a group to paddock with is available                      
July 2 @ 6:00 pm central - Test n Tune Registration opens - https://www.motorsportreg.com/events/2018-tire-rack-scca-solo-nationals-test-n-tune-lincoln-airpark-national-272115                   
July 23 @ 6:00 pm central - Ability to select a group to paddock with closes 
August 1 @ 6:00 pm central - Individual paddock space registration opens
August 13 @ Midnight central - Late fee for Event Registration starts - fee increases to $300
August 20- Run/Work Order for the event will be posted
August 22 @ 6:00 pm central- Last day to late register online
August 22- Last day to cancel and receive a refund (minus $20) for entrants who registered prior to August 13 only
Event Schedule and Supps
The schedule of activities can be found here: https://www.scca.com/downloads/41250-2018-schedule-of-activities
The supplemental regulations can be found here: https://www.scca.com/downloads/41464-2018-solo-nationals-supps
Staff Hotel

Staybridge Suites I-80
2701 Fletcher Ave
Lincoln, NE 68504
402-438-7829

 
Extra Banquet Tickets 
If you have guests coming to one or both banquets please purchase extra tickets for them while registering. All competitors have access to both Wednesday and Friday banquets included in their registration fees.
 If you need to add a banquet ticket after registering please email bharmer@scca.com.
Paddock
For those wishing to paddock with a registered group, you will have from July 2 - July 23 to select the group in a dropdown during event registration process. If you are part of a group nothing else will be required to receive a paddock spot.
For those that do not plan to paddock with a registered group, Paddock selection will be a separate process from online entry registration. It will take place on MSR. As soon as a link is available for registration it will be communicated. 
Contingency
Contingency registration for SCCA's gold and silver level administered contingency programs are on a separate MSR registration found here: https://www.motorsportreg.com/events/2018-tire-rack-scca-solo-nationals-contingency-lincoln-airpark-national-281488. Please keep in mind that you must register each and every year to be eligible for awards and that National Tour registration does NOT include Championships. Competitors must be registered prior to competing, and it is the competitor's responsibility to comply with contingency requirements. Please check the programs on https://www.scca.com/pages/solo-contingency for detailed information, including decal placements. Please check back for additions to the program.
The following companies are posting bronze level programs for which you must register directly with the sponsoring companies:
Hoosier Racing Tire
Mazda North American Operations
MINI USA
Nexen Tire
Toyota Racing Development

Cancellation Policy
All cancellations must be made in writing.
Please contact Brian Harmer (bharmer@scca.com) with questions or to cancel.
Please review important information regarding refunds below. 
Partial refunds (SCCA retains $20) for cancellations IF:
Entrant registered prior to Monday, August 13
AND
Entrant canceled prior to Wednesday, August 22 
NO REFUNDS for cancellations IF: 
Entrant registered on or after Monday, August 13
OR
Entrant cancelled on or after Wednesday, August 22
Car Number Policy
The number selection is first come, first served. The Motorsportsreg.com system does not allow drivers to reserve their co-drivers number. With that, if there is a conflict where someone signs up for a number and someone else who isn't the co-driver signs up for the corresponding number, the person that signed up first for either the two or three-digit number is the owner of that combination. If you notice a discrepancy in numbers, please contact Brian Harmer (bharmer@scca.com). Motorsportreg.com provides the date/time of registrations to determine who registered first and is the rightful owner of the number combination.
Waitlist Policy
When the event hits the entry cap, the remaining competitors will be put on a waitlist.
For those entrants on the waitlist, there is no guarantee the entrant will get into the event.
As entrants on the entry list cancel, the next person in line on the waitlist will be notified via email that there has been a cancellation and they have now been moved into the event. If the entrant has a credit card on file with MSR it will be charged. If there is no card on file when that entrant is moved over, they will be required to log into MSR and pay for the event. The entrant will have 24 hours to pay for the event before that entrant is placed back on the waitlist and the next entrant is put into the event.
We will continue to move entrants off the waitlist as we receive cancellations up until the time online registration closes.
After online registration closes, no entrants will be moved off the waitlist onto the registration list for the event. The waitlist will be officially closed, and even if there is a cancellation, no one will be taken off the waitlist to fill that spot.
On-site registration -  if the event is full will not be open to anyone on the waitlist or new registrations.
Registration closed August 22, 2018 6:00 PM at August 22, 2018 6:00 PM CDT
Registration closed
Registration opens July 2, 2018 6:00 PM at July 2, 2018 6:00 PM CDT
Registration closed