2017 Put-In-Bay Road Racing Reunion
Event Requirements
Registration closed August 30, 2017 11:59 PM on August 30, 2017 11:59 PM EDT Registration ends August 30, 2017 11:59 PM on August 30, 2017 11:59 PM EDT Registration opens February 14, 2017 12:00 AM on February 14, 2017 12:00 AM EST Registration runs from February 14, 2017 12:00 AM to August 30, 2017 11:59 PM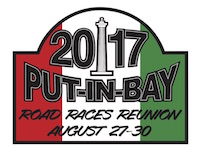 Provisional Overview of Events
Sunday, August 27 - Registration opens. Welcome party.
Monday, August 28 – Morning focuses on PIB Road Races History featuring historic PIB racing presentations and guests. Racing orientation and practice sessions commence at the airport after lunch, followed by late afternoon laps of the original course. Rocker cover races follow tour of old course.
Tuesday, August 29 - Race Day 2 at the Put-in-Bay airport! Featuring qualifying races in the morning, track "Lunch Lapping" for Street Car participants, followed by feature races and the Put-In-Bay Cup race. Racing awards party following the on-track activities.
Wednesday, August 30 - Car Show Day, followed by farewell luncheon and car show awards presentation including presentation of The Paul Henry Award.
Street Car Eligibility: While the Put-in-Bay Road Race Reunion celebrates the sportscar racing that took place on South Bass Island, we always have a large contingent of street car participants. The street car folks participate in all the activities except the actual wheel-to-wheel racing, at a reduced entry fee. Street cars are accepted on a case by case basis and should be makes and models that embrace the spirit of racing at Put-in-Bay.
2017 Race Car Eligibility    List of car types that normally are accepted for racing. Cars not listed will be considered on a case by case basis.
2017 General Rules & Regulations    Short list of minimal requirements for race cars and drivers.
2017 Exhibition Regulations   Rules and requirements for the Exhibition category.
2017 Paper Entry Form    Use if you want to mail your entry and pay with a check.
2017 PIB 2017 Entry Form-writable.pdf    Use if you want to email your entry and pay later.   
2017 RCIS (Race Car Information Sheet)  Basic car information required for all first time PIB racers.
2017 Airport Race Course Diagram New extended course for 2017.
Rocker Cover Races Rules Rocker cover race car rules; a fun event with lies, drinking and some semi-serious technology on display.
Miller Boat Line Ferry from Catawba to Put-In-Bay This is how you get there! They can handle all size rigs up to 80'.
Put-In-Bay Lodging Non-judgmental list of places to stay. You can camp at the State Park or stay in anything from a nice B&B, modern hotel, cottage in the woods or a mom and pop cabin, to sleeping on the beach near the paddock! We do not make recommendations, however.
NOTE: Click "Continue" to see registration options. When the form asks for your "Member Number" just click past it.
Registration closed August 30, 2017 11:59 PM at August 30, 2017 11:59 PM EDT
Registration closed
Registration opens February 14, 2017 12:00 AM at February 14, 2017 12:00 AM EST
Registration closed