Audi Club SoCal - Buttonwillow Nov 2019
Event Requirements
Registration closed November 9, 2019 11:59 PM on November 9, 2019 11:59 PM PST Registration ends November 9, 2019 11:59 PM on November 9, 2019 11:59 PM PST Registration opens August 15, 2019 12:00 PM on August 15, 2019 12:00 PM PDT Registration runs from August 15, 2019 12:00 PM to November 9, 2019 11:59 PM
HIGH PERFORMANCE DRIVING SCHOOL
Buttonwillow Raceway Park
Friday, November 22, 2019 - Sunday, November 24, 2019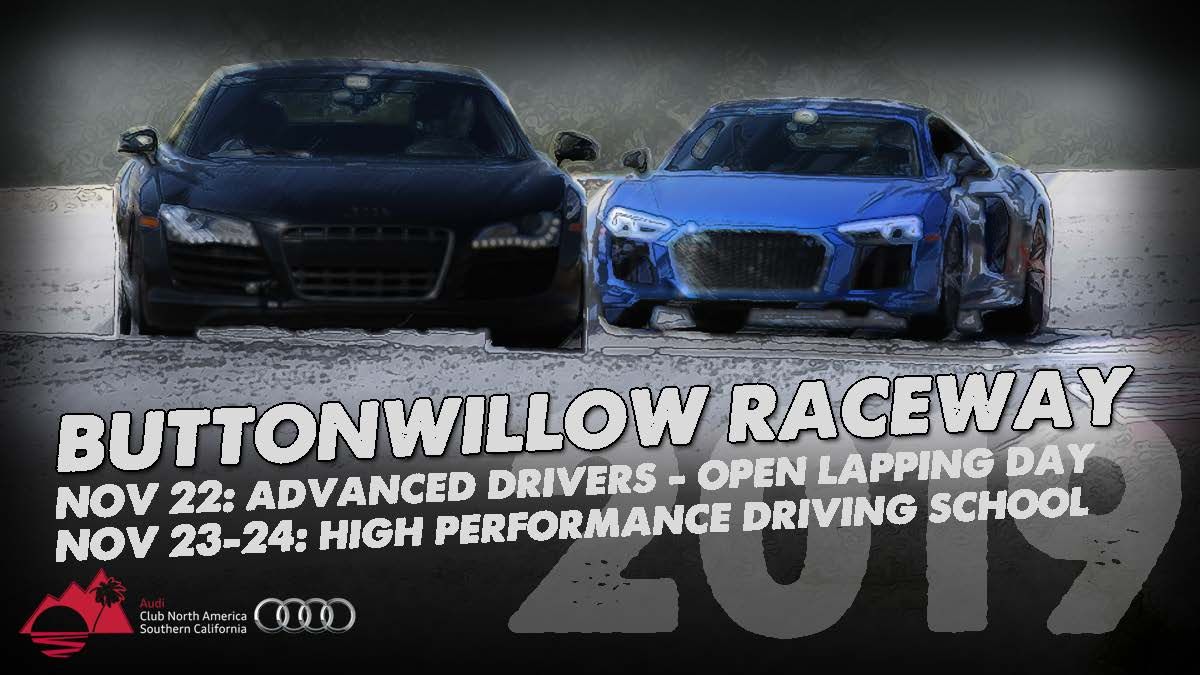 EVENT HIGHLIGHTS
The primary focus of this event is SAFETY, FUN, and LEARNING in an enjoyable, relaxed, and organized school setting. This is not a racing school, a race, or practice for racing. At no time will you be pushed or encouraged to go any faster than is comfortable for you.
New!

Course Configuration

-

we will run the road course in the counter-clockwise direction on all three days.

Friday (optional day): #1 "Star Mazda" Counter-Clockwise.
Saturday and Sunday: #13 "Sweeper" Counter-Clockwise.

New!

Optional Professional In-Car Coaching

-

Track

Rekord founders Kai Goddard and Andy Lee will be with us on all three days providing optional professional HPDE coaching to our experienced drivers. Each in-car coaching session will be followed by a detailed debrief. An additional fee applies.
Track Rekord

focuses on individually tailored track day coaching in your own car. Their goal is to make you a better, safer driver. You will be surprised how much your driving can improve from even one session with them. The only prerequisite is your enthusiasm! Intermediate and above (our pre-soloed-C; D; and Instructor drivers) are encouraged to sign up for one of their additional cost personalized coaching sessions when you register, as coaching spots are limited. View their coaching staff bios at

www.trackrekord.com.

Friday Experienced Driver Day

- Our Friday optional day with Open Pit Lane format is very popular with our experienced drivers.

Friday is limited to previously soloed C-intermediates, D-advanced, and Instructors, as Friday will not have any formal Audi Club driving instruction (although TrackRekord will be providing optional coaching on Friday).

Not driving Friday? You will need to arrive early Friday evening for check-in and mandatory driver meetings, so we encourage you to arrive at the track early on Friday to observe the action and get a track familiarization ride with one of our instructors.

Banquet

- Thanks to our members' generous support at recent Audi Club SoCal events we will limit the extent of the auction at this year's banquet. This will allow plenty of time to visit with your friends and still get a good night's sleep.
We hope to auction Sunday race car hot laps and will be giving away some great items including credit for a Track Rekord coaching session and registrations for future Audi Club SoCal and Audi Club Golden Gate driving schools. You must be present at the Banquet to win!

The Tent returns!

-

If you've joined us at Buttonwillow the last few years you know that Audi Club's big-top tent at the track is a hit. It will continue to be the location for ALL non-driving activities, including the Friday evening meet and greet / check-in / mandatory meetings and the Saturday evening banquet.

Convertibles and SUV

-

We remind you that Audi Club North America allows many models of convertible cars and selected small SUV/CUV cars (for example Q3, Q5, SQ5) at our driving school. There are a few restrictions, so see the Details below.
REGISTRATION FEES
Student

- $545. The student registration fee for the Saturday/Sunday SoCal Audi Club High Performance Driver School Includes:

Training - on-track instruction with trained Audi Club instructors, driving theory classrooms, car control exercises for novices, feedback sessions, online study materials, first-timer online seminar.
Meals - Friday evening's meet-and-greet with heavy appetizers, Saturday lunch, Saturday night gala Banquet Dinner, and Sunday lunch.
Shirt - Every registration includes a souvenir long sleeve event shirt.
A $50 early bird discount is available until the middle of September.

First-Timer

- $Free, a $120 value! We recommend you read

the

First-Timers Introduction and Preparation

article from our website at

www.audiclubna.org/southern-california/driving-school/. If this is your very first time driving a car at a racetrack, SoCal Audi Club includes valuable bonuses: a complimentary professionally-produced multimedia track driving presentation (online completion required before you arrive at the event) and a complimentary weekend helmet rental.

Instructor

-

$245, or $80 meal-only (no track time). Our experienced and trained Audi Club instructors volunteer their time and expertise to teach at our driving school so qualify for a discounted Saturday/Sunday registration fee and have their own dedicated Run Groups.

Friday

-

$265

is the additional fee for the optional Friday Experienced Driver Day. For qualified C-Intermediate drivers, D-Advanced drivers, and our Instructors. Includes more open track driving time than you or your tires can probably handle! All Audi Club HPDE policies are in effect on Friday including: passing rules (only in designated passing zones with use of turn-signals/blinkers); only an Audi Club designated Instructor may be the second occupant in your car; and no in-car timing may be visible to the driver. Includes lunch.

Pro Coaching

-

$300/session

. Optional in-car HPDE coaching by Track Rekord's professional coaches is available to qualified C, D, and Instructor drivers.
Please register early - We don't charge your credit card until a month prior to the event and we have a generous refund policy for timely cancellations.
Late registration (within about two weeks of the event) is highly discouraged, is solely at the discretion of the organizers and, if approved, will be subject to an additional $100 fee.
PRELIMINARY SCHEDULE
This event consists of an (optional) open lapping day, followed by a two-day driving school (not two separate one-day schools). This schedule is preliminary; additional details will be sent closer to the date of the event.
  Friday
Experienced Driver Day - At the track
7:00 AM Gate Opens
7:20 AM Experienced Driver Day Check-In (Tower Café)
7:40 AM Mandatory Driver Briefing (Tower Café)
8:00 AM – 5:00 PM Experienced Driver Day #1 course (Star Mazda) CCW
Check-in & Meetings- At the track (in the Audi tent)
5:00 PM Meet and Greet, with Light Supper served courtesy of the Club
5:30 PM Driving School Check-In begins
7:00 PM Mandatory Instructor' Meeting & First-Timer's Meetings
8:00 PM Mandatory All-Drivers Meeting, then Meet Your Instructor
Gate stays open and attended overnight
  Saturday
High Performance Driver School, Day One - At the track
The Gate is open and attended 24 hours
7:25 AM Mandatory Driver Briefing (Audi Tent)
8:00 AM Lapping Sessions Begin #13 course (Sweeper) CCW
5:00 PM Lapping Sessions End - Social Hour in the tent at the track
6:00 PM Banquet Dinner (in the Audi Tent at the track)
Gate stays open and attended overnight
  Sunday
High Performance Driver School, Day Two -  At the track
The Gate is open and attended 24 hours
7:30 AM Mandatory Driver Briefing (Audi Tent)
8:00 AM Lapping Sessions Begin #13 course (Sweeper) CCW
12:00 PM Race Car Hot Laps (TBD)
5:00 PM Lapping Sessions End; Pack up and Goodbyes
6:00 PM Gate Closes
The club makes all Run Group assignments and Student-Instructor pairings. They will be provided to you at Friday check-in along with the detailed daily schedules.
LOCATION
Why do we hold our driving school on a closed road course, even though we are not racing? We do so to enhance safety, as it is a controlled environment with fewer distractions and unknowns than found on the public roadways. ALL activities, including the Saturday evening banquet, will be held at Buttonwillow Raceway Park, 24551 Lerdo Hwy, Buttonwillow, CA 93206, (661) 764-5333.
  Lodging - There are nearby motels, or you may camp in the paddock. There is no designated headquarters hotel for this event. Detailed Motel listings are in the Confirmation you will receive after you register.
PREREQUISITES
We encourage everyone to Download and Read the Audi Club SoCal HPDE Event Detailed Requirements and download and print the mandatory Safety Inspection Form (Tech Form) from the club's webpage at audiclubna.org/southern-california/driving-school/. You must bring the completed Safety Inspection Form with you to the event.
BEFORE YOU REGISTER please review the following summaries of ACNA SoCal event requirements:
Driver Requirements
Drivers must possess a valid driver's license issued by their state of residence;
wear an approved racing helmet (see below);
wear a long-sleeve shirt, long pants and practical closed-toe shoes while engaged in the car control exercises and on-track driving sessions. Clothing should be made of natural or flame-retardant fibers;
have a current Audi Club North America membership audiclubna.org/join.

Audi ownership is not required for membership in ACNA. Membership dues are in addition to the event registration fee.
Vehicle Requirements
All makes and models

of coupes and sedans are welcome.

Your car must be in excellent mechanical condition.
Cars are required to undergo and pass a safety inspection prior to arriving at the event.
Cars must have functional turn signals.
Equal safety restraints (seat belts, air bags, seats, etc.) are required for driver and the instructor passenger. OEM 3-point belts as part of the stock driver safety system are fine for this event.
Use of specialized track tires (R-compounds or slicks) is not permitted for beginning and novice drivers; they are discouraged for intermediate drivers.

Open cars and convertibles

are allowed if equipped with approved OEM rollover protection or an approved aftermarket 4-point (or greater) roll bar meeting the "broomstick rule". Inquire about restrictions or see the list on the Audi Club website.
High center of gravity vehicles are not appropriate for this high-speed driving school, however certain performance-oriented sports utility vehicles are now permitted with restrictions. Tires on SUVs must be UTQ wear rated at >200; no competition tires.
Helmets Participants must wear motorsport helmets bearing Snell SA2010 (or later) or Snell M2010 (only) certification. This certification label must be accessible for verification for the helmet to be allowed. Snell M2010 helmets (motorcycle) are only permitted in cars without supplemental roll-over protection (without roll bars). Motorcycle helmets with only a DOT rating are not allowed.
DRIVING SCHOOL
"He who loves practice without theory is like the sailor who boards ship without a compass and never knows where he may cast." — Leonardo da Vinci
An Audi Club SoCal driving school is much more than simply a "lapping day". We provide you with a balanced learning environment utilizing modern eLearning, classroom, and on-track instruction.
Classroom Sessions - This is a high-performance driver safety education school - it is not racing, or practice or a school for racing. It is not a contest. All participants will attend classroom sessions designed to teach vehicle dynamics and driving techniques. Classroom and driving time will be balanced to give drivers a better understanding of the principals and application of precision performance driving.
Car Control Exercises - Car control exercises are provided on Saturday morning for our beginning drivers, so you may practice the principles you've learned online and in the classroom in a safer environment before driving on the track with your personal instructor later in the day. We will not be using the skid pad this year due to low participation, the condition of the asphalt, and the club's staffing limitations.
Speed Secrets Performance Driving 101 online seminar - Is this your very First Time driving on a racetrack? Audi Club SoCal wants you to exceed your own expectations, so you will be viewing the Speed Secrets Performance Driving 101 online driving seminar for FREE prior to your arrival at the event. Enrollment details are in the confirmation you will receive when you register for this event. And ALL Audi Club SoCal participants get a generous 50% discount on a lifetime subscription to Performance Driving 101 and Inner Speed Secrets 201.
Track Rekord advanced coaching – See the description of this additional cost option in the event highlights.
Event Policies - These policies apply on all three days of this event.
  Passing Protocol Passing will only occur only by permission in designated Passing Zones.
Passing Signals -

Permission to pass in all run groups will be indicated by mandatory use of turn signals (blinkers) on the car being passed. The blinker will be used "street-style" – the blinker indicates which way the slower car will maintain; the faster car will pass on the side opposite the blinker. This is an Audi Club North America requirement.

Passing on Either Side

- Passing in all run groups will be allowed on either side at the discretion of the slower car; however, the slower car is should drive their normal line. Therefore, the faster car should normally expect to drive "off-line" to complete the pass. Off-Line is often the side of the track that is in the same direction as the following corner.

Passing zones

- The approved Passing Zones will be designated with a green cone at the start of the passing zone and a yellow cone at the end of the passing zone. All passes must be complete before the end of the passing zone and no later than the start of braking. Late passing into the corners ("dive bombing") or crowding other drivers will not be tolerated. There will be a minimum of four designated Passing Zones for every Run Groups

.
  Passengers - If there are two people in a car, at least ONE must be an Audi Club approved instructor. If your guest would like a ride on the course, please have them visit the check-in/registration desk in the Tower Cafe to arrange a ride in the right seat of an Audi Club instructor's car.
_______________
Experienced Driver? Are you an experienced driver but registering with SoCal Audi Club for the first time? Please make sure your driving history in your MotorsportReg.com Profile is up to date. This will help us place you in an appropriate group. Do you have questions about your qualifications for Friday or the Weekend? Please contact our Chief Driving Instructor at cdi@audiclubsocal.org
Garage Rentals Buttonwillow Raceway Park has enclosed day garages available for weekend rental. Garages include lighting, power, and compressed air. There are eight private garages and eight semi-private garages. Each garage will accommodate two cars; you are encouraged to make your own arrangements with fellow participants to share a garage. To rent a garage please call the track at (661) 764-5333. The cost per two-car garage is $100 for Friday and $200 for Saturday/Sunday).
HPDE Insurance Does my regular insurance policy cover my car at this event? This article tells you how to find out: A guide to your personal auto policy. If you find your regular policy excludes coverage, you may purchase special HPDE insurance for your car while participating in this Audi Club driving school. Audi Club has an exemplary safety record which qualifies our drivers for a nice discount. Visit the Audi Club page on LocktonMotorsports.com for details. Find this event by searching on the date and track to purchase your policy online.
Still have Questions? We know that is a lot of material to absorb! If you still have questions please contact the event master eventmaster@audiclubsocal.org (714) 660-3453.
Registration closed November 9, 2019 11:59 PM at November 9, 2019 11:59 PM PST
Registration closed
Registration opens August 15, 2019 12:00 PM at August 15, 2019 12:00 PM PDT
Registration closed