Potomac's Last DE of the Season
Event Requirements
Registration closed October 17, 2020 11:59 PM on October 17, 2020 11:59 PM EDT Registration ends October 17, 2020 11:59 PM on October 17, 2020 11:59 PM EDT Registration opens February 3, 2020 12:00 AM on February 3, 2020 12:00 AM EST Registration runs from February 3, 2020 12:00 AM to October 17, 2020 11:59 PM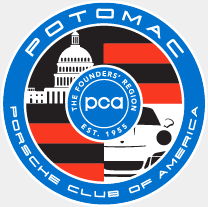 All drivers must be at least 18 yrs old and have a valid drivers license.
Click here for FAQs and other useful info about our DE program!
APPLICATIONS/ACCEPTANCE
We require prior training before participating in our DEs -- see the FAQ link above, question "What's the best way to start?" for more details.
Our events are open to all marques.
You do not need to be a PCA member to participate.
Registration closes the Saturday prior to the event (late registrations are risky due to capacity).
You may notice your event status is yellow / "New" - until it becomes green / "Confirmed", you only have a place in line not an actual slot in the event. (Or if you see "Waitlist"...keep your fingers crossed for an opening!)  We will contact you again via email about 1 month prior to the event to confirm acceptance at which time you will also receive instructions about billing and the date your credit card will be billed.
Green students are expected to attend all days of the DE, particularly the first day, for safety reasons. 
Sorry, we don't offer single-day or prorated registration. 
IF YOU CAN'T PARTICIPATE, IT IS YOUR RESPONSIBILITY TO CANCEL.
Event waivers will be provided for review and required signatures at on-site event registration.
CLOTHING
Full coverage rubber-soled shoes, long sleeved and legged clothing, and socks required. Natural-fiber clothing highly recommended. Drivers' suits, gloves, shoes and neck brace made of fire-resistant materials recommended but not required.
CANCELLATION
You must cancel online BEFORE WE BILL YOU, which will be 1 week before the event.
If you cannot cancel online, you must notify the Registrar by email BEFORE YOU ARE BILLED and receive an ACKNOWLEDGMENT by email to verify that you have canceled.
PAYMENT
Potomac accepts only credit cards for payment. You are responsible for maintaining valid credit card information in your profile.
We bill your credit card ONE week before the event. We only bill Confirmed drivers, not waitlisted drivers.
Billing problems result in notification by email with 48 hours to resolve the issue. If you do not correct the issue within 48 hours, your registration will be canceled. Reinstatement of a registration canceled for this reason will incur a $50 admin fee and require immediate payment with a valid credit card.
Credit card and billing information uses secure connections and is encrypted. You are the only person who has access to your card number. We only see the last four digits for billing.
REFUND
Due to COVID-19, we have added flexibility for you to cancel with no charge up to 48 hours prior to the event start date.
Registration closed October 17, 2020 11:59 PM at October 17, 2020 11:59 PM EDT
Registration closed
Registration opens February 3, 2020 12:00 AM at February 3, 2020 12:00 AM EST
Registration closed