YAY INDEPENDENCE! HRSA-NASA Hawaii NIGHT Rally-X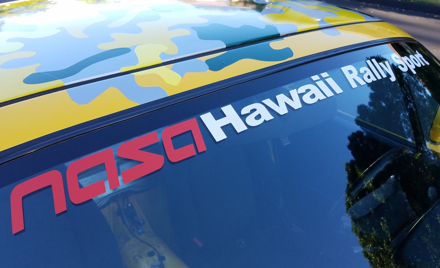 Hawaii Rally Sport Association
Saturday, July 11, 2020
Coral Crater Adventure Park
,
Kapolei

,

HI
Registration closed July 10, 2020 11:59 PM on July 10, 2020 11:59 PM HST Registration ends July 10, 2020 11:59 PM on July 10, 2020 11:59 PM HST Registration opens June 30, 2020 12:00 AM on June 30, 2020 12:00 AM HST Registration runs from June 30, 2020 12:00 AM to July 10, 2020 11:59 PM

Event Announcement
Hawaii Rally Sport Association (HRSA) and National Auto Sport Association (NASA) Hawaii Region are happy to announce the YAY INDEPENDENCE! NASA Hawaii NIGHT Rally-X! event on Saturday, July 11, 2020. The Rally-X will be held at the Coral Crater Adventure Park, Kapolei, HI.
While the Association entities are new to Hawaii, the event organizers have over a decade of experience hosting-insuring-sanctioning motorsports events in Hawaii. In fact, some of the group's members are responsible for bringing the first RallyCross events to Hawaii.
Rally-X participation is by invitation only. WE WILL BE FOLLOWING CURRENT COVID-19 RESTRICTIONS UNTIL FURTHER NOTICE. Due to higher Venue and Insurance Costs we will start enforcing a 30 participant minimum in order to break even on expenses. (Thanks to our partial sponsors and offers from others to make up funding shortfalls, we are committed to running the full season regardless of pre-registration numbers)
Hawaii Rally Sport Association (HRSA) is a 501(c)(4) non-profit group who host, promote and support Hawaii based Motorsports and  Science, Technology, Engineering and Mathematics (STEM) Education Programs in the State of Hawaii. Proceeds from the events we host-insure-sanction will go to charity. Our current charity benefactor is Make-A-Wish Hawaii.
Rally-X is the most readily accessible form of extreme dirt motorsport in the National Auto Sport Association, and the perfect place to see if you have what it takes to powerslide your way to victory. Imagine a scaled down version of a rally stage laid out on a non-paved plot of land where the course is delineated by traffic cones. Best of all, it's great fun!
Event Schedule (Tentative)
3:30
pm
Site Pit Areas open. Please comply with 5 mph speed limit on residential and private roads
4:00
pm
Registration and tech inspection opens
5:00
pm
Drivers meeting and course walk
   Participants are separated into two groups (Group A and Group B)
5:30
pm
Rally-X Heat 1 (Afternoon)
   4 runs
7:00
pm
Rally-X Heat 2 (Afternoon)
   4 runs
8:30
pm
Break for Bathrooms and Course Re-Design
  
9:00
pm
Rally-X Heat 3 (Evening)
   4 runs
10:00
pm
Rally-X Heat 4 (Evening)
  4 runs
11:00
pm
Fun runs at no additional charge, if time allows
11:30
pm
Site cleanup and tear down
All participants must remove their own trash and make arrangements to tow any non-running, un-safe or un-drivable vehicles from the event site.
The course may be altered at any time should the Event Safety Steward deem necessary.  Total runs may be less than 4 per heat if we are running behind schedule.
Spectators
SEE CURRENT COVID-19 RESTRICTIONS. While the event is not a spectator event (i.e. HRSA and NASA Hawaii Rally won't charge for viewing), we know that you may want to bring your family and friends to watch.  Coral Crater may limit the number of spectators due to parking area size or fire lane restrictions. Viewing areas are "outside" the barrier areas.  Each participant will be allowed one "pit crew" and one "pit vehicle" in the paddock area.  Pets are not allowed at NASA events, Rally-X included.
Registration Fees
Registration fees are $65 for current NASA members and $80 for all others. You must have a valid NASA Membership number linked to your profile to qualify for the NASA rate.  There is a minimum pre-registration  of 30 participants requirement for this event. T-Shirts with HRSA and NASA Rally-X logo will also be available for purchase at the event when available.  T-shirt costs are $15.
Only checks or money orders payable to Hawaii Rally Sport Association HRSA will be accepted at the event.