Winter Wanderland Road Rally Adventure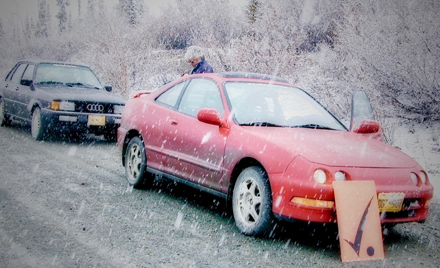 RPM Alaska
Saturday, December 8, 2018
Matanuska-Susitna Borough
,
Palmer

,

AK
Registration closed March 15, 2019 8:00 PM on March 15, 2019 8:00 PM AKDT Registration ends March 15, 2019 8:00 PM on March 15, 2019 8:00 PM AKDT Registration opens October 31, 2018 6:00 AM on October 31, 2018 6:00 AM AKDT Registration runs from October 31, 2018 6:00 AM to March 15, 2019 8:00 PM
The Winter Wanderland Road Rally is sanctioned by the Sports Car Club of America, and will be held on Saturday, December 8, 2018. We are still awaiting confirmation of the starting location in Wasilla, yet you will need to be in Wasilla for the required waiver signing and review of your Rally Generals not later than 10:50AM! The rally route will be in the Matanuska-Susitna Valley, and it will be a progressive dinner of sorts! We would like to thank Bob and Margo Wesley for hosting the first stop! They have been jonesing for a rally for far too long and we very much appreciate their willingness to host a stop on the route. Bill Demming, one of the Region's Charter Members and longtime road rally enthusiast, will be hosting another of the stops and promises to have a fire roaring in the fireplace to greet the rallyists at the cabin!
Registration is only online until Thursday, December 7th, 10PM. Due to the nature of our sport, we need to know the numbers attending to have adequate copies of route instructions. And this time — to give our cooks a final headcount too. Please be respectful of our rally volunteers and register-up today!!
Some Q&A —
What previous rally experience do I need? No previous road rally experience is required to enter the Winter Wanderland Road Rally, and as the basis for all rallying is that you don't use prior knowledge—come on out and give it a try. We have always said that to rally you have to have a sense of adventure, the lure of Alaska's scenic beauty, camaraderie with fellow enthusiasts, and a yearning for a road trip!
What is the SCCA Sanction level? What Classes will there be? Winter Wanderland Road Rally will be sanctioned as an SCCA Social event and will be a Course Rally. The rally will have main road rules (well, maybe only one or two)! You may find your route instructions written out or perhaps as "tulips" to get you through the course, and you may have questions along the route between checkpoints. Classes will be RallyApp, Expert (more than six rallies with RPM Alaska), and Seat of the Pants (no calculation equipment or apps or be "one of the Ladies"). Should we not have two entered in the RallyApp Class, we will shift them to Expert and SOP prior to the start of the Winter Wanderland.
What are the roads like? Do I need a four-wheel drive? No car breaker roads! Of course we don't know what the roads and weather will bring in these next six weeks. You will find, as we have over the years, that non-paved roads are getting harder to find — even in Alaska! And no, we won't be going over Hatcher Pass, so it is not necessary for teams to have four-wheel drive vehicles.
In the words used by the Rallymaster since 1977... "Come Join Us!"