Vision Training for Drivers Webinar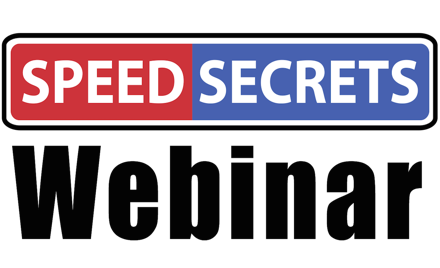 Speed Secrets
Tuesday, June 25, 2019
Registration closed June 23, 2019 11:59 PM on June 23, 2019 11:59 PM PDT Registration ends June 23, 2019 11:59 PM on June 23, 2019 11:59 PM PDT Registration opens May 21, 2019 12:00 AM on May 21, 2019 12:00 AM PDT Registration runs from May 21, 2019 12:00 AM to June 23, 2019 11:59 PM
If you were deaf, could you drive around a track? While it would be more difficult, you could, right? What if you had no sense of feel? It would be like a bad video game, but you could do it. What if you were blind – could you drive around a track? No!
That's why so much emphasis is put on how we use our vision when driving. "Look ahead," "Look where you want to go," and other solid advice is drilled into our heads, and yet so many drivers could improve by improving their vision skills. But how?
I've spent the past year putting together the content and information for the upcoming Vision Training for Drivers webinar on Tuesday, June 25th. I hope to see you on the webinar (pun intended) - it's just $69.
Specifically, you'll learn:
What to do with "blind" sections of the track
How far ahead to look - and when
To drive with more confidence
What to focus on - and when
How to better use your peripheral vision
What not to focus on – and how
Exercises you can do at home that will improve your vision
How to mentally see ahead at speed
To be more aware of everything around you
To drive more consistently
To learn more and to register before the deadline, go to SpeedSecrets.com/Vision. I look forward to sharing what I've learned with you - either live or by registering to get the recording and content the next day. 
Keep learning and having fun!
Ross