VCMC 2020 Track Day #2 - Area 27 (Cancelled)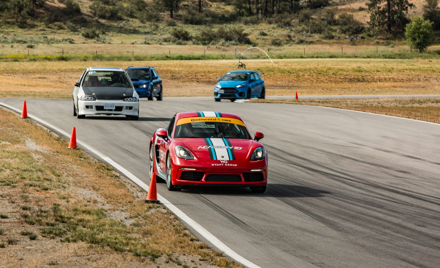 VCMC Motorsport Club
Monday, May 25, 2020
Join us on Monday May 25, 2020 for the VCMC Track Day #2 at Area 27; a 16-turn, 4.83 km long permanent road racing circuit.
VCMC continues to offer great value to track day participants by providing tons of seat time, and professional track marshals to keep the event safe, fun, and efficient.    
Our track events are open to drivers of various experience levels. Drivers are grouped by experience to ensure that all the drivers and vehicles in each session are evenly matched.
If you are new to track lapping and want to attend we will require you to register and complete one of our Mission lapping days PRIOR to this event and become signed off to drive solo.  If you have not driven with VCMC before, exceptions can be made with proof of experience.  Prior track experience is MANDATORY for this event as instruction is not provided or sanctioned.
Lapping groups will fall into 4 categories.  Relaxed, Intermediate, Advanced, and Area 27 First Timer.  If you have never run the track at Area 27 before then you will need to enter in the First Timer group and run with the Area 27 approved pace car for the day.  This pace car will most likely never be in your way, they are on track to evaluate and keep everyone safe.  The other groups will not be paced but do require prior experience at Area 27.  Exceptions for the first timer group can be made to those with proof of a valid race license or accredited performance driving school certificate.
Entry Fee
$450 CAD (tax included in price)
*Membership is included. You automatically become a member when you register and attend an event.
Your entry fee does not include lunch.  We are arranging to have on site catering and the club house for eating, viewing and relaxing.  Please support the on site food vendor as they are coming to the event at no cost to the club to keep our entry fees low.
The track day event will be limited to a maximum of 60 paid participants plus event organizers.
Feel free to ask any questions you may have and discuss our track day program on our club forum or our Facebook group.
There is no partnered hotel list for this year, we recommend you book early as the closer to the date we get, the less availability there will be.