TSCC Summer 2-Day HPDE at NCCAR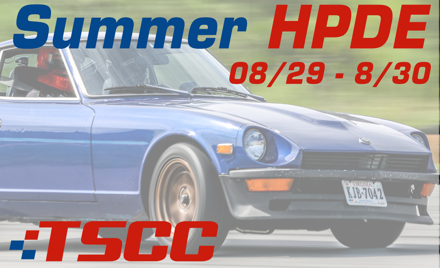 Tidewater Sports Car Club
Saturday, Aug 29 — Sunday, Aug 30, 2020
Registration closed August 29, 2020 11:59 PM on August 29, 2020 11:59 PM EDT Registration ends August 29, 2020 11:59 PM on August 29, 2020 11:59 PM EDT Registration opens July 2, 2020 12:00 AM on July 2, 2020 12:00 AM EDT Registration runs from July 2, 2020 12:00 AM to August 29, 2020 11:59 PM
Special Event No Refunds/cancellation policy. This event is subject to a minimum attendance requirement. 2 weeks before the event is to be held a call will be made if attendance is not met or Covid-19 guidelines have changed to determine if the event will take place. If the event is to be canceled all paying participants will be fully reimbursed.  This event is subject to change without prior notice.
Covid-19 Guidelines
1. NCCAR buildings are restricted access.
2. Portable Showers are available.
3. Pits to be distanced 10 feet apart (minimum)
4.Mandatory mask required/6 feet social distancing requirement.
5.Hand sanitizer located throughout the facility
6. Camping will still be allowed on site.
This is a Mask required event no exceptions. If you have a condition which would preclude you from wearing a mask then you should not attend. There will be roaming Sheriffs on site to enforce Covid-19 guidelines. Any violators will be expelled from the premises without refund or credit.
NCCAR will be restricted access and only those pre-registered will be allowed on site for this event. All waivers must be filled out electronically before arriving, An email blaster will be sent out 14 days prior to the event with event waivers.

HPDE at NCCAR presented by the Tidewater Sports Car Club
Looking to push you and your car's limits on track? First time out or a seasoned track veteran? An HPDE ( High Performance Driving Experience) is the perfect place to go fast and enjoy your car without having to worry about lap times, positions, or state troopers with radar guns. The event includes numerous open track sessions as well as classroom sessions putting driving theory and driving practice together, making you a better, faster, and safer driver on track!
Run Groups:                                           
Drivers are split into 5 run groups based on skill level. One of the five groups will be dedicated to novice drivers who will be required to run with instructors.  Each run group will get four to five 20 to 25 minute sessions, and all solo drivers may take part in the extended open track session at the end of the day!
[]– Green: This is the Novice group for anyone who has zero, or very limited, track experience (2 weekends or less).  An instructor will be provided at your side to help get all members of this group  up to speed.
[]– Yellow: This is the Intermediate group, which is for anyone with multiple weekends of experience. A lead follow instructor will be present on track for all members of this group.
[]– Purple: This is the Intermediate group, which is for anyone with multiple weekends of experience. Purple drivers have been approved by an instructor to drive solo.
[]– Blue: This is the Advanced run group, which is for anyone with many track weekends, no instructors are required. You should have a solid history with several events completed, being safe on track, being aware of all your surroundings, knowing all the flags, etc.
[ ]– White: This is the Lead Follow Instructor run group. 
All Experience will be verified for instructors and advanced run groups.
Pricing:                                                             
[]Green, []Yellow, and []Purple Groups: $450
[]Blue Group: $300
[ ]Instructors: Instructors may drive with us at no-cost
Schedule of Events:                                         
6:00 am             NCCAR Gates Open, Tech and Registration Open
7:20 am             Tech and Registration Close
7:40 am              Instructors Meeting
8:00 am              Driver Meeting
8:10 am              Instructor Pairing and Introductions
8:20 am              Morning Driving Sessions Begin
12:10 pm            Lunch
12:40 pm            Driver Meeting
12:55 pm            Afternoon Sessions Begin
5:30 pm              Afternoon Sessions End
Driving Directions:                                            
From Interstate 95, take Exit 176 turning east onto NC-46. Continue eastbound 0.4 miles to SR-1604 (Lowes Boulevard). Turn left onto Lowes Boulevard, drive for about one mile and take the first road on your left - Technology Drive. The entrance to NCCAR is half a mile ahead. Proceed through the gate and to the entry kiosk building to check in and sign both the NCCAR and TSCC waivers and obtain a wristband. 
CLICK THE MAP FOR A LARGER IMAGE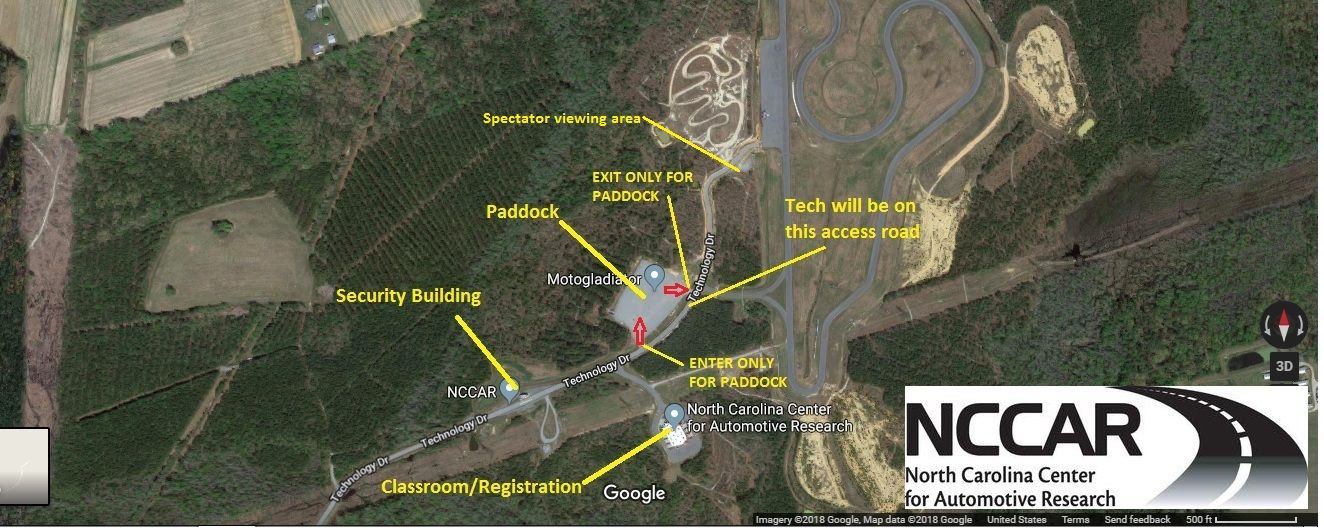 Driving Distances
Roanoke Rapids (NC) 5 miles;
Emporia (VA) 18 miles;
Rocky Mount, (NC) 45 miles;
Petersburg (VA) 61 miles;
Norfolk (VA) 82 miles;
Richmond (VA) 85 miles;
Raleigh (NC) 90 miles.
Don't live nearby the track?                                      
You can stay on the NCCAR property either in your camper/car/trailer/etc at no charge Friday and/or Saturday night!  Gates DO close in the evenings after approximately 8pm... so if you're staying overnight get there early!