About this event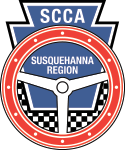 Tire Rack Street Survival
Coach Sign Up
Saturday July 20, 2019 -  8:00AM-5:00PM
Event requirements
This registration page is to be used for coaches who have already been certified through the Tire Rack Street Survival program.
If you are interested in helping to coach at this event, but you haven't been certified yet, please go here and complete your certification and then register.  You will need to send your certificate to Tim Beechuk, but please email streetsurvival@scca-susq.com as well.
The event will take place from 8:00am to 5:00pm, and you will receive emails about this event as we come closer to the event.
If you have any questions about becoming a coach or this event, please email streetsurvival@scca-susq.com
Lancaster Cty Training Ctr
Lancaster, PA
SCCA - Susquehanna Region