Triple Threat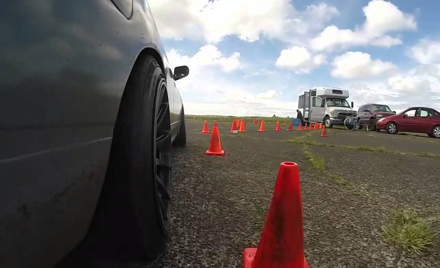 NWAA
Saturday, Aug 18 — Sunday, Aug 19, 2018
Spirit peaks raceway
,
Toutle

,

wa
Registration closed August 18, 2018 5:59 PM on August 18, 2018 5:59 PM PDT Registration ends August 18, 2018 5:59 PM on August 18, 2018 5:59 PM PDT Registration opens March 29, 2018 12:00 AM on March 29, 2018 12:00 AM PDT Registration runs from March 29, 2018 12:00 AM to August 18, 2018 5:59 PM
Northwest Autosports Association (NWAA) presents the annual Triple Threat event – drag, drift, and autocross.
August 18th-19th, 2018 —- Toutle, WA (Spirit Peaks Raceway and Riverdale Raceway)
At triple threat, clubs and drivers from all over – autocross clubs, drift clubs, any car club – team together to compete in three different events: 1/8th mile drag race, autocross, and a drift course.
Each team must choose members to compete in each event. Not every team member is required to compete in all three events, but each must compete in at least two of the events to be scored. Each event will be scored separately, and then the event scores will be added together for each team.
Free on site camping is provided in pit area, or there is a campground down the road. you may not have a fire but you can use a BBQ. Be prepared to bring with you whatever you bring there.
Deliberate disregard for highway laws at ANY time during the weekend may be grounds for a team's disqualification, this applies to all club members, racing or not. This could result in the loss of the event site.
Teams:
In order to keep confusion to a minimum, each club will have to select someone in advance to act as a team captain, this person will keep track of team members. Entry fees will be by pre-registration only. Team captains should have a record of team members.
The team captain should remain responsible for overseeing the conduct of ALL club members both at the site, and coming and going from the site. This needs to stay a safe, fun, and legal event; we need to make sure we conduct ourselves this way.
Your team captain is the ONLY person on your team allowed to speak for, or negotiate for your team. Teams will consist of a minimum: 3 drivers and 2 cars. The maximum team size is 30.
To register a team that is not on the team list (see registration page), please email Nick webmaster@nwautox.org
There is a MAXIMUM of 10 teams. Sign up now!
Participants designate their team at time of registration, they may change teams ONLY if that team fails to show up. This needs to be completed and decided by Friday of the event. 
All cars will have 3 digit numbers; the first digit will indicate the team you are running for (example: 1XX for NWAA, 2XX for BCA, 3XX for WMC etc.) Numbers must be displayed on both sides of the car. On dual driver cars, only ONE number may be visible at a time (no crossing out numbers, unless the numbers are already permanently affixed to the car). Numbers must be at least 8 inches tall. (Taped numbers OK)
All participants will work during the events – shagging cones, watching spectators for safety, etc. There will be stations to be worked at, that will be assigned to each participant during the events. If you do not work, you do not drive.
Drag:
Drag will be held at RIverdale Raceway (a couple miles away), they will be in charge of hosting the drag portion of the event, They have an actual 2 lane drag strip with Christmas tree and the whole works, The drag portion will be $20 per driver paid on site Cash at the gate Saturday night (spectators are free). The top three scores for each team will be used for final ranking.
Drifting:
Because of the nature of this Event only single car laps will be allowed and judged, there will be lots of people who are autocross and drag drivers and are new to drifting, tandems may be allowed but not during the judged runs. Each drift competitor will be scored by a panel of designated judges. The top three scores from each team will be used in final ranking.
For safety reasons, only rear wheel drive vehicles will be allowed to participate in the drift event.
Autocross:
Drivers will be scored on raw times, the top three fastest times from each team will be used in final ranking.
Dual drivers:
Dual drivers will be split between run groups, and must be designated in advance. Car substitutions are allowed at our discretion in the event of a failure. Borrowed cars MUST have been teched and approved for the event in advance. And borrowing the car cannot put it above the 2 driver limit.
Event (Tentative) Schedule
Friday:
Noon Sign In and Tech Opens For All Events (Spirit Peaks)
Saturday:
8:00am Course Walk and Tech
8:00am Drivers Meeting for drift
8:45-12:30 drift practice
12:30pm Lunch Break 1 Hour
1:30pm-4:30pm drift competition
5:00pm-10:00pm drag competition at Riverdale 
Sunday:
9:00am Drivers Meeting for Autocross
12:30pm Lunch Break 1 Hour
1:30pm-3pm Autocross
3:30pm Winners Announced