2017 ARPCA Tire Rack Street Survival - Instructors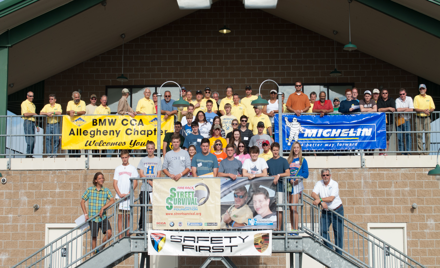 PCA - Allegheny
Saturday, June 17, 2017
Pittsburgh International Race Compl
,
Wampum

,

PA
Registration closed June 16, 2017 11:59 PM on June 16, 2017 11:59 PM EDT Registration ends June 16, 2017 11:59 PM on June 16, 2017 11:59 PM EDT Registration opens January 22, 2017 4:00 AM on January 22, 2017 4:00 AM EST Registration runs from January 22, 2017 4:00 AM to June 16, 2017 11:59 PM
Instructors: Register to help coach at the ARPCA Tire Rack Street Survival
In
structors only Register here!
The Allegheny Region of the Porsche Club of America (ARPCA) is hosting a Tire Rack Street Survival car control clinic to be held at the PirrTrace VDA 
When: Saturday, 17 June, 2017
Time: 8:00AM to 4:30 PM 
Where: PittRace Event Center and VDA
Cost: FREE to instructors / coaches
The primary emphasis of the Tire Rack Street Survival® is a "hands-on" driving experience in real-world situations! We use your own car to teach you about its handling limits and how you can control them. The students will become more observant of the traffic situation they find themselves in. They will learn to look far enough ahead to anticipate unwise actions of other drivers. As the students master the application of physics to drive their cars, they will make fewer unwise driving actions themselves. They will understand why they should always wear their own seatbelts, and why they should insist that their passengers wear seatbelts, too.
What is the format of the event?
The National Program consists of both classroom and in car exercises.  Instructors / coaches will be asked to ride with students and provide positive encouragement as they begin to develop driving skills.  
Who can participate?
You must be an approved instructor for ARPCA, another PCA region, and completed the on-line training course.  If you are not currently an approved instructor for one of these groups you will need to e-mail Tim Hronek, the Track Chair for ARPCA Region. Tim's contact in formation is: track@arpca.com 
We are encouraging first time coaches who understand the dynamics of their car and are able to teach others the fundamentals of car control.