Tarheel & Toe HPDS Summer '20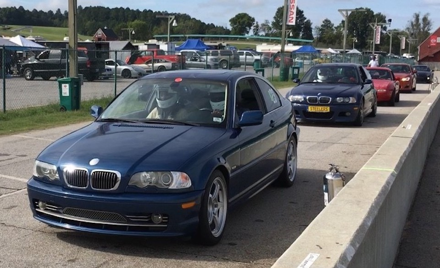 BMW CCA - Tarheel Chapter
Friday, Jun 26 — Sunday, Jun 28, 2020
Virginia International Raceway
,
Alton

,

VA
Registration closed June 27, 2020 8:59 PM on June 27, 2020 8:59 PM EDT Registration ends June 27, 2020 8:59 PM on June 27, 2020 8:59 PM EDT Registration opens May 21, 2020 12:00 AM on May 21, 2020 12:00 AM EDT Registration runs from May 21, 2020 12:00 AM to June 27, 2020 8:59 PM
BMW CCA Tarheel Chapter HPDE -- June 26-28, 2020
Virginia International Raceway - North Course
 
Run Group spaces remaining (waitlist count) as of 6/23/2020 6:00am
A- 2,  B- WAITLIST(1),  C- WAITLIST(2),  D- NO NOVICE GROUP THIS EVENT
Come join us for a wonderful opportunity to experience the North Course of Virginia International Raceway [VIR]. Learn more about VIR at www.VIRclub.com and about Tarheel Chapter BMW CCA Driver Schools at www.tarheelbmwcca.org under TRACK.  Once again all 3 of our schools are "In High Season".  Rental rates on these High Season weekends are significantly greater than February and November, compounded by yet another VIR rate increase.
COVID-19 Operating Procedures
We are entering a new normal for awhile.  During this period of heightened public health concern we have adopted these operating procedures for our events.  Please download and review this document.   Compliance is not optional.
Download Tarheel BMW COVID Guidelines Here
DRIVING SCHOOL STUDENTS 
Registration opens 5/20/2020 at 8:00 PM EST to current Tarheel Chapter affiliate members.  HPDS cost is $460.00 Sat/Sun.  Ten days later registration opens to BMW CCA members affiliated with OTHER chapters.  Must be BMW CCA member to participate per BMW CCA National guidelines.  Not a member of BMW CCA? Join at www.BMWCCA.org.
NO NOVICE (GROUP D) THIS EVENT - Page 2 for details...
FRIDAY
Instructors,  Instructor Training School [ITS] candidates, A-PLUS with Tarheel Chapter, and BMWCCA Licensed Club Racers may register for the full day Friday.  Just as we have A-D run groups, we have added the category A-PLUS. The program description and qualification requirements are described in this linked document.  Review that document and your logbooks on MotorSportReg and Driving Evals.  The Full A-Plus program is offered in the Spring and Fall. events  We do not offer the full program in June due to ITS activities.  In June, qualified A-Plus students may register for "Friday Open Track A-Plus" at the Instructor Friday rate.  We may give you a check ride Friday morning, then you will have the remainder of the open track day to yourself. You'll be a regular Group A student on the weekend. 
CLUB RACERS
Club Racers with BMWCCA Club Race competition licenses ONLY may join us for open track Friday.  A few bad apples spoiled this for other comp license holders.
Your cost is $230 and guaranteed a minimum of 4 hours track time.  More time may be available depending on the schedule.
INSTRUCTORS
Registration opens the same time as students and will not close until staffing is completed. Note we cannot confirm students until we have sufficient staff so please let us know early that you will be available to Instruct. Friday cost for instructors working Sat/Sun (and ITS candidates) is $160.00.
SATURDAY Social Gathering
No Group Socials during Social Distancing.

PAYMENT PROCESSING IS DEFFERED
We have switched to "Required but Deferred" payment processing to ensure no one is charged until they're confirmed. That said, a valid card must be provided at registration, but we will not charge you until we confirm you to the event.  If your card is denied when we attempt to charge, you may languish on the waitlist.  Please plan accordingly.
REGISTRATION CHECK-IN
Everyone registers in the North Paddock at VIR on FRIDAY.  Participants who attend Friday will register Friday AM around 8:30 AM.  EVERYONE else registers Friday afternoon/evening in the Paddock of the North Course.  INSTRUCTORS working only Sat/Sun may check-in Saturday AM if you are not able to do so Friday evening.  Please, everyone try to register Friday.  Saturday morning check-ins are very hectic and stressful for everyone.
 
Cancellation Policy -- COVID Revised Edition
Students and Instructors: You must cancel by using the self-cancellation on Motorsportreg.com and please email Phil Antoine [booflick@yahoo.com].  The timestamp is automatically added to the private note letting organizers apply the refund policy.
Our refund policy during this period is relaxed to a virtual honor system.  No questions asked, no deadline.  We cannot incentivize folks to make a poor decision to show up if unsure of their health.  If the day before the event you suspect COVID symptoms, STAY HOME.  You will receive a full refund if you cannot attend.
Aborted events (as determined by the Driving Events Committee) may trigger a refund/credit to paid registrants in a prorated amount to be determined.
 
No-Show Policy
Due to increased demand for our events, size of the waitlists, and the number of no-shows each event, we have instituted a no-show policy. A registrant can be replaced by a waitlist stand-by on-site if registrants are late and don't exercise the courtesy of letting us know they are going to be late or not coming at all.  To avoid the no-show declaration, a registrant must fulfill any one of these three requirements:

1- Check-in, sign waivers and collect registration packet by 8:30am Saturday.
2- Contact a CI or the registrar by 7am Saturday indicating the registrant will not be able to meet requirement #1.
3- Respond by 8:30am Saturday to emails and/or calls to the registrants MotorSportReg profile contacts.

If a registrant fails to meet at least one of these requirements they will be declared a No-Show.  At that point their spot may be given to a qualified stand-by.  If the spot is re-assigned, the No-Show will receive their event fee refund less $50 administrative fees.  If not replaced, they will receive no refund.  If the no-show registrant eventually arrives the CI's at their discretion may make a best-effort to find a spot for the no-show registrant.  This opportunity is not guaranteed.