Spring HPDE at NCCAR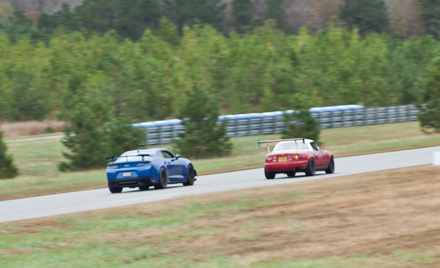 Tidewater Sports Car Club
Saturday, March 30, 2019
Registration closed March 29, 2019 12:00 PM on March 29, 2019 12:00 PM EDT Registration ends March 29, 2019 12:00 PM on March 29, 2019 12:00 PM EDT Registration opens January 20, 2019 12:00 AM on January 20, 2019 12:00 AM EST Registration runs from January 20, 2019 12:00 AM to March 29, 2019 12:00 PM
HPDE at NCCAR presented by the Tidewater Sports Car Club
All skill levels are welcome from beginner to track veteran! 
All participants must present a valid driver's license. All drivers and passengers must be wearing long pants and long sleeve shirts made of cotton or other non-synthetic fibers.
Instructors - If you wish to instruct and have not done so with us before, please email trackevents@tidewatersportscarclub.com to confirm.  Experience will be verified.
We will split participants into 4 groups. One of the four groups will be dedicated to novice drivers who will be required to run with instructors.  Each run group can plan on at least four to five 20 to 25 minute sessions, and all solo drivers may take part in the extended open track session at the end of the day!
Run Groups:
Green:This is the Novice group for anyone who has zero, or very limited track experience (2 weekends or less).  An instructor will be provided for all members of this group.
Yellow:This is the Intermediate group, which is for anyone with multiple weekends of experience. Instructors are available to all members of this group, but not required once the driver has been signed off to drive Solo.
Blue:This is the Advanced run group, which is for anyone with many track weekends, no instructors are required. You should have a solid history with several events completed, being safe on track, being aware of all your surroundings, knowing all the flags, etc. We are offering a promotional discount of $80 off to fill out the Advanced group.  Only $119 for the day!  Email the registrar if there is any question that you may not qualify.
White:This is the Instructor run group.  NOTE: If you help instruct at the HPDE, you will be given a discount for Gripfest on Sunday to run forONLY$35! Follow the menus within the event, if you are a confirmed instructor it will be available to you.  If this option is not present and you are an instructor, please contact the registrar and it will be corrected.  There is no requirement to instruct on Sunday, though we would appreciate if you let novices ride along with you if asked by them!
NOTE: All attendees will be placed on "hold" status until prior experience is reviewed and verified you are in the appropriate run group. Payments will be processed when status is changed to "confirmed." Please allow up to 48hrs for your registration to be reviewed, confirmed, and card charged(if not put on a wait list).
Wait listed attendees will not be charged until their spot is guaranteed(confirmed).  By remaining on the wait list, you are acknowledging that your card may be charged at any point to be confirmed for the event.  If you want off the wait list, you may cancel your registration and/or email the registrar before payment is processed.  Wait listed attendees will be admitted in the order of signing up.
Convertible requirements:
Please read our complete HPDE Supplemental Rules (CLICK HERE) which contain all information needed regarding specific convertible requirements, the broomstick test standards, and other safety requirements such as harness install, etc. All convertibles must have adequate rollover protection and owners shall contact trackevents@tidewatersportscarclub.com to verify if the factory rollover protection is adequate.
Go-karts, motorcycles, and trikes are not allowed to run in this event. We are allowing open wheel cars and formula cars to run in the Advanced or Instructor groups ONLY if you qualify.  Cars that are not production based, please contact us before you register to verify if your vehicle will be allowed.
A Pre-Event Tech Inspection is required to be done and our form filled out within 30 days of the HPDE.  The tech form can be downloaded/printed HERE.  Please email trackevents@tidewatersportscarclub.com if you have any questions.  We will be hosting a Track Tech Inspection Day at the American DIY Garage in VA Beach on Saturday March 2nd!  It is not required *we* do the pre-event inspection, but if you need a place to have it done, and want to know it's done right, come get it done for $15.  Our Tech Inspectors (Mark and Tim) are the same guys who will be making sure you're safe on the day of the event, and being a month out you will have plenty of time to correct an issue if any problems are found.
You must have a SNELL Rated Helmet SA2010 or newer.  Loaner helmets are available at no charge, but we cannot guarantee fitment/availability.
We will have an EMT on standby trackside.
METHANOL INJECTION IS NOT PERMITTED AND SHALL NOT BE BROUGHT ON-SITE.  YOU MUST REMOVE THE TANK FROM THE VEHICLE TO RUN ON TRACK.
Schedule of Events:
6:00 am             NCCAR Gates Open
6:15-7:45 am     Tech will now be located on the Access Road outside of Paddock. See the map below.  NOTE: You can have an early bird tech inspection performed on Friday night between 6pm and 9pm. NCCAR gates will be open and tech will be performed on the Access Road just like on event day.  If you drive off the premises Friday night, you will need a basic re-check on Saturday morning to check tires.  If trailered this will not be necessary, you also have the option of leaving the vehicle in Paddock overnight if wanted. NCCAR gates will be locked after 9pm.
6:15-8:00 am     Registration at main building - There are parking spaces around the front of the building, park your car and head into the main classroom area to register and await the instructor and/or driver's meeting.
7:30-7:55 am      Mandatory Instructors Meeting ALL INSTRUCTORS MUST ARRIVE EARLY TO BE ABLE TO GO THROUGH TECH/REGISTRATION AND MAKE THIS MEETING! All instructors should wait in the classroom once registered.
8:00-8:30 am      Mandatory Drivers Meeting *ALL DRIVERS MUST ATTEND*
8:30-9:00 am      Mandatory Novice and Intermediate Classroom Session 
A further detailed schedule for the day will be presented at the Driver's Meeting.  If there are any changes to the above then an alternate schedule will be emailed out prior to the event.
CLICK THE MAP FOR A LARGER IMAGE
Registration will be capped at 60 Participants! More will be waitlisted.  We will admit additional attendees as we confirm availability of instructors, etc.
Driving Directions
From Interstate 95, take Exit 176 turning east onto NC-46. Continue eastbound 0.4 miles to SR-1604 (Lowes Boulevard). Turn left onto Lowes Boulevard, drive for about one mile and take the first road on your left - Technology Drive. The entrance to NCCAR is half a mile ahead. Proceed through the gate and to the entry kiosk building to check in and sign both the NCCAR and TSCC waivers and obtain a wristband. 
Driving Distances
Roanoke Rapids (NC) 5 miles; Emporia (VA) 18 miles; Rocky Mount, (NC) 45 miles; Petersburg (VA) 61 miles; Norfolk (VA) 82 miles; Richmond (VA) 85 miles; Raleigh (NC) 90 miles.
Don't live nearby the track?
You can stay on the NCCAR property either in your camper/car/trailer/etc at no charge Friday and/or Saturday night!  Gates DO close in the evenings after approx 8pm... so if you're staying overnight get there early!
Alternatively if you want to stay at a nearby hotel, we have a deal for $89/night with the Hilton Garden Inn just a few miles south of NCCAR!
Hilton Garden Inn
111 Carolina Crossroads Parkway
Roanoke Rapids, North Carolina, 27870
Call +1-252-519-2333, dial "0" and mention that you are running at NCCAR to receive the special rate!  Corporate account #3037217 if they ask.