Solo Karting League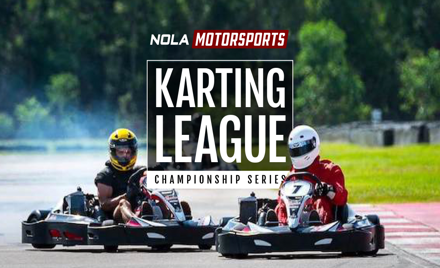 NOLA Motorsports Park
Saturday, April 25, 2020
NOLA Motorsports - Kart Track
,
Avondale

,

LA
Welcome To The NOLA Motorsports Solo Karting League!
Do you have what it takes to compete against the most experienced 2020 Solo Karting League racers?
Well then come to NOLA Motorsports and try your luck and see if YOU can be our GRAND PRIZE WINNER!! With 10 races, there are so many opportunities to finish first. Plus, the opportunity to win big, from discounted Arrive & Drive heats to $300 worth of parkwide credit.
Championship Prizes!
Finish first in the league and receive credit to NOLA Motorsports events:
1st Place
$300
2nd Place
$200
3rd Place
$100
**If you finish first in the final heat of your group, you get free entry into the next leagues**  
Schedule (subject to change)
ALL drivers must check-in at the karting center
Registration open (Located in the karting center) - We ask that you arrive no later than 3:30pm for check-in.
3 PM
MANDATORY driver's meeting (located in the kart tower)
3:45 PM
Track HOT 
4:00 PM - Pracitce Run
4:10 PM - Qualifying Races
4:45 PM - Podium Race
Track Cold
5:30 - Podium Ceremony
Race Format
Practice
4 laps - grid is random
1st heat 
10 laps - Starting grid based off of registration 
2nd  heat 
10 laps - Started grid inverted from 1st heat 
Final
16 laps - Starting position based off of combined finishing  positions from heat 1 & 2  (Full points for the position)
This is the intended schedule (subject to change without notice)
DATES
March 28
April 25
May 23
June 20
July 18
August 22
September 12
October 17
November 21
If you have any questions, please contact inbox@NolaMotor.com